In Beyond the Limit (Valkyrie Ops #1) by Cindy Dees, Sherri Tate is determined to prove she has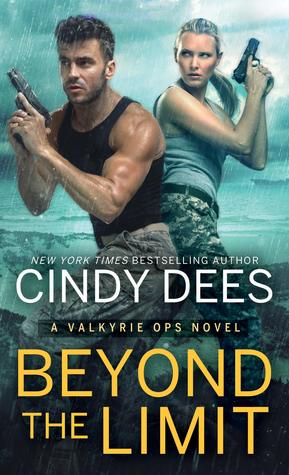 what it takes to become one of the first female NAVY Seals. Despite the gruelling training and the fact that she's a former Miss Congeniality, she definitely has what it takes and isn't afraid to show her worth. However, convincing Griffin Caldwell may be tougher than she thought. But when a threat to their lives comes about, Griffin and Sherri realize they're going to have to trust each other before one or both of them end up dead.
"Name your bet," she snapped.
"Loser buys a bottle of whiskey for the winner."
"I'll do you one better," she challenged. "Loser buys a limited edition hogshead of Glengoyne single-malt aged scotch for the winner."
Trevor whistled from behind them and commented in his crisp British accent. "The lady knows her spirits."
"You're turning me on, talking dirty like that, Tate." Griffin flashed her a grin so hot it made her miss a step. The man. Had. Dimples. Tactical nuclear dimples.
What an absolutely riveting, fast-paced and completely engaging read Ms. Dees has delivered in this first book of her Valkyrie Ops series where resilient heroines are up against some tough obstacles to become one of the first female Navy Seals including the arrogance and judgment of the men training them. Will Sherri and the other women be able to prove the men wrong? How far will Sherri have to go to be seen as an equal to Griffin? The way this story started had me hooked from the very beginning because Griffin and his team are quite close and I loved the teasing banter between them. Certainly, they can get away with saying the things they say to each other.
Alex grinned lopsidedly at him. "You look like a" – he let out a yeasty belch that made Grif rock back in his seat, grimacing – "like a jacka** in that clown suit."
Grif grinned down at his powder-blue tuxedo, complete with a chest full of blue-edged ruffles. His baby-blue bow tie hadn't survive much past the wedding ceremony and hung, untied around his neck. He would've tossed the stupid thing entirely, but they had to return the rented tuxes tomorrow and he wanted his deposit back. It had been a joke for them all to show up at their teammate Leo Lipinski's wedding wearing the ghastly things.
As for the dialogue, it had me glued to every page because of the delightful banter that had me laughing at times because the women aren't afraid to say what is on their minds. Then there's the intense chemistry between Sherri and Griffin; the growing relationship between the pair; the main characters back stories that have made them who they are; and everything they go through to achieve their happy ever after. Certainly, this pair challenge each other because Sherri wants to become one of the first female Navy SEALS and Griffin doesn't believe she has what it takes. Really, he's quite arrogant and doesn't make things easy for the heroine. Still, she's resilient and determined and isn't about to let Griffin get to her.
Anna finally commented from behind Griffin. "I had no idea SEALS were so dumb."
Lily jumped in with, "Maybe it's just the fact that women are so much smarter that makes guys seem dim-witted."
Kenny broke out in song, belting, "Call him dim, call me dumb, but baby, baby, throw me a crumb. Gimme a hug, gimme a kiss. I promise I'll make you groan like this." He then let out a protracted groan that simulated an orgasm.
Anna commented, "Lily, did you hear that? I think a cat just yowled and then barfed up a hair ball."
Lily's laughter chimed, and Sherri chuckled beside Griffin. He smiled to himself. Kenny had walked right into that one.
Overall, Ms. Dees has delivered a wonderful and very satisfying read in this book that mixes a great romance and a good dose of suspense exceptionally. Really, I finished this story in one sitting because it was so engaging. The way this story ended had me worried for both the main characters because of the threat but left me smiling because of how everything works out for the best for this pair, especially Sherri. Will she get the guy and the chance to become one of the first female NAVY Seals? I would recommend Beyond the Limit by Cindy Dees, if you enjoy the enemy to lovers trope; stories encompassing Navy SEAL heroes and resilient heroines determined to prove themselves; or books by authors Cat Johnson, April Hunt, Donna Michaels and Susan Stoker.
Book Info:

Publication: June 25th, 2019 | Sourcebooks Casablanca | Valkyrie Ops #1
Sherri Tate, former Miss Congeniality, is a media officer for the Navy, but she itches to get on the field—and she can prove she has what it takes. But convincing others that she can become one of the first ever female Navy SEALs? That might be tougher than the agonizingly brutal training.
Griffin Caldwell and his teammates in his Navy SEAL platoon, the Reapers, are tasked to secretly train women candidates to become the first female SEALs. But when he meets Sherri Tate, it's friction—and lust—at first sight. Griffin can't believe the former pageant queen has what it takes, and Sherri can't believe his arrogance. But when one deadly mission goes wrong, it's up to Sherri and Griffin and their unprecedented bond to save the day.