Marie Ferrarella has written 300 books for Harlequin, so you know you are in for a treat when you get a chance to read one of them.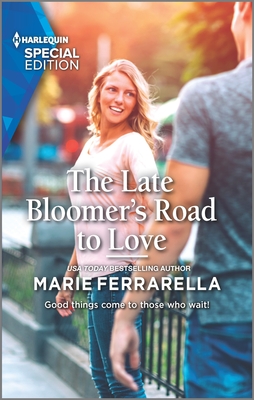 I have not read any of her Matchmaking Mamas stories, but The Late Bloomer's Road to Love by is absolutely lovely. George enlists some ladies who are matchmakers with a perfect track record to help find a good man for his daughter. This has to be a secret or he knows she will balk. George is very concerned about making sure Rachel is in good hand, especially after he has had a heart attack. Rachel has sacrificed her personal life helping in the family restaurant, even more so after her father had to take time off to get healthy again. Rachel has even put off regular college, taking online classes.
George knows he needs to have some more physical therapy sessions before the doctor will clear him to return to work. He keeps firing one after another in a short period of time. Finally, a recommended therapist, Wyatt Watson starts and Rachel's stubborn father really warms to him right away. Rachel gets a little warm around the handsome, charming Wyatt, too, but she is already exhausted with all she has to do. She can't add anything more to her schedule.
The romance between Rachel and Wyatt builds slowly in an authentic way. Both are a little gun shy from the past. Rachel had truly been burned by her ex. She realizes that Wyatt is different form other men she has known and sees how his friends and family love him. Rachel is a strong woman. She is even able to stand up to Wyatt's prickly mother.
The interaction between Rachel and her father is special. They have built a really deep bond since her mother died. I liked how Rachel was able to show her father tough love at times when he wanted to be extra difficult.
There is a little spice in the love scenes, but overall this is a sweet, uplifting story. The matchmakers scored another victory when all that was needed was to put two people who were perfect for each other in close proximity.
I hadn't read any books by Marie Ferrarella in many years, much to my embarrassment. I will certainly be looking for more in the future now. This current novel is sure to charm her legions of fans and attract new ones.
Book Info:

Publication: August 24, 2021 | Harlequin Special Edition | Matchmaking Mamas #29
Good things come to those who wait in USA TODAY bestselling author Marie Ferrarella's latest Matchmaking Mamas story!
A dream deferred…
Can still come true!
When other girls her age were dating and finding love, Rachel Fenelli was working with her father, keeping the family restaurant going after her father's heart attack. Now she's on the verge of starting the life she should have started years ago. Enter Wyatt Watson, the only physical therapist her stubborn dad will tolerate. But little does Rachel know that her dad has an ulterior—matchmaking?—motive! Is dreamy Wyatt really the perfect medicine for Rachel, too?