Today it is my pleasure to Welcome author
Andrea Bolter
to HJ!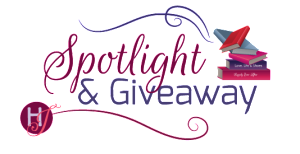 Hi Andrea and welcome to HJ! We're so excited to chat with you about your new release, Caribbean Nights with the Tycoon!

Hi Readers! Glad you're here.

Please summarize the book for the readers here: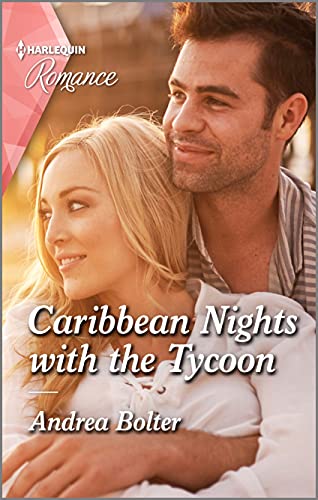 Luna and Charlie get talked into a week-long getaway arranged through the M Agency, matchmakers to the rich and famous. She's an actress who's battling personal demons and he's a tech giant with a suitcase full of loss. They agree to the week to recharge, but not to the match. Fate has other ideas…

Please share your favorite line(s) or quote from this book:
"What you don't see about the illusion." She grabbed a pinch of her dress just to let Charlie hear it snap back into place when she released it. "A secret undergarment from here." -She gestured under her bra line . – "To here." She indicated above her knees.
"What is that made of?"
"Something highly elasticized."
"Is it uncomfortable?"
"I can hardly breathe. But, look, no unsightly lumps or bulges."
"Aren't women intended to have lumps and bulges?"
Please share a few Fun facts about this book…
I had a blast researching Puerto Rico, which I've never visited. I can't wait for readers to get swept away along with Luna and Charlie to stay in a gorgeous resort, see the bioluminescent bay, dance to sexy music, and eat mouthwatering food.
What first attracts your Hero to the Heroine and vice versa?
Well, this was a first for me – I was given the characters and their backstories. This it the third book in an editor-driven mini series. It was a great experience getting to know the characters as they were sketched out and then developing them and creating my own story around what I was given.
Did any scene have you blushing, crying or laughing while writing it? And Why?
He'd read a quote not long ago that said something to the effect of – when you're lying on your deathbed it's nothing you did, like eating that chocolate mousse or taking an impulsive trip to Prague or telling someone you love them that you'll have remorse over – it's the things you didn't do for which you'll have regret.
Readers should read this book….
It's a really fun 'whisk you away to a beautiful place' story with a deep emotional transformation for both of the characters.
What are you currently working on? What other releases do you have in the works?
Prince Ras and Gracie's story. A lonely prince needs a few weeks of freedom before he settles into a loveless arranged marriage. Gracie's been through one loss after the next but her life is about to get on track – now! The unlikely pair end up traveling together via cruise, yacht, airplane and luxury car. It's a travel romp but as the miles whiz by they both learn who they really are.

Thanks for blogging at HJ!
Giveaway:

Signed copy of Caribbean Nights with the Tycoon (or ebook if outside of the U.S.)
To enter Giveaway: Please complete the Rafflecopter form and Post a comment to this Q:

What's the most stunning thing the natural world you've ever seen?
Excerpt from Caribbean Nights with the Tycoon:
"Buena noches," the catamaran driver welcomed Charlie and Luna as they boarded for their short cruise to Vieques Island after they'd eaten.
"Buena noches." Luna greeted the middle-aged man with bulky muscles straining against his white T-shirt and shorts.
"Have you been enjoying your stay in Puerto Rico?"
"Si, the food is delicious and today we toured the city."
"You are in for a very special night."
As they left shore, the speed at which they channeled through the water
had the wind whipping through Luna's hair and against her skin. It felt extreme and adventurous. As it did having Charlie beside her. He had made such impassioned love to her the night before it still reverberated through her. Yes, he was a man who had endured the most unspeakable agonies, which still overtook him and attacked without warning—as she'd witnessed this afternoon, under the pleasant skies as the two of them had watched the kite flyers—but perhaps because of his pain, rather than in spite of it, the fervor that they shared in the sand last night had shot to her core. He was a realist, he didn't pretend like everything was perfect, didn't live in fantasyland. Popularity and approval had no meaning to him. She respected him. And he had made her start to believe in something that she'd never dared to before.
When they arrived on the small island, she looked forward to seeing a famed Puerto Rican attraction, the brightest bioluminescent bay in the world. At the shoreline, the kayaks and wet suits they'd reserved were waiting. Once ready, under the starry sky, they paddled with oars into the center of Mosquito Bay. Like many visitors to Puerto Rico, they'd come to see one of nature's most unusual displays. Millions, maybe billions, of tiny microorganisms lived in the water of the bay. And when the water was disturbed by the oars of a kayak, or even by a hand through the waves, the organisms lit up, creating a light show. It was an environmental phenomenon, and the sheer brilliance was hard to believe. Luna gasped at the sight.
"How stunning," Charlie called out, turning back toward Luna from his position in the front of the kayak. With other people in kayaks or boats all around them, the explosions of light came from every direction, radiant bright blue erupting from the still black water.
"How can this be?"
"The natural world is humbling."
Temporarily holding his oar in only one hand, Charlie reached his other
hand behind him to grab hold of one of Luna's so that they could be joined while experiencing this marvel. After they took it all in for a few minutes, he lowered their clasped hands into the water beside the kayak and splashed, so that they could provoke the light with their own hands. They sprayed light toward each other, laughing at the miracle of it.
Oh, Charlie, she thought. How was she ever going to forget this week? To move on as planned, and go back to California and the pressures that had done so much damage to her? She'd been unprofessional in her exit a year ago. Desperate, she'd left that set even though production had almost begun. She'd inconvenienced the rest of the cast, the crew, her agent and all of her team, and cost the studio a lot of money. Even if the year she'd spent in recovery made her question whether she still wanted to stay within the Hollywood machine anymore, she had to at least return to make good on the contract she'd signed. The dreams she'd sometimes had about making her own movies, expressing her art in way that she was in control of, seemed out of reach until she cleaned up the mess she'd left. Maybe she was ready to leave the industry entirely. Go back to Kentucky, perhaps? Help her parents with the ranch as they grew older? Invest in a business? Whatever the case, she had to return to LA first and see everything through.
As planned, she'd leave Dorada and all that had happened there behind. Leave Charlie behind. A man who she was beginning to think she might like to stay near, and not just in Puerto Rico… In his own awkward way he'd made her feel completely accepted. Made her imagine a lifestyle she had never dared to consider.
Last night, after they'd brought each other pleasure upon pleasure with their bodies and, she had to admit, their souls, they'd stretched out in the sand and looked up to the sky. He'd reached for a beach blanket to cover them and they rested, spent and hazy. She got lost in thought about different roads her life could have taken and sensed Charlie's mind had gone to a similar place. It was comfortable to be beside him.
After a while, though, it had gotten cold, and she was sleepy so they went back into the villa. She hoped he'd join her in the bedroom, where they could sleep in a lover's embrace. But he'd said he wasn't tired and wanted to check on some work. They shared a sensuous kiss good-night, yet she retreated to the master suite alone with a ring of sadness through her bones.
In the center of the plush bed, surrounded by pillows and bedding, she'd convinced herself it was for the best. Someone who pretended for a living should surely know not to get sucked into the charade. This week with Charlie was simply what it was intended to be. Thinking of it otherwise could only lead to disappointment and pain. Even if she was willing to reconsider her own oath, his was to never love a woman again.
Excerpt. © Reprinted by permission. All rights reserved.


Book Info:
Seven nights in paradise…
…isn't enough!
Actress Luna has spent a year away from the spotlight. So her best friend has convinced her it's time for some fun and has organized—via the exclusive M dating agency!—a trip to Puerto Rico… Luna has agreed, so long as her date isn't looking for happily-ever-after! But she isn't prepared for her explosive attraction to buttoned-up tycoon Charlie or the resulting realization that she now doesn't want to leave the Caribbean…
Book Links: Book Links: Amazon | B&N | iTunes | kobo | Google |


Meet the Author:
Andrea Bolter has always been fascinated by matters of the heart. In fact, she's the one her girlfriends turn to for advice with their love lives. A city mouse, she lives in Los Angeles with her husband and daughter. She loves travel, K-Pop and rock n' roll, sitting at cafes, and watching romantic comedies she's already seen a hundred times.
Website | Facebook | Twitter | Instagram | GoodReads |