In The Paris Connection by Lorraine Brown, A goof up by Hannah leaves her and her boyfriend Simon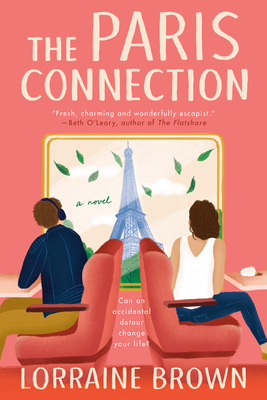 scrambling to catch their train from Italy to Amsterdam on time. They barely make it, but soon they are finally on their way to the fancy hotel where Si's sister will be wed the next day. It's yet another mistake on Hannah's part that throws her world into disarray again. After Simon falls asleep, she moves to a different, less raucous train car to get some shut eye. Unbeknownst to her–or Simon–the train splits in the night. When Hannah wakes up, she's not in Amsterdam as planned. She's in Paris. Alone.
'It didn't seem possible that despite getting on the same train and sitting next to each other for several hours, I was now in one country and Si would soon be arriving in another.'
Trying not to panic, Hannah does all she can to try to right the situation. And she's not the only one in that predicament. A French gentleman was also unaware the train car he was in was going to Paris. When neither of them have any luck finding a ticket to Amsterdam until later in the day and a few incidents cause the stranger, Leo, to blame Hannah for the delay, they have no choice but to bide their time in Paris. At first she's not too keen on Leo's blunt demeanor. But soon he convinces her to see a few of the sights–touristy and otherwise–so she can experience the beauty of his city. Over the course of the morning, Hannah gets to know the handsome Frenchman and has a new perspective on Paris…and her own future, leaving her to wonder what's in store for her down the road.
'It was seeing Paris with him that had made it so special. And it dawned on me that, for whatever reason, I didn't want our day together to end.'
The Paris Connection was a lovely introspective novel by Lorraine Brown that crisscrossed Europe, following thirty-year-old Hannah as her life changed bit by bit after an unplanned day in Paris.
'He had turned a terrible day, the worst day, into a series of moments that I would always remember.'
Told from our heroine Hannah's POV, The Paris Connection (to me) seemed more like women's fiction than a straight up love story. There were romance elements in it, definitely. But the storyline itself was more focused on Hannah realizing that her relationships–and her life–were not exactly as perfect and happy as she was letting herself believe. So due to that introspection, it wasn't a super fast moving book. It moved along at a steady pace, though, building a picture of Hannah's past, how it influenced her choices in the present day, and why she had negative feelings toward Paris. In turn, the romantic glow was ripped away from her views about her boyfriend Simon. That was where it got very complicated.
The premise–with Hannah moving to a different train car that later separated from where Simon was sleeping, ending up in Paris, not Amsterdam–was an interesting one. It gave this novel a road trip vibe while exploring Hannah's concerns about her personal life. And what better city for her (and us!) to lose herself in than Paris, right? Especially with Leo as her guide. I wasn't really sold on him at first, to be honest. He seemed gruff, abrupt, and not particularly nice. But as Hannah opened up to viewing Leo's city through his eyes and they began to understand one another, he wormed his way into my heart. And Hannah's. I will say outright that there is no cheating involved. But there was an emotional connection they shared that influenced Hannah's decisions moving forward.
Feel like spending a day in the City of Lights? If so, The Paris Connection, with all of its vivid details, drama, personal revelations, and touching moments will be just the novel for you.
QOTD: Hannah's unexpected change of course put her directly in Leo's path, who would understand her fundamentally, changing her view of herself and her future. Do you believe that type of serendipity happens in real life?
Book Info:

Publication: August 24, 2021  | G.P. Putnam's Sons |
In this witty and heartfelt debut love story for fans of Josie Silver's One Day in December, a woman stranded in Paris for the day discovers that her unexpected detour–and the charming Frenchman she meets along the way–might be leading her to exactly the life she was always meant to live.
Can an accidental detour change your life?
When Hannah and her boyfriend, Simon, board their train with only a few seconds to spare, they're confident that they'll make it to Amsterdam in time for his sister's wedding. But unbeknownst to them, the train is scheduled to divide in the middle of the night. And when it does, half of it continues on the route to Amsterdam. And the other half–the one with Hannah in it–heads 300 miles away, to Paris.
Left without her luggage, ticket, cell phone, or hope of reuniting with Simon, Hannah has no choice but to spend the day in Paris before the next train out. Worse than being stuck in a foreign city alone, though, is being stuck with Leo, the handsome but infuriating Frenchman who blames Hannah for his own unwanted detour. The series of mishaps that sends them traipsing through the City of Light seems like only further proof that Hannah's day has gone from bad to worse. So why is it that the more Hannah takes in the glorious sights and sounds of Paris–and the more time she spends with the increasingly intriguing Leo–the more she finds herself beginning to question the safe, tidy life she's built for herself back home in London?
Warm, witty, and brimming with the romance and nostalgia that can be found only in Paris, The Paris Connection is the unforgettable story of how the wrong road can sometimes lead us in the right direction.