In The Lemon Sisters by Jill Shalvis, Brooke had her dream job until a helicopter crash left her afraid to get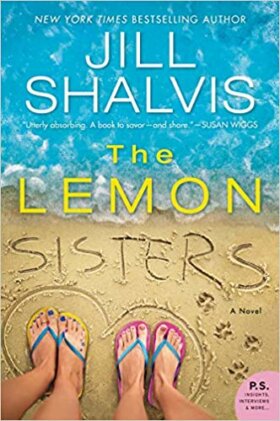 off the ground and caused her to push her family and her boyfriend, Garrett away. When her sister Mindy shows up unexpectedly on her doorstep in crisis mode, Brooke makes the decision to go back to Wildstone and face her past, including the love of her life. She wants to make amends, but is it too late?
The Lemon Sisters is a wonderfully written story about family, forgiveness, healing, and second chances. Each character has their own flaws and needs to come to terms with their issues so they can move on and find happiness. It isn't an easy journey for any of them. Along the way there is heartache, anger, and misunderstandings, but there is also happiness and laughter. It's a rollercoaster of emotions for everyone, but it's well worth the ride.
While this is the third book in the series, it can be read as a standalone. I haven't read either of the previous two books in the series, yet I didn't feel like I was missing anything.
If you enjoy second chance romances, or families finding their way back to one another, this book is for you. I think readers both new and old of Jill Shalvis will enjoy this latest installment of the Wildstone series.
Book Info:

Publication: June 18, 2019 | William Morrow | Wildstone #3
Brooke Lemon has always led the life she wanted, wild adventures—and mistakes—included, something her perfect sister, Mindy, never understood. So when Mindy shows up on Brooke's doorstep in the throes of a break-down with her three little kids in tow, Brooke's shocked.
Wanting to make amends, Brooke agrees to trade places, taking the kids back to Wildstone for a few days so Mindy can pick up the pieces and put herself back together. What Brooke doesn't admit is she's just as broken . . . Also how does one go home after seven years away? It doesn't take long for Brooke to come face-to-face with her past, in the form of one tall, dark, sexy mistake. But Garrett's no longer interested. Only his words don't match his actions, leaving Brooke feeling things she'd shoved deep.
Soon the sisters begin to wonder: Are they lemons in life? In love? All they know is that neither seems to be able to run far enough to outpace her demons. And when secrets surface, they'll have to learn that sometimes the one person who can help you the most is the one you never thought to ask.