Today, HJ is pleased to share with you

Natasha Madison's

new release: 

This Is Crazy.

From the best selling series, Something So comes the spin-off series This is…

Zara Stone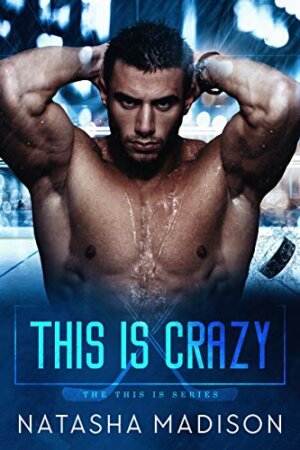 All my life, I've said I will never date a hockey player. I know better because I've seen and lived it all. My father is a hockey god, my brother is the captain of the most successful NHL team in the world, and my brother-in-law also plays in the league. Their lives are complicated, so I went in the opposite direction.

I fell in love with a scholar. But instead of proposing marriage, he broke up with me.

Three months later, I saw his engagement picture on Instagram. I couldn't let him get away with that. No, it didn't matter what, I was going to make that man see that I did not need him.

Evan Richards

I was in the running to pass my point record from last year, ready to claim the number one spot in the league. On top of my game, I was riding my career high wave.

Then, Hockey's Princess, Zara Stone tweeted me. She wanted me to crash her ex's wedding.

The worst that could happen? A PR nightmare. The best? A fun night with a beautiful woman.

It started out as a game—something I'm good at. Her crazy idea twisted into something I wasn't looking for, something neither of us wanted.

When push comes to shove, one thing runs through my mind: This is Crazy. Also, this is crazy right.
Enjoy an exclusive excerpt from This Is Crazy:
"What's going on?" Karrie asks innocently, stopping mid step into the kitchen to look at us. Vivi knocks into her from behind. My heart won't stop hammering in my chest.
"Things are about to go through the roof," Zoe says and then turns to me. "I need you to take a deep breath." Which makes everything so worse than before. Why would I need to take a deep breath? The worst-case scenarios are going through my mind. Wardrobe malfunction to one of the Hollywood stars, worst-dressed list. So many things.
"Holy shit, is there a paparazzi picture of one of my clients?" My hand goes to my chest, but she just shakes her head.
"It's worse," she whispers, and I see the tears forming in her eyes. I reach over and snatch the phone out of her hands. She tries to snatch it back, but she's too late. I see it there.
The picture is in color this time. Ed kissing his new girlfriend, but what my eyes fly to is the hand she is holding up with a diamond ring glistening on her finger. "Get my phone," she shouts, and they all spring into action, trying to get the phone from me, and I'm caught off guard.
Allison grabs my phone, Karrie grabs the remote to turn off the television, my mother rushes to my side, and Vivi rushes to the wine fridge and pulls out three bottles.
"What is going on?" My father just stands in the middle of the kitchen. Shocked and confused, he darts his eyes from one person to the other.
"MOTHERFUCKER," I yell at the top of my lungs, shooting out of my chair. Rage, anger, and hurt fill me.
"Oh my God," my father whispers, but he still doesn't move as he watches me start to pace. The women around the room spring into action. My mother comes to my side, but I can't stop walking. Zoe comes to stand next to her while Allison looks at the phone. Her eyes come to me when she finally reads what I just read.
"That motherfucker," she says and tosses the phone to Karrie who gasps out loud. She puts the phone down on the counter with more force than she should and then walks to the fridge for the bottle of tequila.
"What the hell is going on? Can someone please tell me what is going on?" my father asks, rubbing his hands through his hair.
No one answers him. Vivi pours the wine while Karrie pours a shot of tequila and brings it over to me. "This isn't going to help, but it can't hurt," she says. I take the shot from her and swallow it down, and it burns the whole way down.
"For the love of God, I need one of you women to tell me what is going on," he shouts. "Why am I the only man around here?"
"He's getting married," I tell my father after accepting another shot of tequila. Coughing after I swallow it down, I wipe my mouth with the back of my hand. "Ed is getting married." I shake my head. "That pencil dick lying motherfucker is getting married."
"Oh, honey," my mother says from beside me.
Vivienne now goes over to the cell phone and grabs it, reading the caption out loud. "When you find the one, you take the leap. Marry me." She rolls her eyes and pretends to gag. "Le trou du cul." Asshole, she says in French.
"That pencil dick motherfucker," I say now angry again. "I knew he was a tool. You told me he was a tool." I point at Zoe who just nods.
"I did," she says, and I start to pace again, the heat from the tequila spreading through me.
"Oh no, baby, it's not you, it's me." I imitate him, sounding like a whiny baby. "I'm just tired, baby."
"She never even had a happy ending," Vivienne says from the counter while she drinks her glass of wine. Karrie walks up to her and grabs it from her, gulping it down.
"I don't want to hear this," my father says. "Are you going to be okay?" He comes to me and puts his hand on my arms, bringing me to his chest. My face rests in the middle of his chest, the safest place I can be.
"Of course, she's going to be okay," Zoe says, going to get her own shot of tequila. She winces when she swallows and then gags. "That's shit is fucking disgusting." She points at the bottle.
"I'm going to go down with the kids," my father says, kissing my mother's lips. "Love you."
"Ugh Dad, not now." I groan at him. He just laughs and walks out of the room.
"So what are you going to do?" Karrie asks me, and I look at her.
I shrug. "I have no fucking idea."
"We should send him a box of vibrators," Vivienne says, then looks at Karrie. "Remember when Matthew threw all yours out?"
We all groan now. "Right in the middle of the street."
Allison can't help but laugh and neither can I. "I need to see the picture again," I tell them and grab the phone from the counter where it was laid after making its way through everyone's hand. I look at the picture; his hands are on her face. "He's such an asshole."
"He is," Karrie says, "but you can't let him get to you."
"Well, you can let him get to you," Zoe says, and I look at her in shock. "But then you take all that energy, and we devise a plan to castrate him."
"Girls," my mother says, shaking her head. I am not going to lie, we are a handful, and no matter how many times we said we would be good, it would just go downhill and fast. The number of times they got pulled into the office at school was a record, and I swear the teachers let out a collective sigh of relief when we graduated.
"What?" Zoe puts her hands up. "I mean Allison"—she looks at her—"you watch Game of Thrones. Don't they do that, and the guy still lives, right?"
"It's true. You can survive without a penis," Allison says, then hears my mother groan. "But I don't suggest you guys cut off his penis."
"Thank you," my mother says.
"Fuck that," Vivienne says. "Hit him where it hurts."
"Yeah," Zoe says, nodding. "Hit him where it hurts, but will it hurt if he doesn't even use it?"
"Vivienne," Karrie hisses, "not helping."
My father walks back in the room. "Is everything okay in here?"
"We're talking castration, but it hasn't been decided," my mother says, wringing her hands while my father's eyes go big.
"Oh, I know," I say, running upstairs and grabbing my phone. "That fucker wants to get married." I laugh bitterly, opening Twitter. "I'm crashing his fucking wedding."
"Oh dear God," Karrie says while Vivienne cheers me on, earning her another glare but this time from my parents also.
"What are you doing?" my father asks, and I smile, almost like a Cheshire cat with the mouse tail flipping my mouth.
"I am getting myself the hottest date out there, and we are going to go and congratulate that pencil dick asshole."
"What do you mean by getting yourself a date?" my father asks, his face going white. "Are you hiring an escort? Zara Stone," he hisses out my name.
"Not exactly," I say, smiling. "I'm going to do better."
"Why am I the only male in this house?" he yells and sits down on one of the stools, and my mother walks to him. "She is going to give me a heart attack."
"Oh my," I hear from Allison laughing on the side, "this is going to be so good."
"What is going on now?" my father asks, and then she hands him the phone and displays what I just did two seconds ago.

Zara Stone @ZaraStone
When your ex-boyfriend gets engaged, you ask his idol @EvanRichards to be your date to crash his wedding. What do you say? Wanna be my date?
#myexhasapencildick

Zoe reads it and turns to high-five me while Karrie rolls her lips, trying not to laugh. Allison puts her hands in front of her mouth, and Vivienne just nods, drinking her wine. My phone beeps, and my father looks at me. "I think he answered."
I grab the phone from him just when I hear Karrie's cell phone ring. Her eyes look from the phone to me. "It's Matthew."
"Did he answer you?" Zoe asks, and I open my Twitter.

Evan Richards @EvanRichards
Sounds like a plan. DM me.

Zoe laughs out loud. "Yeah buddy, you better DM him right now."
"What does that even mean? Why is this happening?" My father just moans.
"It's happening because he is a pencil dick asshole who basically lied with the whole 'I have so much work, and I have to focus on that' bullshit. Well, guess what? I'm going to get the last laugh," I tell him, and he just shakes his head.
"Matthew is freaking out," Karrie says, trying not to laugh with the phone by her ear. "Hold on, let me put him on speaker."
"Zara." His voice fills the room. "Are you out of your mind?" he asks in one breath and then continues. "No, don't answer that. We all know you are out of your mind."
"Hey, Matthew," I say, and he stops talking. "Is it true you threw out Karrie's vibrator?"
"Who told her that?" he hisses. "I have to be on the ice in twenty minutes. I don't have time for this today."
"Who asked you to get involved?" Zoe says. "I mean, you won't even let your wife have a vibrator. She looks deprived."
"She isn't deprived," he says, "and the date with Evan is never going to happen."
"Matthew Grant," Karrie pipes in, "don't you dare. Your sister is brokenhearted."
"This is going to end up on SportsCenter," Matthew grumbles. "I have to go. Kiss the kids for me, and you twins …" I look at Zara, and she looks at me. "I'll liquidate some stocks to make sure I have bail money." He laughs, but my father groans.
"I see this ending very badly." My mother laughs.
"For one of us anyway." I smirk at her.
Excerpt. ©Natasha Madison. Posted by arrangement with the publisher. All rights reserved.
Giveaway:

(3) eBook copy of THIS IS CRAZY by Natasha Madison
To enter Giveaway: Please complete the Rafflecopter form and post a comment to this Q:

What did you think of the excerpt spotlighted here? Leave a comment with your thoughts on the book…
Meet the Author:
When her nose isn't buried in a book, or her fingers flying across a keyboard writing, she's in the kitchen creating gourmet meals. You can find her, in four inch heels no less, in the car chauffeuring kids, or possibly with her husband scheduling his business trips. It's a good thing her characters do what she says, because even her Labrador doesn't listen to her…
Facebook | Twitter  |  Instagram  |  Facebook  Reader Group  |  Follow On Amazon  |  Follow On Bookbub  | Subscribe To Newsletter 

Buy links:
Amazon US: https://amzn.to/2HS8Zk1
Amazon UK: https://amzn.to/2F1qk8v
Amazon CA: https://amzn.to/2EK5avl
Amazon AU: https://amzn.to/2Z4ucwK
Apple: https://apple.co/2ZleWMY
B&N: https://bit.ly/2PjSoYr
Kobo:https://bit.ly/2KM5I9g