In The Lies We Tell (The Undertaker's Daughter #2) by Debra Webb, Rowan DuPont hasn't had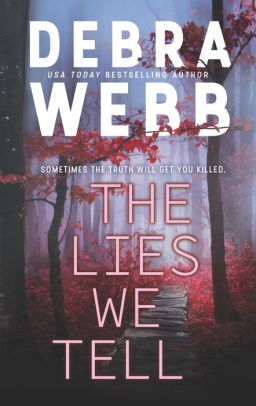 an easy life. Losing her mother and sister when she was younger and then her father recently have taught her that she can't trust anything in her life. Well, except for her closest friend, police chief Billy Brannigan. So, when a double homicide occurs in her hometown, Rowan is determined to discover why these two people died and how it's connected to family secrets she's been working hard to get to the bottom of. Will Rowan be able to uncover the truth before it's too late or will she find herself the target of a serial killer again?
Billy frowned. "What did you need to talk to me about?"
"It may be nothing." Suddenly the idea felt entirely foolish. "But I'm thinking you should run Sanchez's prints."
"You mind sharing your reason?"
"I think he might be a killer."
Having been introduced to this heroine in the first book of this series, I was really looking forward to getting to know her more about and I've got to say that this story does not disappoint and was even better than the first. Really, Rowan is determined to uncover her family's secrets, which she is beginning to fear are more and more horrible. Were her parents involved in something terrible that has brought trouble into her life? Will she uncover her family secrets in order to keep herself safe?
As for the dialogue, it was extremely intriguing, engaging and I enjoyed it right from the beginning, as the investigation into the double homicides turns Rowan's life upside down. Since whatever happened in her past and whatever her parents were involved in could be putting her life in danger. Will she uncover the truth before it's too late? Moreover, I loved the growing relationship between Rowan and Billy, as neither want to ruin their friendship by getting close and then everything falling to pieces. Yet, their chemistry is undeniable and it's palpable that neither should let anything hold them back, especially when they don't know what tomorrow could bring. Then again, can Rowan trust her instincts anymore after everything that's happened in her life that has shown her she doesn't know who she can trust?
"Are you suggesting I dump the funeral home on Charlotte and go somewhere and hide until this is over?"
He didn't answer her for a long time. Then he said, "Yes." He braked to a stop at an intersection. He turned to her, looked her straight in the eye. "You would be safe that way, Ro. Every new discovery confirms one thing for me – you are not safe as long as he knows where you are."
She looked away first. He didn't look away until he rolled forward, beyond the intersection. "He would wait me out. He's persistent that way."
"You're that convinced he won't give up or lose interest."
With the main characters, Rowan is such an interesting heroine with a back story that makes it understandable why she doesn't trust easily, especially since she blames herself for allowing someone she thought she could trust to deceive her in such a big way. Will she finally get justice for all of Julian's victims or will she fall victim to Julian once again? Furthermore, Rowan is resilient, courageous and I liked how she tackled every obstacle she faces throughout this story because there's so much for her to deal with such as what happens with some of the dead bodies and what happens towards the end of this story. While Billy, he's a good friend with his overprotectiveness and I loved how determined he was to keep Rowan safe, even if it means doing something against her wishes. I also liked how determined Billy was to win over Rowan over because the police department could definitely use her skills as a psychiatrist, even if she believes her instincts failed her and she doesn't want them to fail her again.
Overall, Ms. Webb has delivered a very good read in this book, which was intense and filled with a few edge-of-your seat moments, as Billy and Rowan race to uncover who the murderer is of the double homicide and discover how the homicides are connected with Rowan's family secrets. However, it was the ending that wrapped this story up nicely, as Rowan isn't about to let anything stop her from living her life. I would recommend The Lies We Tell by Debra Webb, if you enjoy mystery/thriller books or books by authors Cindi Myers, Regan Black, Elle James and Janie Crouch.
Book Info:

Publication: September 17th, 2019 | MIRA | The Undertaker's Daughter #2
Nothing hurts like the truth.
Doctor Rowan Dupont knows a serial killer is coming for her. Julian Addington has been waiting. Watching. And it's only a matter of time before he strikes. But what Julian doesn't know is that Rowan is ready for him. And more than anything she wants answers. How well did the depraved killer actually know her mother? And how many lies have been spun in the years since she took her own life?
Working alongside her childhood friend Police Chief Billy Brannigan, Rowan is determined to get to the bottom of her mother's puzzling suicide once and for all—even if it means exposing an unsettling past. It certainly seems like her family's Victorian funeral home has borne witness to more than one dark secret, but when a recent double homicide leads to an even grislier discovery, separating the truth from the lies might be the last thing Rowan does.