The Littlest Cowgirls by Melinda Curtis is the seventh book in her Mountain Monroes series. I love this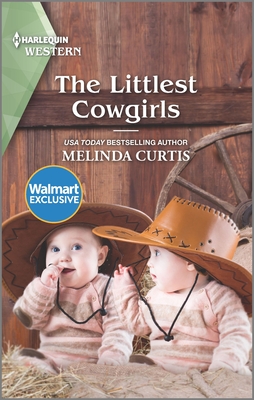 series and I found this story to be very entertaining.
Ashley Monroe is an actress whose career began when she was a child. Following her childhood roles Ashley was then offered roles in rom-coms, but she wants more. After her trip to Second Chance, Idaho with the gathering of Harlan Monroe's grandchildren for the reading of Harlan's will Ashley decided to learn more about Second Chance. The grandchildren inherited the town of Second Chance and they have a time frame to decide if they want to keep it or sell it. The cousins are split on a decision.While in Second Chance Ashley became enamored of the town legend of Merciless Mike Moody, a stagecoach robber.
Now Ashley is determined to open her own production company to make a movie about Merciless Mike Moody. Once again all Harlan Monroe's grandchildren are descending on Second Chance but this time it's for Ashley's twin sister Laurel's wedding. Ashley is also there to try to fix her relationship with her twin. There had been times when Ashley and Laurel did the twin switch, times when Ashley didn't think she could handle the Hollywood event. Such was the case this past New Year's Eve when Laurel filled in for Ashley on a date with Hollywood's much-sought-after action star Wyatt Halford. That switch resulted in Laurel getting pregnant by Wyatt, pregnant with twin girls. Unfortunately a rumor got spread around that it is Ashley who is pregnant with Wyatt's babies. That could destroy the careers of both of them. Damage control is needed.
Wyatt Halford couldn't believe the rumors about him and Ashley Monroe and a pregnancy. When Jonah Monroe showed up at his set in South America with an invitation to attend Laurel Monroe's wedding as Ashley's date Wyatt didn't have a choice but to agree. He needed to go there and set things straight. When he arrived in Second Chance he discovered that it was Laurel Monroe who had been with him on New Year's Eve and she is thirty weeks along in the pregnancy. He was asked to sign an agreement giving up his parental rights. He needed to think about that more. As he spends more and more time with Ashley he realizes he is falling for her. What a mess!
Ashley's twin Laurel loves Mitch Kincaid and his daughter Gabby. Gabby plays a major role in events in this storyline. I really liked how Ms. Curtis incorporated the assignment of a paper Gabby has to write for her English Literature class where Gabby has to interview two people about what she's thinking about for a future career. She interviews Ashley and Wyatt and the questions she asks leads to answers that go a long way toward Ashley and Wyatt really getting to know each other better. A brilliant way to accomplish this! Wyatt's dilemma as to whether or not to give up his parental rights to the twins is a heart-wrenching aspect of the story. It wasn't easy but I am so glad Ashley and Wyatt got their Happily Ever After.
Book Info:

Publication: February 9th 2021 | Harlequin Heartwarming | The Mountain Monroes
This soon-to-be dad…
Is getting a double surprise
Wyatt Halford's kept his cool as one of Hollywood's hottest action stars. But coming to Second Chance and discovering he's about to be a father to twins? Now he's definitely off-kilter. He certainly can't afford any complications–like falling for spirited redheaded actress Ashley Monroe. Wyatt's dealing with the biggest plot twist of his life. But can he do the right thing…and still find his happy ending?
USA TODAY Bestselling Author
Book 1: Kissed by the Country Doc
Book 2: Snowed in with the Single Dad
Book 3: Rescued by the Perfect Cowboy
Book 4: Lassoed by the Would-Be Rancher
Book 5: Enchanted by the Rodeo Queen
Book 6: Charmed by the Cook's Kids
Book 7: The Littlest Cowgirls