Serena Singh Flips the Script by Sonya Lalli: At the age of 36 Serena is living her best life, she is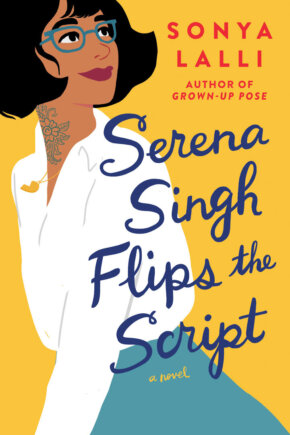 confident with herself and has a kickass new job in Washington, so she is unable to understand why her mother keeps putting so much of focus on settling down.
You see Serena is happy with her life just the way it is, she doesn't see the need to get married and have a bunch of kids to ensure and prove that she is happy or fulfilled. But with her younger sisters newly married Serena is tried of all her relative giving her pity looks like she is now an old maid.
However things take a sharp turn when Serena meets with her new co-worker Ainsley, who helps give her a big wake up call. All this time while Serena has been so focused on her career and being a self reliant woman she has managed to push away all the people close to her. With this new out look Serena finds herself relooking at all her life choices and so brings in a whole new breath of life into her boring world.
I am kind of on the fence with this book, on one hand I loved that it had a very real feeling to it but on the other hand I did feel like it was a bit disjointed in that it really didn't need the romantic aspect. This book really is a book about a women finding her way and how to balance her work and personal life. I did enjoy seeing the East Asian Indian family dynamic, this was portraying perfectly.
Serena Singh Flips The Script was definitely an interesting book that had a sweet and tender message wrapped into the story.
Book Info:

Publication: February 16th 2021 | Berkley |
Serena Singh is tired of everyone telling her what she should want–and she is ready to prove to her mother, her sister, and the aunties in her community that a woman does not need domestic bliss to have a happy life.
Things are going according to plan for Serena. She's smart, confident, and just got a kick-ass new job at a top advertising firm in Washington, D.C. Even before her younger sister gets married in a big, traditional wedding, Serena knows her own dreams don't include marriage or children. But with her mother constantly encouraging her to be more like her sister, Serena can't understand why her parents refuse to recognize that she and her sister want completely different experiences out of life.
A new friendship with her co-worker, Ainsley, comes as a breath of fresh air, challenging Serena's long-held beliefs about the importance of self-reliance. She's been so focused on career success that she's let all of her hobbies and close friendships fall by the wayside. As Serena reconnects with her family and friends–including her ex-boyfriend–she learns letting people in can make her happier than standing all on her own.