The Lord's Highland Temptation by Diane Gaston: This was the first book I have read from this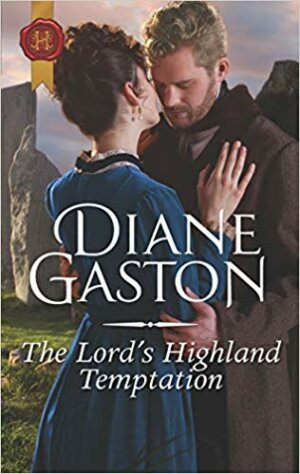 author, so I was not sure what to expect. I was pleasantly surprised by how well written the book was and the well-developed story line.
Captain Lucas Johns-Ives was running from his responsibities as the heir to an Earl. He blames himself for not being able to save his older brother during the battle. Lucas didn't want to accept the position of heir to the Earl because he felt like he should have died, not his brother. He didn't feel right accepting his brother's title and estates. He escapes the memories by drinking and wandering around the Highlands, where he is found ill by Mairi's brother and sister. Once he has recovered, he decides to help the Wallace family by pretending to be their butler. As he spends more time in the household, he sees how Mairi struggles to save her family and he wants to assist her.
Mairi Wallace struggles to keep her family afloat. Her mother and father are frivolous and have no concept of controlling their spending. They have had to let go most of their staff and were not able to pay the ones they still had. Mairi was doing the servants work and tried to convince her parents to sell household items to help pay their debts. She is not interested in marriage due to a painful secret from the past. When Mr. Hargreave forces her hand after winning her father's money, she agrees to marry him to save her family. Mr. Hargreave only want's her father's title and estate.
Will Lucas take up his responsibilities and his birth right in order to save Maira? Can they overcome their past and help each other heal in order to have a future together?
The author does a great job developing the characters and keeping the reader engaged in the book. The main characters were perfect for each other. They both had experienced pain in the past and were able to help each other overcome the hurt in the end.
Book Info:

Publication: September 1st 2019 | Harlequin Historical |
A soldier burdened by guilt…
…to the future Earl of Foxgrove?
Captain Lucas Johns-Ives is injured in the same battle that killed his brother. Haunted by loss, Lucas's life is saved by Mairi Wallace. In this Highland idyll, masquerading as her family's butler, Lucas can avoid the responsibilities of becoming the new Earl. He's tempted by Mairi's sweetness — but to win her hand, he must face his demons and claim his noble birth right…