In The Lost and Found Bookshop by Susan Wiggs, On the day that Natalie Harper's professional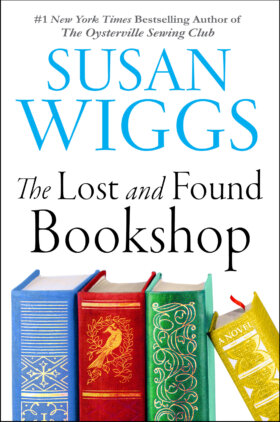 life was about to get a huge boost, her personal life suffered a devastating loss. With too many decisions to make and an overwhelming amount of grief holding her down, Natalie temporarily moves back to San Francisco to figure out how to take over her mother's bookstore–and how to care for her beloved grandfather Andrew. It turns out the man who helped raise her, a fixture in Natalie's life since her birth, is struggling physically and mentally. The last thing she'll do is give up on Grandy, though. No matter what it takes to keep everything afloat.
"Never say you're a burden. Ever."
"You changed your life completely for my sake," he said. "Don't think I haven't noticed."
"I needed a change, Grandy… Being back has been good for my soul. I hope it's good for us both. I've missed you."
Between the horrific state of the bookshop's finances and the many structural issues the historical building it's housed in is facing, Natalie has her work cut out for her. Hiring contractor Peach Gallagher–who is also father to one of their favorite younger customers, Dorothy–is a godsend. He understands how to painstakingly restore the Bay area's old historic buildings. And Peach is quick to lend Natalie and Andrew a hand anytime it's needed. Although Andrew doesn't want to be a nuisance to them, he's increasingly aware of their tenuous situation. But just when things are looking bleak, the uncovering of artifacts within the aging building might just be their saving grace while also shining a light on the truth behind some of their family legends.
'His daughter was everywhere in this place, another reason he clung to the venerable old building despite its many flaws and failings. Just because something was old and damaged was no reason to abandon it.'
The Lost and Found Bookshop was quintessential Susan Wiggs with its heartfelt, thoughtful prose and intriguing historical facts as we followed a family in crisis, trying to heal as they set out to save their beloved family business.
'Bookstores were important. People loved them. They added a special vibrancy to any community. The very idea had sustained her mother for decades, and now it was up to Natalie to carry on.'
Aside from the down-to-earth, flawed characters I always associate with Wiggs' work and like so much, her storytelling ability is what truly draws me to her novels. The Lost and Found Bookshop definitely took readers on a journey, linking the Harper family's past with their current struggles in San Francisco. The city itself was a beautiful backdrop for the story. And there was already so much history to draw from the location. I loved how discoveries Natalie, her grandfather Andrew, and contractor Peach found while renovating the building added new light to the Harper family as well as painted a picture of life around the late 1800s, early 1900s–including the Great 1906 San Francisco Earthquake. Some of the details regarding those times (as you can imagine) were grim and very sad, but it added depth to the stories that had been passed down in the family each generation.
Wiggs always has some interesting twists and turns to her plots and this book certainly had some that I didn't see ahead of time. One of which was the tragedy that started off the book, forcing Natalie to go home to San Francisco to care for her mother's bookshop and for her ailing grandfather. I really did adore the relationship between Andrew and Natalie. It was warm and tender and filled with a lifetime of beautiful sentiments between them. The tough part was watching Andrew, or Grandy, as Natalie called him, decline mentally and physically. Particularly when we had passages written from his POV. *sob* He was an incredibly kindhearted man who added joy to the lives of those around him, even the customers in the bookshop.
As far as our heroine Natalie, it felt like she came full circle when she went back to the bookshop and dug into the family history. Wiggs described her grief and all the myriad emotions that went along with the situation Natalie was in perfectly, making it easy for us to empathize with her. I enjoyed the addition of Peach and his awesome daughter Dorothy to the Harper's lives and thought they all made a great team while they tried to shore up the bookstore, help Andrew with his health problems, and also the connection they all shared as individuals. I will admit the ending felt a little bit rushed, although I did love how Wiggs closed things out through articles and announcements that let us see how everything played out for Natalie and crew.
Insightful and poignant, with heartbreaking moments that ultimately led to triumph and fulfillment, The Lost and Found Bookshop will quickly and completely capture the heart of book lovers.

Book Info:

Publication: Expected publication: July 7th 2020 | William Morrow |
In this thought-provoking, wise and emotionally rich novel, New York Times bestselling author Susan Wiggs explores the meaning of happiness, trust, and faith in oneself as she asks the question, "If you had to start over, what would you do and who would you be?"
There is a book for everything . . .
Somewhere in the vast Library of the Universe, as Natalie thought of it, there was a book that embodied exactly the things she was worrying about.
In the wake of a shocking tragedy, Natalie Harper inherits her mother's charming but financially strapped bookshop in San Francisco. She also becomes caretaker for her ailing grandfather Andrew, her only living relative—not counting her scoundrel father.
But the gruff, deeply kind Andrew has begun displaying signs of decline. Natalie thinks it's best to move him to an assisted living facility to ensure the care he needs. To pay for it, she plans to close the bookstore and sell the derelict but valuable building on historic Perdita Street, which is in need of constant fixing. There's only one problem–Grandpa Andrew owns the building and refuses to sell. Natalie adores her grandfather; she'll do whatever it takes to make his final years happy. Besides, she loves the store and its books provide welcome solace for her overwhelming grief.
After she moves into the small studio apartment above the shop, Natalie carries out her grandfather's request and hires contractor Peach Gallagher to do the necessary and ongoing repairs. His young daughter, Dorothy, also becomes a regular at the store, and she and Natalie begin reading together while Peach works.
To Natalie's surprise, her sorrow begins to dissipate as her life becomes an unexpected journey of new connections, discoveries and revelations, from unearthing artifacts hidden in the bookshop's walls, to discovering the truth about her family, her future, and her own heart.