Redemption of a Ruthless Billionaire by Lucy Ellis is a sexy romance featuring a jaded businessman and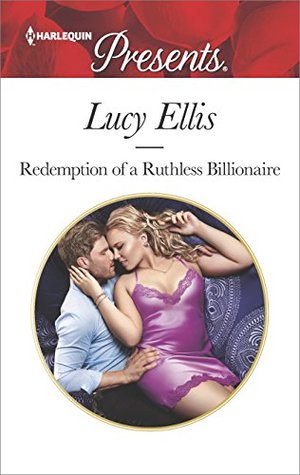 a single mom who makes him realize that money isn't everything.
Nik Voronov, a mining billionaire, bought the historic Edbury estate in the English countryside as an investment and for his grandfather to have a place to live in the UK while receiving medical treatment. At the time he'd stopped the local heritage society from giving tours of the place, and when he discovers that they are ongoing he goes personally to investigate.
Sybella Parminter is head of the Heritage Trust and is quite happy to work with the elderly Mr. Voronov to show his home. They've become good friends, and he's wonderful with her young daughter too. But his grandson, Nik is another story. Rude and arrogant on their first meeting, his threats to have her fired are particularly irritating since she finds him physically attractive. When Nik comes by her house to apologize and to clear up some of the misunderstandings, their chemistry leads to a hot and steamy night together.
Nik would like to keep their affair ongoing, but Sybella is used to a much simpler life and has no interest in moving to one of his fancy homes in another country. Can these two lovers find common ground on which to build a real relationship?
I really enjoyed this story! Sybella is a wonderful character. She's spent the last few years being a full time mom to her daughter Fleur after she was widowed during pregnancy, and working to provide a good life for her. She feels somewhat self conscious about her weight but Nik clearly appreciates all of her attributes and this makes her bold in the bedroom, giving them some very sexy love scenes. Sybella is perfectly happy to keep it a one night stand but when Nik wants more, she tries to find ways to accommodate him. At the same time, she's not willing to give up her independence and it's up to Nik to realize that she's not like the other women in his life who've been impressed by his money and power. I loved seeing him realize that he'll have to change to win her heart.
I enjoyed seeing Nik's obvious affection for his grandfather and how he warms up to Fleur. The setting is lovely. Nik has a complicated relationship with his family and comes to a crossroads of choices that will have a profound effect on his future. Fortunately he chooses the right path that leads to a happy ending with Sybella and Fleur. This is my first time reading this author and I'm looking forward to reading more of her books.

Book Info:

Publication: Jan 16, 2018 | Harlequin Presents |
"I want you off my property."
But what Nik Voronov really wants is Sybella—in his bed!
Nik's not a Voronov by blood, but he's ferociously protective of his adoptive family. So when he believes single mother Sybella Parminter is taking advantage of his grandfather, he ruthlessly strips her of her job! But when unexpected desire threatens to consume them both, sweet Sybella might just be the redemption this brooding billionaire needs…