The Mad Girls of New York by Maya Rodale: Reporter Nellie Bly set out to conquer the world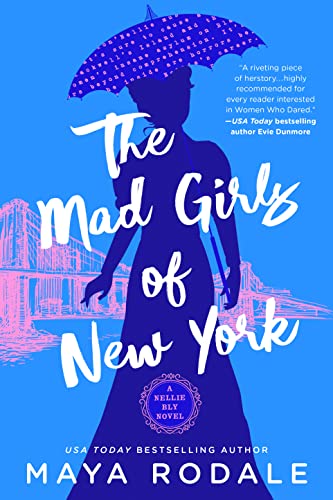 when she left Pittsburg for New York City to become a spectacular reporter, only to discover the editors on Newspaper Row would not hire a girl reporter. They thought women were too emotional, couldn't get the story, weren't as accurate as men, or did not have enough experience. After months of trying to find a job and being turned away, she is desperate enough to push her way into Cockerill's, the New York World editor, office.
Eager to prove herself she announces she will go undercover at Blackwell's Island Insane Asylum for Women, which had been in the news lately. The papers were suggesting the asylum's conditions were deplorable and what better way to gain entrance and get the true story than to go in as a patient. Nellie discovered it was easier than she thought it would be to get admitted to Blackwell. All a female had to do was be unwanted or an inconvenience since the doctors didn't listen or care about the women.
After days of malnourishment, cruelty, and witnessing the women's despair and hopelessness, she was afraid Cockerill would never come to release her. She hoped he would want her story enough to and she was ready to tell her story and hopefully bring attention to the disgraceful conditions and helplessness of the women.
Nellie Bly was a true journalist, and her two newspaper articles were later published as a book, Ten Days in a Mad-House. I haven't read any of the historical books on Nellie Bly, but this fictional story was based on her bravery and determination. She was so optimistic and eager to be a reporter and I was glad to see she didn't let her stay in the asylum influence her dedication to reporting. She went into the asylum looking to write a story about the atrocious conditions there, but she realized her story could be so much more than just the conditions of the asylum. She had the stories of the women and how the place took away their minds and soul, leaving them with nothing but time while they waited to die there.
This was a heartbreaking story and told of the courage Nellie had to get a story as a female reporter. This was not a historical romance as I expected, so I was disappointed by that. Although it is labeled as a romance there is only a hint of a potential romance. It was entertaining and well written so if you don't mind it having no actual romance then it is the perfect book.
Book Info:

Publication: April 26, 2022 | Berkley Books | Nellie Bly #1
Fearless reporter Nellie Bly will stop at nothing to chase down stories that expose injustices against women—even if it comes at the risk of her own life and freedom—in this exciting novel inspired by the true story of one remarkable woman.
In 1887 New York City, Nellie Bly has ambitions beyond writing for the ladies pages, but all the editors on Newspaper Row think women are too emotional, respectable and delicate to do the job. But then the New York World challenges her to an assignment she'd be mad to accept and mad to refuse: go undercover as a patient at Blackwell's Island Insane Asylum for Women.
For months, rumors have been swirling about deplorable conditions at Blackwell's, but no reporter can get in—that is, until Nellie feigns insanity, gets committed and attempts to survive ten days in the madhouse. Inside, she discovers horrors beyond comprehension. It's an investigation that could make her career—if she can get out to tell it before two rival reporters scoop her story.