Welcome to the Neighborhood by Lisa Roe: Months after a whirlwind romance with Jeff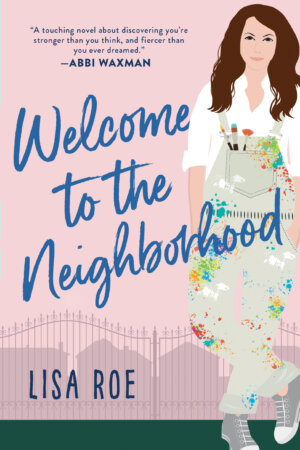 knocks her socks off, Ginny agrees to move from Queens to the outer suburbs of New Jersey once they marry. Packing up daughter Harri from their small one bedroom apartment, the move to stepford town is certainly going to take some getting used to but Ginny fundamentally believes that she's got what it takes to fit right in. Except she doesn't and more painfully, her daughter Harri struggles to meet base-line criteria for the over-privileged girls who live on her street.
Whilst initially presenting as a very clean read cut out from the typical 'new to the neighbourhood' mould, this was able to take some interesting turns that challenged and developed some great tension. As things go from bad to worse for Ginny when Jeff abandons them to take a promotion in Ireland for 6 weeks, Ginny is faced with the kind of dilemma wherein she needs to show how solid their relationship is to last the distance, whilst also pleasing the un-pleaseable vipers across the road. From a ludicrous fashion show to mother meetings post school drop off, Ginny begins to realise she isn't cut out for this high pressured suburban living. And when things begin to take an even uglier turn threatening both Harri's and her health, her true character begins to shine.
Ultimately, Ginny's self-belief and approach to motherhood was well constructed and her relationship with next-door neighbour Wayne was without doubt the stand-out. And as things seriously begin to unravel 2 months in, more than just a dirty under-belly of the neighborhood is revealed. For those who love a good old fashion challenge to the pretentious status-quo and a comeuppance for those who take their privilege for granted this is a solid read that will have you cringing, laughing and crying at the terrible measures we go to to fit in and the strength it takes to know and show they self.
Book Info:

Publication: 5th April 2022 | Sourcebooks Casablanca |
After years of struggling to make ends meet, Queens single mom Ginny falls for sweet, divorced Jeff, and relishes the idea of moving with her quirky eleven-year-old daughter Harri to his home in an upscale New Jersey suburb. Though she's never been impressed by material things, she is thrilled that getting a second chance at love comes with the added bonus of finally giving Harri everything she never could before.
And then she meets the neighbors.
Ginny is quickly thrust into the complicated realities of a neighborhood defined by the ever-shifting alliances of PTA moms, Real Housewife contenders, and their mean-girl daughters. When the neighbors' secrets, back-stabbing, and bad behavior take a devastating toll on her daughter and new marriage, Ginny must decide what really matters—and protect it at all costs