Today, HJ is pleased to share with you

Jean Meltzer's

new release: 

Mr. Perfect on Paper

From the author of the buzzy THE MATZAH BALL, a pitch-perfect romcom about a matchmaker who finds her own search for love thrust into the spotlight after her bubbe outs her list for "The Perfect Jewish Husband" on live television.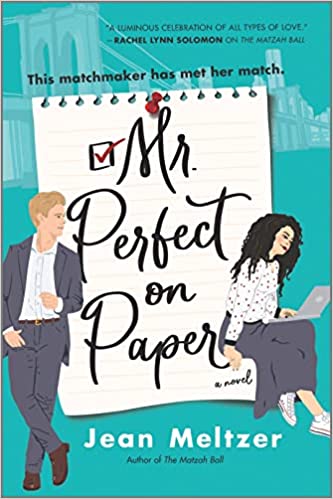 Dara Rabinowitz knows a lot about love. As a third-generation schadchan, or matchmaker, she's funneled her grandmother's wisdom into the world's most successful Jewish dating app, J-Mate. Yet, despite being the catalyst for countless Jewish marriages, Dara has never been successful at finding love. Oh, she's got plenty of excuses—like running a three-hundred person technology company and visiting her beloved bubbe every day. But the real reason Dara hasn't been on a date in three years is much simpler. Though she desperately wants to meet her bashert, and stand beneath the huppah, she is frozen by social anxiety.
All that single dad Chris Steadfast wants to do is give his daughter stability. But with the ratings for the TV news show he anchors in the gutter, and the network threatening cancellation, Chris's career – like his life with Lacey in Manhattan — is on the chopping block.
When her bubbe outs Dara's list for "The Perfect Jewish Husband" when they're guests on Chris's live show, Chris sees an opportunity to both find Dara her perfect match, and boost the ratings of his show. But finding Mr. Perfect on Paper may mean giving up on the charming—and totally not Jewish—reporter following Dara's nationwide hunt…
Enjoy an exclusive excerpt from Mr. Perfect on Paper 
Dara Rabinowitz had awoken, as she did every morning of her life, with a plan.
Sitting on her couch in her warehouse loft apartment in Hoboken, she stared at the gray concrete walls in front of her. She had been up since 4:00 a.m., running through a ritual of to-do lists and carefully constructed patterns to keep her anxious thoughts at bay. There was showering, meditation, candle-lighting, deep breathing. And when those didn't work, she turned to the miracle of modern medicine: benzos.
Otherwise, the early wake-up was unnecessary. Dara never slept well on days when she would be doing publicity.
Pulling her Bergdorf Goodman dressing gown taut against her body, she attempted to breathe through her anxiety. Her mother, along with a dozen other therapists over the years, had taught her the value of positive self-talk. Closing her eyes, Dara breathed in the scent of the patchouli candle burning precipitously in the center of her coffee table. She could do this. It was just an interview on national television with her beloved bubbe. What could possibly go wrong?
The buzzer on her front door rang. Dara opened her eyes, grateful for the intrusion. Rising from the couch, she hid any overt sign of stress behind the cool veneer of a high-level executive. Naveah, her executive assistant, was standing on the threshold.
"Morning!" Naveah said, her hands full of items. "You ready for us?"
Dara returned a wide smile. "Of course."
Naveah clicked her teeth in open delight. "So much fun!" At twenty-four years old, Naveah was a full decade younger than Dara. With golden skin and dreadlocks decorated with tiny shells, she gave the impression of being one of those people who was born instinctively cool. She was also a damn good executive assistant. Three outfits, each covered in protective plastic sheeting, hung delicately over one arm. A large backpack, like she was planning to spend the month hiking through Peru, was slung over her shoulder. In her right hand she held two cups of coffee on a biodegradable tray.
Behind Naveah stood the full entourage. Bobbi and Simi, her hair and makeup people, in addition to Cameron and Alexa, Naveah's assistants. The group headed upstairs while Naveah made her way toward the kitchen.
"First," she said, placing two disposable cups down on the counter between them. "Large macchiato coffee, made with almond milk, no sugar and a dollop of caramel sauce on top. Plus, one venti blueberry and lavender tea, non-caffeinated, just in case we're not in the mood for coffee this morning."
"Thank you." Dara smiled. Naveah knew her so well.
"Second," she said, reaching down into her backpack, pulling out a pink box wrapped up in white twine, "black-and-white cookies for Miriam and the ChallahBack Girls."
"You are the absolute best, Naveah."
"I know." Naveah beamed before lifting up her plastic bags on hangers. "And finally, the pièce de résistance. Three fabulous new outfits for you to review!" She hugged all three items against her boobelahs. "But first, how are you feeling?"
"Fine."
"Really?" Naveah asked, squinting suspiciously in her direction. "Because Janet says I'm supposed to text her immediately if you, you know—" Naveah glanced around the room, dropping her voice to a whisper "—are about to have one of your panic attacks."
Janet was head of marketing and publicity at Dara's company and, after ten years of working together, a close personal friend. Alas, Naveah did not need to whisper—Dara's diagnosis was not a secret.
"You can use the term, Naveah." Dara grabbed her tea. Opening it up, blowing on the piping hot liquid, she breathed in the comforting scent of blueberry and lavender. "General-ized anxiety disorder. They're not dirty words, you know."
Indeed, Dara had lived with the diagnosis of GAD since she was sixteen years old. It was a part of her. Inherent to her nature. For this reason, it didn't feel unnatural or wrong.
"So…" Naveah asked again, cautiously. "You're not going to freak out?"
"You can tell my handler that I am the picture of compo-sure this morning."
"Wonderful!" Naveah beamed, dropping the topic. "Then shall we go upstairs? I'm dying to show you what I picked out."
Dara pointed toward the industrial steel staircase. "After you."
Her condo sat on the exclusive Hoboken waterfront. As such, it overlooked the Hudson River and offered expansive views of the Manhattan skyline. With three bedrooms, it spanned over four thousand square feet, and was a true testament to her success in business over the last fifteen years. She had bought the stylish apartment at twenty-eight years old—outright and in cash—while it was still being developed. She was also able to specify with her developer any upgrade she wanted in order to make her living space perfect.
Landing on the second floor, Dara passed the long line of magazine covers she had appeared on over the years—Insight Tech, Venture Magazine, American CEO, Young Entrepreneur. Glancing up at the images, she considered the woman on the covers. Sitting on a stool, chin on her fist, smiling knowingly at the camera. In a black business suit, arms crossed against her chest. In every image, she looked fierce. Powerful. She was someone firm in her decisions, sharp, unafraid to fail. It wasn't a lie, exactly. Though, like all things in marketing, it was a carefully constructed image that she sold.
Dara entered the last bedroom at the end of the hallway to find that Bobbi and Simi were already in the process of get-ting set up. Makeup palettes and hairstyling tools littered her expensive vanity, which sat to the side of the room. She had originally planned to make the third bedroom her office, but after falling in love with the floor-to-ceiling windows that overlooked the Hudson River on her main floor, she moved her desk downstairs and turned the third bedroom into a fully decked-out closet instead.
Shelves of designer purses, shoes and accessories hung from handcrafted oak shelving. It was the type of closet that would make a Real Housewife squeal in outright jealousy. It gave the impression of someone who lived a fabulous life, full of high-end dates, epic parties and world-class travel.
In reality, Dara never got a chance to wear many of the items. Her three-hundred-plus-person company functioned almost entirely remotely. Aside from a quarterly get-together, like most of her staff, she worked from home, spending her day braless and in a variety of loungewear. Granted, it was ex-pensive loungewear—the very best loungewear money could buy—but sweatpants nonetheless.
"Before we begin," Naveah said, pulling up a chair beside her, "I was wondering if I could ask your opinion on some-thing."
Dara smiled knowingly. "Let me see."
Reaching into her bag, Naveah pulled out a phone. After turning it on and tapping the screen, she handed it over to Dara.
Glancing down, analyzing the image before her, Dara found a profile for a man named SenatorAcid69 smiling back at her. His head a sweaty mess of curls, his arms loaded down with tattoos, his profile picture was a shot of him singing on the stage of some grimy-looking dive bar.
"Senator Acid?" Dara asked, raising one eyebrow suspiciously.
"We matched on MeatCute," Naveah squealed, excitedly. "Anyway, I was wondering what you think of him?"
The rest of the team leaned over Dara's shoulder.
Dara came from a long line of well-known and highly successful schadchanit, or matchmakers. In her youth, she had learned all the tricks of the trade. She knew what to look for in a partner in order to make a match successful. But while most matchmakers considered their job an art, Dara relied firmly on science.
Dara scanned the young man's profile. Senator Acid was forty-one, never married and childless. He had been raised on the West Coast but moved to New York in his late twenties to pursue a career in music. Now Senator Acid made the majority of his income by playing in dive bars throughout New York. His life, like those leather pants and tattoos he was sporting, was exciting, but also…terribly unstable.
"It won't work," Dara said definitively.
"Really?" Naveah sighed, disheartened. "But we have so much in common. We both love music and tacos. Plus, he looks incredible gyrating in a pair of leather pants."
Dara rubbed her forehead. She had a good idea where Senator Acid was heading.
As a matchmaker, Dara had been taught to never bite her tongue. It was far better to tell a singleton the truth than let them spend unnecessary amounts of time drowning in a wrong match that would never lead to marriage. As a boss, however, she needed to be more delicate.
Dara handed Naveah back the phone. "Your perfect match is someone committed to their family, with strong Catholic values, who is close to their parents. Ideally, they should be from the tristate area and make more money than you, as you will likely want to stop working once you start having children."
"But I love working," Naveah defended herself.
"Naveah," Dara said pointedly. "In love, people tend to re-peat the patterns and examples set by their parents. Let's consider the facts of your life. You went to Catholic school. You live for your nieces and nephews. Almost all your vacation time is taken up with holidays, and weddings, and christenings. More telling, your mother doesn't work. Senator Acid might be fun now, but his entire lifestyle stands in stark opposition to the values you were raised with. Are you going to want to go to work while Mr. Acid is traveling from night-club to nightclub? Is your musician going to be content giving up his dream of being a rock star and settling down with a house in suburbia full of children? It might be fun now, but you and Senator Acid are not looking in the same direction."
"I know," Naveah said, finally. "I know you're right."
"Of course I'm right," Dara quipped. "I'm the expert, remember?"
The entire room nodded their acquiescence. Indeed, it was Dara's knowledge of successful love—the tips and tricks that had been passed down from her mother and grandmother—that formed the basis of her career. Dara was not only a third-generation matchmaker, she was creator and CEO of J-Mate, the world's largest platform for online Jewish dating.
"Now," Dara said, glancing down at her watch. "If you don't mind, we're on a tight schedule here. I need to get out of here before the coming of Moshiach."
Excerpted from Mr. Perfect on Paper by Jean Meltzer, Copyright © 2022 by Jean Meltzer. Published by MIRA Books


Giveaway:

3 Finished print copies of Mr. Perfect on Paper by Jean Meltzer for US/CA entrants only
To enter Giveaway: Please complete the Rafflecopter form and post a comment to this Q:

What did you think of the excerpt spotlighted here? Leave a comment with your thoughts on the book…
Meet the Author:
Jean Meltzer studied dramatic writing at NYU Tisch and has earned numerous awards for her work in television, including a daytime Emmy. She spent five years in rabbinical school before her chronic illness forced her to withdraw, and her father told her she should write a book – just not a Jewish one because no one reads those.