Love or Money by Peter McAra is a simple love story.It is a straightforward simple romance between two people united by fate.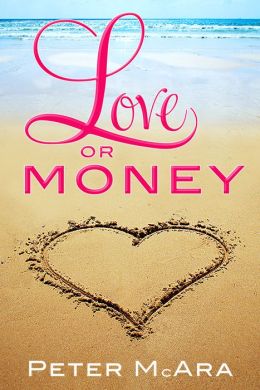 Erin Spenser inherits her grandmother's beautiful cliff top property in a rural town called Luna Bay.Although she has an emotional connect to the place,she knows she has to sell it to get the necessary funds for her ailing mother.When Hamish, her grandmother's lawyer and a dedicated environmentalist gets to know her plans,he vehemently opposes her decision.Now Erin has to choose between the money which will save her mother's life and the emotional connect she feels towards her inheritance and Hamish and most of the story is based on this choice.
Erin and Hamish's romance is the main focus of the book but in addition the reader gets to see other facets of their individual lives as well.Reading Love or Money is like watching a movie because you get the love story but along with that you get some drama,some irritating side characters and many more.The characters were relatable and you could understand them.The story did get a little slow in between for my taste but apart from that I have no complaints.
Overall Love or Money is a cute, sweet and simple romance set up in a rural town with likable characters.The love story takes its own time to develop through many events and situations and apart from the romance you get a lot more other emotions from the book.
This book is for the readers looking for a good old traditional romance which takes some time to build and evolve.But if you prefer fast paced romances,filled with passion and sparks flying all around then you may not like this.
Book Info
Publisher: Escape Publishing – Harlequin Enterprises, Australia Pty Ltd (July 1, 2013)
A sweet story about sustainability, surfing, and searching for what really matters…
When Erin Spenser inherits her grandmother's beautiful cliff-top property in rural Luna Bay, she knows she has to sell it immediately to fund her ailing mother's heart transplant. When she briefs her grandmother's lawyer, Hamish Bourke, the passionate LandCare volunteer explodes: her grandmother, a dedicated fellow volunteer, would turn in her grave.
But Erin has responsibilities that can't be denied — even by an angry, obstructive, strangely attractive lawyer determined to stand in her way. Her grandmother's property is a goldmine for holiday developers and her mother's illness is only getting worse. How can she make Hamish understand that the only way to fix her mother's heart is to break her own?