Where the Horses Run by Kaki Warner is a fascinating mix of Western and Victorian romance, and, unexpectedly, works very well. It is filled with a dizzying array of characters ranging from a cowboy to a Scottish Earl, and clicks together beautifully.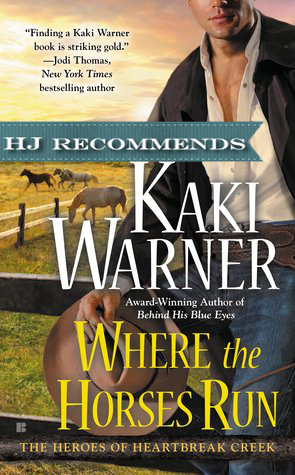 Josephine Cathcart is a ruined woman with an illegitimate son and a drunken, angry father. He had made his wealth in the coal mines of Cumberland, but his coal mines have run dry, and with it the money. To raise more money, Cathcart is looking for a wealthy husband for Josephine, but she is not interested in being used like chattel.
At the same, out in western American, former Texas Ranger Rayford Jessup meets the Earl of Kirkwell, who lives most of the time in Colorado with is bride. The Earl has found out that Rayford (called Rafe) has an uncanny knack with horses and hires him to go to England and buy thoroughbreds with him. Traveling with Rafe and the Earl and his wife is Thomas Redstone, who is 3/4 Cheyenne, who is also good with horses. On the crossing, he meets Josephine on the boat returning to England, having failed to snag a wealthy husband. Rafe soon finds out that Kirkwell is interested in buying out the rest of Cathcart's horse stock, including Josephine's beloved stallion Pembroke's Pride, who has been injured in a race.
When they arrive in England, Rafe goes to Cathcart's estate Penrith to take a look at the horses. While there he works with Pembroke's Pride, who has been physically and psychologically damaged, and gets to know Josephine and her sonJamie. Josephine enjoys Rafe's company, and his quiet acceptance of her and her son despite the scandal of his birth. Cathcart, of course, does not like him because it becomes obvious that Josephine has a champion in him, and Cathcart wants her to marry someone with money, not a near-to-penniless American.
Rafe is introspective and taciturn, and not one for useless chatter. He has had a bad brush with romance earlier, which resulted in him being shot and severely injured, and is reluctant to try again, but he can't help having feelings for the lovely and kindly Josephine who fiercely loves her child and her horse. A complete and total outcast in society, Josephine is lonely, but tries not to let it affect how she sees life, although she is saddened and angry with how her father treats her as something to be sold to the highest bidder, and also now intends to sell her beloved horse to Kirkwell. After being alone for so long, she is drawn to the quiet yet deep thinking American wrangler who knows how to comfort women as well as horses. A few days after he tells her that he feels more than friendship for her, but thinks that it's impossible, Josephine comes down to the stables and:
She found Rafe standing at the open door of Pembroke's stall, talking quietly to the horse nuzzling his coat pockets for a treat. He looked big and alien in his long duster and Western attire, distinctly out place among the earl's green-liveried coachmen with their tall hats, polished brass buttons, and white gloves. And so unabashedly male…. Strong, capable, protective. What woman wouldn't react to a man like that?
The relationship between Josephine and Rafe builds nice and slowly, and you can see how their love and affection grows throughout the novel. I liked the way that the male character was the one of lower class; so often in romances the woman is of lower class and the man 'raises' her up. However, Rafe is not uneducated, and loves to read. This leads to my favorite quote in the book:
Was she a reader? He hoped so. The idea of lying in bed beside her, just reading, was unbelievably arousing.
Her father is the bad guy, and wants her to marry well for his financial well being, yet he is still humane enough to let his illegitimate grandson live in his house with his daughter, which many noblemen of the time would not. This elevated him above the standard 'horrible abusive father' and gave him a nice bit of dimensionality. The only thing I didn't like about this book was that Josephine suffers from huge self-confidence issues, which seem a little contrary to how her character is otherwise presented. Every time Rafe acts just a little less than how she expects Josephine thinks she is being rejected. Additionally, I felt that the Thomas Redstone was a trifle stereotyped, but I have not read the other books in the series that would give more insight into his character. He's very interesting, however, despite being a secondary character, and I am looking forward to reading the next book of this series in which he is featured.
I enjoyed this book, and recommend it! It is one I would read again. It's the second of the "Heroes of Heartbreak Creek" series, which itself was successor to Warner's "Runaway Brides" series. So if you like "Where the Horses Run" you may enjoy the rest the series also!
Book Info:

Published July 1st 2014 by Berkley
Wounded in body and spirit after a shootout, Rayford Jessup leaves his career as a lawman and uses his gift with damaged horses to bring meaning to his solitary life. Hired by a Scotsman in Heartbreak Creek to purchase thoroughbreds, he travels to England, unaware that a traumatized horse and a beautiful Englishwoman will change his life forever.
Josephine Cathcart loves two things: her illegitimate son and her injured stallion. Faced with her father's looming bankruptcy, she must choose between a loveless marriage to the man who ruined her, or risk her horse and her future on a handsome, taciturn Texan and a high-stakes horse race. But as vengeful forces conspire against them, will Rafe's love and healing touch be enough to save her horse and protect her and her son?