The Matchmaker's Mistletoe Mission by Jaci Burton: Alice is a matchmaker and she loves her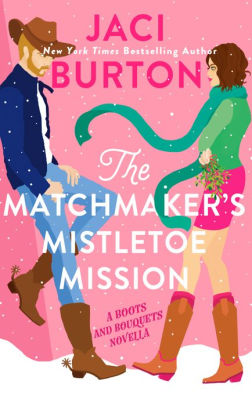 work. There is nothing more satisfying than matching two people and giving them a chance for love. Alice is committed to her approach, especially after being burned in love herself.
Clay is a sexy rancher who loves working outdoors, his family, and his dog. He loves living in Oklahoma where he can enjoy the wide open spaces and seeing the stars at night. He definitely wants a relationship at some point, but he's yet to find someone he could be with for the long-term.
Alice can't understand why her best friend had to get married in Oklahoma in December. She plans to get some work done and oversee wedding planning, but she's not at all prepared for a blizzard after she arrives. Stranded at a vineyard wasn't in her plans, but at least she has the sexy Clay as a distraction.
"So, while we're stuck together here, have you given any thought to utilizing my matchmaking services?"
He laid the suitcase on her bed. "I haven't given it any thought at all, and my answer is still no."
She leaned against the door frame. "Why? Are you afraid I might find someone you're compatible with and you'd have to admit you're wrong?"
Clay lives on the neighboring ranch to the vineyard and also ended up stranded during the storm. Alice and Clay strike sparks but also clash over their very different ideas on what makes for a lasting relationship. She's determined to find the woman for him, but Clay is determined instead to woo Alice. Having a fling is a terrible idea, but they can't resist. It feels like so much more, which leaves them in a pickle.
"Are you sure? I don't want you to do anything you don't want to do."
He cocked his head to the side. "Have you ever known me to do anything I don't want to do?"
Her lips curved. "No."
The Matchmaker's Mistletoe Mission is fun, engaging, and heartwarming. Jaci Burton provides a great introduction to a promising new series with interesting characters. Ms. Burton brings her trademark banter, family, friendships, and heat to this holiday novella. Fans of Lorelei James and Meghan Quinn will enjoy The Matchmaker's Mistletoe Mission.
Book Info:

Publication: October 15th 2019 | InterMix | Boots and Bouquets 0.5
New York Times bestselling author Jaci Burton celebrates the gift of love and the holiday season with a snowy Christmas wedding at the Bellini family vineyard.
Stranded at the Red Moss Vineyard a week before her best friend's wedding, LA native and professional matchmaker Alice Weatherford is not pleased with her first trip to Oklahoma, or the epic snowstorm forcing her to stay. So much for Christmas cheer. What she needs is a project, something to distract her…and, oh, has she found one in neighboring rancher Clay Henry. Gorgeous, charming, and unlike any other man she's ever met, finding the right woman for Clay should be easy….
Having grown up with the Bellini sisters, it's no hardship for Clay to ride out the storm at their cozy family vineyard, especially since that means spending time with their savvy and smart houseguest. But despite Alice's best efforts, he's not the least bit interested in her matchmaking….
Alice is the only woman Clay wants. Now he just has to convince the matchmaker herself to give love a chance.