The Secret Christmas Child by Lee Tobin McClain is the first book in her new series, Rescue Haven.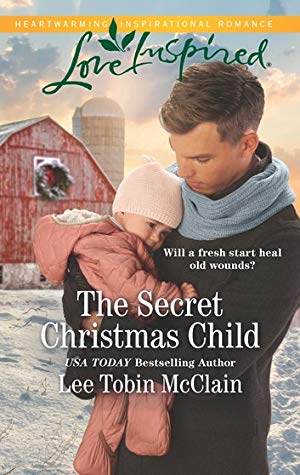 Gabby Hanko's Nana has been ill so Gabby and her baby daughter Izzy return to Gabby's hometown to help out with Nana. She has lost her job so staying with Nana is a blessing. She just needs to find a job if she wants to stay. Unbeknownst to Gabby Nana has set up a job interview for her with her former boyfriend Reese Markowski. Reese is a wounded war veteran who originally planned to work as a carpenter but losing his right hand to an IED while overseas meant a change of career.
Now Reese has established his Rescue Haven Program which helps boys at risk and abandoned dogs. The boys each have one of the abandoned dogs assigned to them to help take care of them. This therapy is beneficial to the boys and the dogs. Gabby is very surprised to find herself at a job interview with Reese. Reese seemed a little cold towards her the previous evening when he delivered groceries to Nana and now at this interview he seems reluctant to hire her but he does decide to hire her. There are instances of miscommunication and insecurities on both sides but can they overcome all that and get back together?
This author delves into a dark subject in this story yet manages to tell her tale graciously and with a happy ending proving that people who believe and love can indeed overcome adversity. There are many lighthearted scenes throughout the story which evoke warm feelings and bright Christmas spirit. I really enjoyed this book and look forward to more in this series.
Book Info:

Publication: December 1st 2019 | Love Inspired | Rescue Haven #1
Will a fresh start heal old wounds?
His high school sweetheart returns with a baby…And a devastating secret.
Reese Markowski can't believe he's hiring his ex-girlfriend—but to save his program for dogs and at-risk kids, the veteran needs Gabby Hanks. Single mom Gabby's fierce love for her infant daughter is undeniable, as is the child's effect on Reese's wounded heart. Their holiday reunion is a joyful surprise, but nothing prepares Reese for the truth about Gabby's baby…