I'm gonna say upfront that I really liked The Medic's Homecoming by Lynne Marshall, except for one thing – which I will explain at the end of the review. *builds excitement* 😉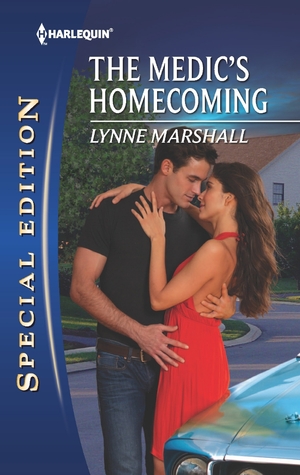 Lucas is coming back to Whispering Oaks. Not because he wants to, but because his aging-hippie parents hurt themselves in a motorcycle accident. His father needs help after breaking an arm and a leg – but with his mother also in a cast she needs his help. He's worried about many things. Exposing his family to the vicious nightmares that have plagued him since his stint as an Army Medic, not living up to their expectations as an adult, and most of all – seeing the girl next door.
Jocelyn knows Lucas is coming back – after all, she's the assistant coach of the track team, of which, Lucas' father is head coach. While Lucas is taking care of his parents, she'll be in charge of the students. A situation of which she is terrified. After bombing out of her full-ride athletic scholarship and becoming a science teacher, how can she jump back in with both feet to help the kids?
He sees Joss out jogging and fully intends to avoid her. That is, until she's under his nose at every turn. She's invited to dinner, waving to him as he tinkers on his vintage car, and coaching the track team Lucas' father has asked him to help oversee. They also need to work together on a fundraiser – also at his father's request.
Jocelyn has had feelings for Lucas for what seems a lifetime, but he never seemed very interested. Meanwhile, Lucas liked Joss a lot when they were kids, but that's nothing compared to the things she inspires him to think about as an adult. Her ponytail is sexy instead of boyish. Her long runners legs are toned instead of gangly. To top everything off, she makes him smile and comforts him – when nothing else does.
Two people running from their failures – can they overcome their inadequacies together?
Okay, so here it is. I LOVE that Jocelyn has feelings for Lucas, but is okay with being nonchalant around him. It made her seem very independent and sassy. I also think their issues – PTSD in his case, athletic failure in hers – were valid and believable. But the thing that bothered me was the complete dismissal of Jocelyn by Lucas because he isn't sure about his future. I know this is a common trope, but the angst could've been mostly diffused by ONE conversation. Otherwise, the book is really great. I'm still gonna rate it high, because even though the miscommunication niggles at me, it was still an enjoyable read. Great characters, lovely story, nice length – overall, very very good.
Book Info
Publication Date: June 18, 2013 | Series: Harlequin Special Edition (Book 2274)
The Girl Next Door…All Grown Up!
Lucas Grady never planned to return to Whispering Oaks. But when family duty called, the prodigal son arrived like the good soldier he'd been for years. And with him came the unfulfilled expectations of the past—expectations his neighbor, Jocelyn Howard, knew all too well.
Jocelyn had been in love with the rebel next door since she was a little girl. But she couldn't shake those old insecurities that she'd never be good enough, for Lucas or for anyone else. Still, the newly discharged army medic had scars that could never be truly healed—or so he thought. Maybe together, they could mend their wounds…and make each other whole again….