In The Midwife's One-Night Fling by Carol Marinelli, Midwife Freya is ready to start her new job in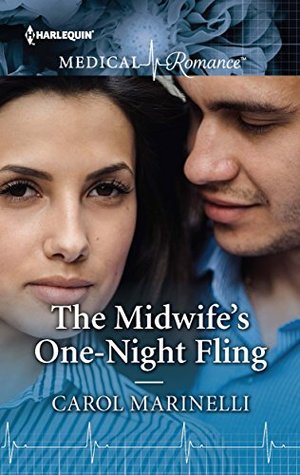 London, but the moment she arrives, it feels like she made a mistake in wanting to escape her rural Scottish town for the big city until she meets Richard Lewis. Will she be able to convince Richard to take a chance on her or will Freya walk away from a chance at a relationship with him for fear of getting hurt?
"I'm here for my orientation day," Freya said.
He grimaced. "I've done a few of those in my time. The fire lecture, the union rep…"
"We haven't had a fire lecture yet," Freya said. "That's this afternoon. I think it's a film, followed by a demonstration."
"Fun," he drawled as he rolled his eyes. "Mind you, I did have a patient who tried to set fire to the ward once…"
This story starts off a little slow and took me a little while to get into it, but once Freya meets Richard this story did became one I liked because the hero is charismatic and a total commitment-phobe, and yet, there's something about Freya that has him intrigued to get to know her better. Will he give a relationship between the pair a chance?
"I can take a hint."
"Sorry?"
"You keep suggesting it every time I'm near. All you have to do is ask."
"I wasn't hinting for you to take me!" Freya said, and actually found herself going red. "I was waiting for one of them to ask along."
"You're too subtle," he said, and lay there smiling at her. "Poor Freya-no-friends."
As for the dialogue, it was intense due to the main characters back stories and the medical emergencies these two need to deal with. Yet, there was some playful dialogue between the hero and heroine that made me smile throughout, as both Richard and Freya deserve to be happy after everything they've been through. Moreover, the heroine is independent, loyal, hard-working and I liked how determined she is to succeed in her new job, even though fitting in isn't easy. I also liked the close friendship she has with her best friend and that she would do anything for the woman, which is proven by how she's there for her best friend through the good times and the bad. However, in saying that, it seemed the heroine was running away too, which wasn't good for her. Why was she running away to work in London? Is she running because of her best friend's loss and how it wasn't easy for her to deal with?
While the hero, he's been through a lot and I could understand why he doesn't want a relationship. Yet, I'm glad that he gave the heroine a chance because he needs her just as much as she needs him in order to heal from their pasts. However, in saying that, I couldn't help but sympathize with the hero, as the heroine jerks him around a bit with her indecisiveness when it comes to what she wants when it comes to their relationship. Will she return home to her friends and family or give London more of a chance?
Overall, Ms. Marinelli has delivered a good read in this book where the chemistry between this couple was strong from the moment they met; the romance was wonderful and had me enjoying these two together; and the ending had me loving the decisions both the main characters were willing to make to be together. What will their decision be? Will they stay in London or return to Freya's hometown? However, it was the epilogue that wrapped this story up nicely, as Richard and Freya are so good together and deserve the happiness they've found. I would recommend The Midwife's One-Night Fling by Carol Marinelli, if you enjoy the mysterious strangers trope, the opposites attract trope or books by authors Karin Baine, Louisa Heaton, Kate Hardy and Sue Mackay.
Book Info:

Publication: May 21st, 2018 | Harlequin Medical |
Is one night with Dr. Off-Limits…
The best mistake of her life?
Escaping her rural Scottish hometown, midwife Freya has a new job in busy London…and a new crush on sexy consultant Richard Lewis! Charismatic yet commitment-phobic bachelor Richard comes with warning signs, but Freya knows one night would be worth the risk. And when she ends up in Richard's bed, it feels like a red-hot dream—one Freya doesn't want to wake up from…