The Start of Something Good by Jennifer Probst: Mia loves her job as the owner of a PR firm in New York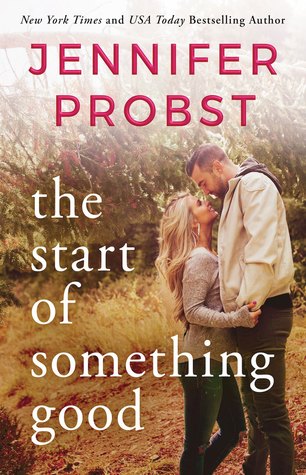 City. She loves the city and designer clothes, even if it means she has to give up the sweets and desserts she is constantly tempted by. She gives 100% to her clients, which is how she is stuck spending the summer in the country and babysitting a teenager. She's hoping that the time flies by since she's also stuck on a horse farm.
Ethan is finally back at home. He always wanted more than a life of working at the horse rescue and B&B, and he certainly got the excitement and adrenaline rush of being in the Special Forces and as a bodyguard in Hollywood. His last mission absolutely left scars, on the inside and outside, and now home is the only place for him.
Mia and Ethan strike sparks, but it's more like the sparks of hatred. They can't stand each other from their first interaction and they never fail to give as good as they get in return. Ethan would prefer to keep to himself and Mia wishes she was back in New York and away from all the animals.
"I don't have time to exchange clever banter with you. Just show me where the inn is, and I'll be on my way."
"Go out the way you came from. Take a left. Go farther down about half a mile, and you'll see the right sign."
She forced a fake smile, already disliking him as much as the chicken. "Thanks so much for your help."
/blockquote>
It's certainly a summer of change for both of them. They challenge each other and begin to see that there is more than what meets the eye when they wind up on an unexpected date. Between meddling sisters, adventurous seniors, and an attitude-ridden yet contrite teen, they are pushed together and find common ground. They have hot, hot, hot chemistry, even when they disliked each other.

His grin widened. "You're shy," he said.
Her mouth dropped open. She blushed deeper. "No! Of course I'm not shy. I'm fine. I'm cool. With…whatever."
He threw back his head and laughed out loud, startling her. She tried to take a step back, but Hei Hei blocked her way. "God, you're adorable. Hot. Sexy. And I missed you."

The Start of Something Good is can't-put-this-down funny and sexy. Jennifer Probst delivers highly entertaining banter in an opposites attract romance with plenty heat, humor, family, and second chances. Ms. Probst created an engaging cast of characters in Ethan's family that I can't wait to revisit in the coming books for this new series. Fans of Jill Shalvis, Sydney Landon, and Jaci Burton will enjoy The Start of Something Good.


Book Info:

Publication: Expected publication: June 5th 2018 | Montlake Romance | Stay #1

An enriching story of family ties, broken hearts, and second chances from New York Times bestselling author Jennifer Probst.

When Ethan Bishop returns to the Hudson Valley, his body and spirit are a little worse for wear. As a former Special Forces paratrooper, he saw his fair share of conflict, and he came home with wounds, inside and out. At his sisters' B & B and farm, he can keep all his pain at a safe distance. But quiet time isn't easy when a fiery woman explodes into his life…

It's business—not pleasure—that brings Manhattan PR agent Mia Thrush reluctantly to the farm. Tightly wound and quick tempered, Mia clashes immediately with the brooding Ethan. Everything about him is irritating—from his lean muscles and piercing blue eyes to his scent of sweat and musk.

But as the summer unfolds and temperatures rise, Ethan and Mia discover how much they have in common: their guarded histories, an uncontrollable desire, and a passion for the future that could heal two broken hearts. But will their pasts threaten their fragile chance at a brand-new future?