In Then There Was You (Angel Falls #1) by Miranda Liasson, moving back to Angel Falls is the best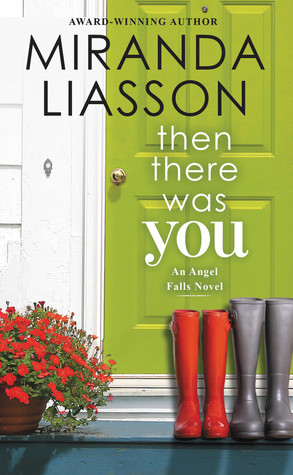 choice Sara Langdon has made lately, especially after her wedding never happened and because her grandmother needs her. However, working alongside her father at his medical practice isn't easy, especially when her first patient is Colton Walker, her ex's friend and the man she believes was the cause of her wedding not happening. Yet, the more time she spends with Colton, the more she finds it difficult to continue to be mad at him. Will Colton be able to win Sara over, so they have a shot at happy ever after?
"I didn't know you and Brian were a thing," Colton said. Of course his first words would raise her blood pressure, his favorite pastime.
"We are not a thing," she said.
"Well, I just assumed. Judging by the lovey-dovey looks you two were exchanging just now."
"Lovey-dovey looks? Was the man out of his mind? "I guess you don't need great powers of deduction to be the police chief in this town."
"Ouch," Colton said, pretending to be offended. "Well, excuse me for assuming. You're a little too wild for him, huh, Red?"
What an absolutely enthralling, fast-paced, incredible read Ms. Liasson has penned in this first book of her Angel Falls series where the main characters were completely captivating and had me loving the tension between them because Sara sees Colton as the enemy; the dialogue was compelling due to the obstacles these two face including whether the heroine can forgive Colton for everything she blames him for that he did to her over the years and whether the hero will fight for their happiness together when something happens in their relationship that makes him think the heroine might be better off with someone else. However, it was from the moment the hero and heroine come face-to-face for the first time in this book where things really get interesting, as the heroine isn't afraid to warn the hero that she's the one with all the power in that moment. Will she use her position as a doctor to get a little revenge?
She held her hands in front of her face to shield her eyes. "I thought you were off tonight," she said.
"Technically, I am," he said.
"So you're out in your care during your time off cruising around, looking for trouble?"
"And it looks like I've found her."
Both the main characters are exceptional and I loved everything about them. Their back stories, their growing relationship and every time they converse pulled me into this story more and more until I found myself at the end without having even put the book down for a second. With the heroine, she's smart, hard-working, determined to prove herself to her dad; and I liked how she challenged Colton with her feisty attitude. I also liked the close bond she had with her family and that they would do anything for each other, especially when it comes to accepting a decision her sister has made, even though the man she's with isn't worthy of her. Will Sara be able to convince her sister that she deserves better? Yet, what I liked most of all about the heroine was that she gave Colton a chance because he's a good guy that deserves happiness.
He looked down, not wanting to discuss how 'sweet' he was. "Look," he said, rubbing the back of his neck, "don't make me out to be a hero. If I can do little things to help, I try to do them. Mainly because growing up, I understood what it was like – not to have stuff. Not to have fun."
She placed a hand over his chest. "You're very kind-hearted."
"I'm a small-town cop just doing my job." Why were they talking about his job when he wanted to be kissing her?
While the hero, he's been through so much in his life and I liked how he turned his life around to become a cop in their small town. Really, he's lucky that someone realized what potential he had before he made a mess of his life and I liked how he's doing his best to make things better for others. Certainly, Colton is kind-hearted, strong, honourable, hard-working and I liked how determined he was to win the heroine over and make things right between them, especially once he discovers that there could have been more between in the past. The heroine wanted him then, but can they make a relationship work between them now?
Overall, Ms. Liasson has delivered one of the best books I've read this year so far where the chemistry between this couple was off-the-charts; the romance was full of wonderful heat and passion that show how perfect these two are together; and the ending had me loving the hero's determination to win Sara back. Really, it was good that he didn't let anything stand in his way. However, it was the epilogue that wrapped this story up perfectly because of the surprise the hero had for the heroine. I would recommend Then There Was You by Miranda Liasson, if you're a huge fan of contemporary romance, the enemy to lovers trope, small town romances, or books by authors Rachel Lacey, Jill Sanders, Marina Adair and Catherine Bybee.
Book Info:

Publication: May 29th, 2018 | Forever | Angel Falls #1
Welcome to Angel Falls, a town so delightful even enemies can't help falling in love!
Angel Falls is the last place Sara Langdon wants to be. Her hometown may be charming, but it's also filled with memories of her "wedding-that-never-was." Yet Sara's grandmother needs her, and joining her dad at his medical practice gives Sara time to figure out what she wants for her future. But when her first patient turns out to be Colton Walker, the man who sabotaged her wedding, Sara starts to wonder if she'll ever be able to escape her past.
As police chief, Colton Walker is devoted to his small town, and he's equally determined to avoid its newest resident. He and Sara have always gotten along like oil and water, and since the bachelor party incident, he's her Enemy #1. But after sharing an unexpected–and unexpectedly hot–kiss, Colton starts to wonder if the woman he's always fighting with is the one he should be fighting for.