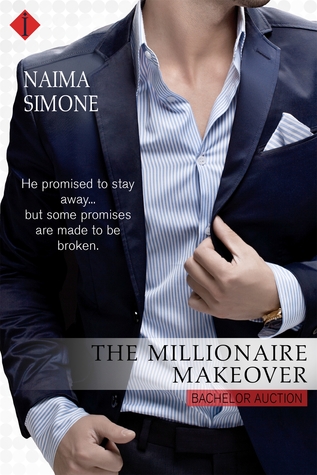 In The Millionaire Makeover (Bachelor Auction #2) by Naima Simone, Khloe Richardson hasn't laid eyes on Niall Hunter in three years. Not since they spent an incredible night together and then he deserted her when she needed him most. Now though, with a friend willing to spend money on a man at a bachelor auction for her, she can't believe her misfortune when she discovers Niall is the man she's purchased. Then again, it might be the perfect opportunity for her to show him what he's missed out on while obtaining his help to land the man she really wants.
"Morgan, I appreciate your help tonight. And I really hate that you've wasted twenty thousand dollars. Because I'd rather have a Brazilian than go on a date with him. And you." Her eyes narrowed on him, and the fury there scorched him. "You can go to hell."
Niall Hunter never thought he'd see Khloe again. Because if he didn't spend time in her company, he'd be able to keep the promise he made to her late brother. Unfortunately, now that she's paid for a date with him, and it seems she needs his help to land the man of her dreams, Niall will do the unthinkable. Since some promises are made to be broken.
This is the first book I've read by Ms. Simone, and I've got to say that it does not disappoint. The way the story started with the prologue introducing me – as a reader – to both the main characters and how their really close friendship fell apart was fantastic. Yet, from the moment Khloe and Niall meet again after three years is when I fully became hooked to the fast-paced plot. Encompassing the older brother's best friend trope, a heroine that undergoes a personal transformation in hopes of capturing the man of her dreams, and a hero determined to help her while struggling to keep the promise he made.
The dialogue was well-written, and I loved the banter between Niall and Khloe. It was compelling, since Khloe tends to act differently around Niall than she does everybody else. Normally she's the shy, quiet type. Yet, with Niall, she challenges him. However, there are moments that are quite emotional. Moments when they're talking about her late brother, Michael, especially since it seems he was very intuitive. Leaving behind a couple of letters he'd written for the pair to read, if something were to happen to him.
"Of course I promised Michael I would be there for you," he gritted out. "I don't need you to tell me I've screwed that up. But my being here now is not about obligation or pity. So get that out of your head."
I really liked Khloe and Niall. Both are still saddened by the loss of Michael. He was a good brother to the heroine and best friend to the hero. Truly, I felt sorry for both. Niall is weighed down by guilt, believing he was somehow responsible for Michael's accident. While Khloe, it seems her parents have become a bit smothering. She's their only child now, and they're afraid of losing her to.
Khloe is strong and brave. At first, her anger towards Niall is totally understandable. He abandoned her when she needed him most, and she needs to know why, if they're to have any chance of a future. She's also kind and courageous. The way she makes Niall see the truth, of how he shouldn't blame himself for her brother's death, and the reason, for her parent's anger towards him was incredible. As it's the turning point in this couple's growing relationship, which spills over onto the pages in some sizzling, fan-your-face sex scenes.
Oh, come on," she drawled. "What better way to spend a Sunday afternoon than ice skating followed by a cup of hot cocoa?"
He arched an eyebrow. "A Superman movie marathon. A Guinness in a warm pub. Sex."
She scoffed, shaking her head. "You're such a man."
While Niall, he's a deliciously sexy hero and Irish. A great combination in my eyes. He fights hard to keep his promise to Michael. Yet, it becomes harder and harder because no woman has ever tempted him as much as Khloe. But what I liked most about him was his determination to make things right between them by helping her. Even though he's so jealous of the man Khloe wants to be with. I also liked how he won Khloe back, knowing how much her parents disapproved of him.
Overall, Ms. Simone has impressed me with this second book of her Bachelor Auction series, which ended really well, despite the fact that some readers might need a tissue handy. Not because there wasn't a happy ever after for this couple, as I can assure readers that there was definitely a happy ever after. But because, of the letter from Khloe's late brother that was read by one of the main characters at a very important event. I would highly recommend The Millionaire Makeover by Naima Simone, especially if you love second chance romances or the brother's best friend trope.
Book Info:

 February 8th, 2016 | Entangled Indulgence | Bachelor Auction #2
He promised to stay away…but some promises are made to be broken
Plain-Jane computer programmer Khloe Richardson needs a date—one to make the prince of her dreams jealous. Maybe then he'll finally see her as a desirable swan and not the ugly duckling in the second office from the left.
But when she bids on a bachelor at a charity auction, the man she wins is millionaire Niall Hunter—who once made intense, passionate love to her and then left without a word. She's determined not to let her guard down again—among other things—around the infamous Irish lothario.
Niall never imagined his penance for one hot-as-hell night with his best friend's little sister would be transforming her from a shy wallflower to a sultry siren. Helping her attract another man is torture…especially when he promised his friend he'd stay away. Plus, she wants forever, and he's not a forever kind of guy. But Niall can't stop wanting her. Can't stop touching her. Can't stop, period. And damn if he can remember why he has to…