The Night of Many Endings by Melissa Payne: Initially, what appeared to be a tad long-winded and a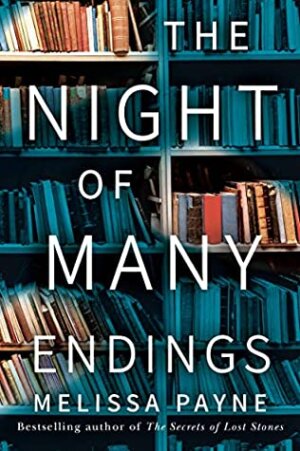 bit of a belaboured point turned into a good for the soul honest read that spoke volumes of survival both in and out of complex trauma.
Stranded in the town library amidst a severe annual snow storm, Nora, Vlado, Marlene and Jasmine are forced to wait it out until help can be sent safely. As weather conditions hit an all-time freezing, Nora discovers Lewis unconscious and likely dying of frostbite in the frigid snow beneath a giant tree outside the library, and feeling obligated to save those who can't save themselves, gathers the others to help her rescue him despite his protests. Throughout the evening, the unlikely party end up finding deep connections, and through their inherent empathy, develop the skill of self-reflection to turn their individual misery narratives from something haunting to a space of hope with motivation to change the future.
Beginning with and mostly centring on Nora, we learn very quickly that she has given herself over to her brothers addiction, believing that she is the only one that can truly save him. In this fundamentally flawed belief, Nora's unsuspecting hubris ties her to a life that exists only to be there whenever he may need her, and by proxy, other homeless folk like him. Sadly for Nora, she has isolated herself entirely and when Marlene's harsh yet honest observations force her to come terms with her own addiction to her brothers cause, the storm breaks and another life desperately needs saving.
In many ways, the deadly storm was the type of reality shake-up that all of our characters needed to shift them from their current existence into a brave new world that contained self-preservation, joy and purpose. Each character was unique and the diversity in our group allowed for a variety of insight and perspectives into the ways of the world: From homeless suicidal Lewis, to wise beyond her years Jasmine, The Night of Many Endings will speak to anyone who requires the type of urgency that comes with facing death and triumphing against the odds.
Summarily, this is a great natural event crisis read that explores the themes of love and self-worth with care, bringing with it the type of warmth that can only be found in the aftermath of a storm.
Book Info:

Publication: 19th October 2021 | Lake Union |
Orphaned at a young age and witness to her brother's decline into addiction, Nora Martinez has every excuse to question the fairness of life. Instead, the openhearted librarian in the small Colorado community of Silver Ridge sees only promise. She holds on to the hope that she'll be reunited with her missing brother and does what she can at the town library. It's her home away from home, but it's also a sanctuary for others who, like her brother, could use a second chance.
There's Marlene, an elderly loner who believes that, apart from her husband, there's little good left in the world; Jasmine, a troubled teen; Lewis, a homeless man with lost hope and one last wish; and Vlado, the security guard who loves a good book and, from afar, Nora.
As a winter storm buries Silver Ridge, this collection of lonely hearts takes shelter in the library. They'll discover more about each other, and themselves, than they ever knew—and Nora will be forced to question her brother's disappearance in ways she never could have imagined. No matter how stranded in life they feel, this fateful night could be the new beginning they didn't think was possible.