The One Night by Meghan Quinn: Having your parents insist that they play the role of your wingmen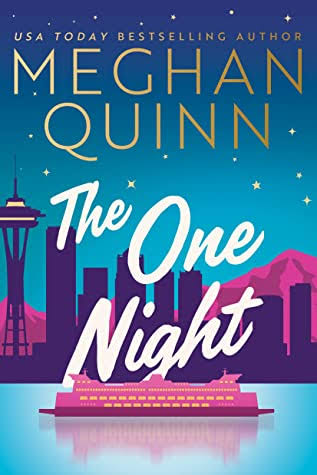 sounds completely normal, said no one ever! But this is exactly where Cooper Chance has found himself with his parents convinced that he is going to die alone after his recent divorce, they have all but forced their way into helping him pull a bird or two, which is how Coop finds himself at a gritty dive bar with his parents in their conversational Christmas sweater jingle balls and all! If having his parents join him on the prowl wasn't bad enough they just had to run into Nora McHale, his ex wife's best friend. To say Cooper definitely did not expect to hit of with Nora would be an understatement but after sharing a few good drinks and a steamy night together both of them are left wondering if just maybe they crossed a major line.
"Trolling the streets for nice girls— feels like a YouTube series . I can see the opening credits. You three, linked arm in arm, skipping down the sidewalk together."
All I have to say is when are we getting the rest of Cooper and Nora's story?? I absolutely love all of Quinn's books and this could not be more true after reading The One Night, this book was the perfect little teaser of what is to come for this couple. In true Quinn fashion this book is packed with humour, banter and some well meaning meddling.
I absolutely loved Cooper and his connection with his parents, this only promises for an even more entertaining read in The Reunion. From the little that we got to see of the Chance siblings and their hilarious text exchange, it is pretty much a guarantee that this family is going to be hilariously entertaining to see falling in love. I really liked that Coop and Nora already have this shared history even before he had gotten married this made the underlying chemistry all the more intriguing.
"He winks, and God, it's the cutest thing ever. So cute that I'm tempted to leap across the table and tackle him with my lips."
Gosh Nora is a girl right after my own heart! I loved that she was so completely herself and was a hundred percent fully invested in her bakery, I mean who wouldn't love a girl that bakes cakes for a living? I really liked the connection that she had with her parents and that conversation with her mother was just hilarious, we can definitely expect another crazy family with the McHale's. I absolutely loved the banter between Nora and Cooper and that their night together was more than just a steamy one nighter but they actually had fun together.
The One Night was the perfect run up to what promises to be one brilliant book, I can not wait to get my hands on a copy of Quinn's upcoming release The Reunion. I would definitely recommend reading this steamy quickie read, you will be left laughing and wanting more!
Book Info:

Publication: December 14th 2021 | Montlake |
Recently divorced Cooper Chance knows he's officially in a rut when his parents take him barhopping in the hope of resuscitating his love life. At first, he's skeptical. How could a gritty dive bar possibly solve his problems? But then he runs into Nora McHale.
Nora isn't at the bar looking for love. She's there to unwind after yet another exhausting day at her bakery. And even if she were hoping to meet someone, it sure wouldn't be Cooper—her best friend's ex-husband.
According to the unwritten rules of romance, Cooper and Nora are completely off limits to each other. But after a fun, flirty night at the bar, they can't ignore the wild attraction between them.
Is this the beginning of something real, or will their passionate night together be their one and only?