The Other Passenger by Louise Candlish: When Millennials Melia and Kit move into the neighborhood and Melia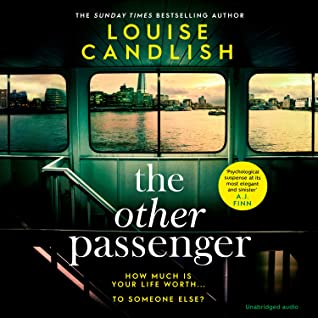 begins as a Junior sales assistant for Clare's real estate company, it's only natural that a new couple style friendship would form including Clare's partner Jamie to round out the numbers. When Melia and Kit are invited over to their 4 bedroom place in St Mary's, it is clear that whilst they're pretending to live the very middle class life they feel entitled to, Melia and Kit are doing anything but.
It is during this early interaction that Jamie reveals his deep seated phobia of public transport and so, the next day, knowing they are heading in the same direction, he and Kit purchase an annual ticket on the Thames river ferry and from this point onwards our two couples become deeply entwined. Whilst having dinner and drinks at their place, Melia hits on Jamie completely out of the blue, and despite their age difference, Jamie falls for her hook, line and sinker. As the thriller progresses, it becomes apparent that at some juncture Kit's lavish lifestyle, which he cant' afford is perhaps the reason for his sudden disappearance at Christmas. And when two detectives come to interview Jamie, the shady details of the affair he is having with Melia come to the surface threatening his relationship with Clare the the lifestyle he has grown accustomed to.
The first person, past tense delivery, played an effective role of deception and whilst the bulk pointed in one direction, the twists and turns were keenly drawn and well delivered in the closing chapters. Jamie, even with his relatively strong sense of self-awareness was duped by youth and clung onto it like every clichéd man nearing 50 who deludes himself that a woman in her 20s would genuinely be interested. And Melia played the part perfectly. Having established herself as a failed actor, it was evident early on that she was skilled enough in her craft to convince Jamie that not only did she love him, but indeed they could continue their affair with little recourse. And sadly for Clare, Jamie's partner, there was little to no suspicion at all. This was furthered by the friendship that Melia maintained with Clare throwing her entirely off the scent given it played well into her decent unsuspecting nature.
Sadly, Kit was every bit the British entitled geezer Jamie made him out to be and whilst the friendship was never a BFF type deal, the two men did find a comfort in their shared companionship via their daily commute on the boat to work. For the most part, Kit's disappearance and Jamie's strong alibi in Clare enabled the plot to thicken further, and the unseen twists and turns furthered the tension of mystery and certainly rounded out nicely to a clever 'who done it!'
For those who enjoy thrillers, this ticked many boxes and for those who enjoy the social criticism of generational entitlement and obsession with wealth, this is definitely a fun read.
Book Info:

Publication: 25th June 2021 | Atria Books
You're feeling pretty smug about your commute to work by riverboat. No more traffic gridlock or getting stuck on the tube in tunnels (you're claustrophobic); now you've got an iconic Thames view, fresh air ?— a whole lifestyle upgrade. You've made new friends onboard — led by your hedonistic young neighbour, Kit ?— and just had your first 'water rats' Christmas drinks.
But the first day back after Christmas, Kit isn't on the morning boat. The river landmarks are all the same, but something's off. You disembark to find the police waiting. Kit's wife, Melia, has reported him missing and another passenger witnessed the two of you arguing on the last boat home after your drinks. Police say you had a reason to lash out at him. To kill him.
You protest. You and Kit are friends ?— ask Melia, she'll vouch for you. And who exactly is this other passenger pointing the finger? What do they know about your private lives? No, whatever coincidences might have occurred that night, you are innocent, totally innocent.
Aren't you?