Home to the Outback by Nicole Flockton is the first book in her new Welcome to Bunya Junction series.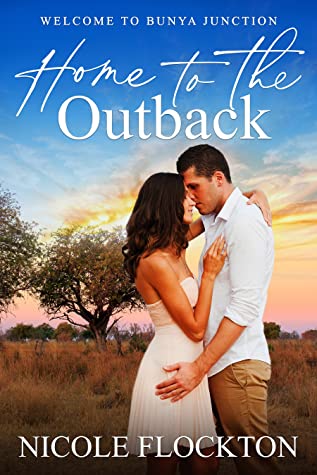 Sindy Carruthers returned to Bunya Junction under a bit of a cloud of mystery. What made her leave the excellent job as an ER nurse she had in the city? After being severely beaten up Sindy returns to her hometown and welcomes the job offer to be the local doctor, Dr. Colin McCarthy's practice nurse. When Colin was critically injured in an auto accident it was up to Sindy to make Colin's wish to see Dr. Ryan Flanagan again become reality. When Colin left Sindy a half interest in his medical practice Sindy was very surprised. She was even more surprised that Colin left the other half interest to Ryan Flanagan. Now they were business partners. What will that mean?
Plastic surgeon to the stars, Dr. Ryan Flanagan returned to Banya Juntion when he got the call that his mentor and the man who raised him was critically injured. Ryan owed so much to Dr. Colin McCarthy. Not only did Colin take Ryan in after his father abandoned him, but Colin also inspired Ryan to become a doctor. Ryan's reputation in Bunya Junction as a teenager was an iffy one. He did get into trouble a lot then. Returning there after he escaped to go to University would be tough. He owed it to Colin though. When Ryan heard Colin left him half ownership in the local medical practice in his will Ryan's first thought was that he didn't want it. Sure, his former friend and partner in their plastic surgery practice forced him out but staying in Bunya Junction… Of course there's his beautiful new business partner Sindy Carruthers. As they got to know each other better staying in Bunya Junction became much more appealing.
This is a second chance at a new life story. Both Sindy and Ryan benefited from their new beginnings starting over in Bunya Junction. I really liked reading along as this couple's relationship developed. They healed each other emotionally. Author Nicole Flockton has set up a super new series with the characters she has introduced in this new series. Looks like Sindy's brother Jonas is up next to have his story told.
Book Info:

Publication: July 20th 2021 | Tule Publishing | Welcome to Bunya Junction #1
Coming home isn't always easy…
Three years ago, nurse Sindy Carruthers returned to Bunya Junction wounded, wary and shamed by a relationship gone wrong. Welcomed home by her family and supportive community, she now manages the local medical practice and enjoys her newfound confidence. She's perfectly happy on her own, until a blast from the past in the form of Ryan Flanagan appears.
Dr. Ryan Flanagan—renowned plastic surgeon to the stars—heads to Bunya Junction to pay his last respects to the man who opened his heart and house to an abandoned boy. Ryan's no fan of Bunya Junction or the harsh judgments of some of the townsfolk, so he's stunned to discover that his old mentor has bequeathed him half a general medical practice—hoping he'll stay on and serve the community. The other half of the practice now belongs to the beautiful Sindy Carruthers, his closest friend's twin sister.
Sindy knows Ryan will never stay in Bunya Junction and become her business partner, and that's a good thing. Otherwise she might just lose her heart to him.