The Playboy's Guide to the Fake Fiancée by Piper Marlowe: Dylan Montclaire is living his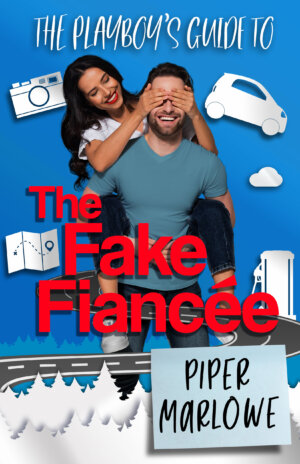 best life, an endless cycle of hot women, parting with his boys and really avoiding anything too serious. That is until his father comes knocking with demands for Dylan to take his responsibilities more seriously and really knuckle down, desperate to avoid this talk with his dad Dylan does something completely crazy by agreeing to play along to a weird request from a total blast from his past…
All Chloe wants is to do is make sure that her beloved grandmother has the best last few months possible and if that means telling a little white lie then so be it. After all is it really such a big deal to pretend that she is engaged to Dylan Montclaire? Well it would help if these two were actually friends…but it would seem that luck is on Chloe's side when Dylan agrees to her wacky request…hopefully everything goes smoothly down in Florida.
I just love a good fake turned real romcom and after reading Marlowe's first book I was eager to get my hands on this second instalment in her The Guide series, and to be honest I found myself on the fence as to whether I loved this book or not. Nevertheless I will say this was a quirky cute fast paced read that had me giggling more often than not.
I just loved our hero, Dylan was your typical playboy hero that gets slapped with a good dose of reality. I loved that he went along with all of Chloe's crazy plans and even gave her so much of liberty with all her strange eccentric behaviour. As much as there were times where Dylan came across as this elites jerk he was actually a really nice guy. I really liked getting to see him slow down and enjoy the simpler things in life. I will say that Chloe was a really good influence on him over all.
Now for our girl Chloe, to be fair she was not my favourite leading lady. Now don't get me wrong I love a good quirky character but there was just something about her that just didn't work for me, I think she was just a bit to over the top with all her crazy routines. Even though she had these few irritating moments I will say that I did eventually warm up to her character as the book progressed. I really enjoyed getting to see her open up and on occasion step out of her comfort zone.
This was definitely a fast paced read in terms of these two reconnecting and the development of their relationship, but this just seemed to work in this book. I really enjoyed getting to see them go from starting their trip as fake dating to developing something very real by the time their time in Florida is over.
If you on the look out for a silly cute light read then The Fake Fiancée is the book for you.
Book Info:

Publication: April 15, 2022 | Pub: Piper Marlowe |
All I want to do is…well…whatever I want, with whomever I want…preferably without a single string attached. But Dad's secretary keeps calling to make sure I'm not trying to dodge the Friday meeting, where he's gonna dump the Montclaire family business in my lap.
Perfect time for a vaguely familiar woman to pound on my door in the middle of the night.
"Remember me?" she asks.
I do not, which doesn't mean she isn't carrying a little Montclaire scion.
"It's Chloe Davis and you know me from when we were kids. I told my grandmother we were engaged so…would you like to take me to her 85th birthday party? In Florida?"
I would not, but I'll do anything to get out of town for this meeting.
That's how all six feet of me wound up stuffed into the passenger seat of a subcompact, managing snacks, staying in cheap hotel rooms, and sitting in a white Cracker Barrel rocking chair next to the nuttiest, most unpredictable, charming, deliciously sexy woman I've ever avoided responsibility with.
Did I mention she brought her own ring? Of course she did.
Every time I'm sucker enough to think things can't get weirder, they do.
And call me crazy, but this batcrap sandwich of a fake relationship is starting to feel realer than anything I left in New York.