In Be With Me ((Return to Haven #2) by Jules Bennett, Melanie Ramsey is doing everything she can to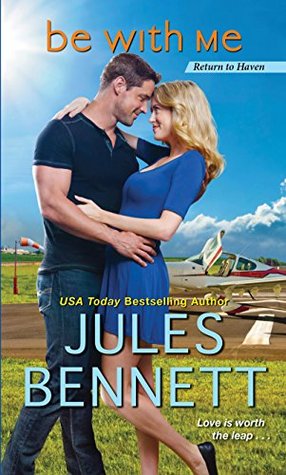 move on after her divorce. Moving to Haven with her two best friends is the best thing she could have done, except instead of keeping her guard up, she finds herself letting loose and having a one-night stand with Tanner Roark that results in her discovering she's pregnant soon after. Will Melanie give Tanner a chance or is she too afraid of being hurt to ever give happy ever after another go?
"Are you always this relentless?"
Tanner grabbed her hand and kissed her palm. Heat flared in her eyes. "When I want something bad enough," he replied.
Having really enjoyed the first book of this series, I couldn't wait to read more about the secondary characters in it, and I've got to say that Ms. Bennett has penned another wonderful story for this series encompassing the surprise pregnancy trope, a sexy cop that will do anything to win the heroine over and a heroine that is wary of giving a man a chance after what she went through with her ex. Will Tanner be able to win Melanie over? The way this story started had me liking the heroine immediately, as it's hard for her to decide how to tell Tanner, even though she has the perfect opportunity as soon as he's introduced into the story. Will Melanie wait or will she tell him straight away? How will their friends in the secondary characters react to the news?
As for the dialogue, it was intense due to the main characters back stories, especially that of the heroine because she endured so much in her marriage, which made me sympathize with her. However, she's a fighter and I liked that she was resilient and courageous enough to fight her way free from such a toxic relationship. Yet, what I liked most of all about the heroine was that she gave Tanner a chance, even though it's not easy for her to trust; and the tight friendships she has with her two best friends who will do anything for her and support her no matter what. While the hero, he's confident, charming, hard-working, will do anything to help people in need and I liked how determined he was to win the heroine over. Certainly, he's a little ruthless and doesn't give up on proving to Melanie that he's a good guy, which is proven by everything he does for her. No way will he ever make her feel the way her ex did.
Tanner's lips twitched as if he was holding back a grin. "I figured you'd be pissed with me for trying to protect you. I was trying to come up with a good defense."
Oh, this man. He was as frustrating as he was loveable. "Because you wanted to protect me? That would be a bit hypocritical wouldn't it, considering I did the same for you?"
Tanner blew out a sigh and took a step toward her. "So where are we now?"
Melanie's palms dampened the closer he got to her. "Depends on what you want. It also depends on how much of my past you're ready to take on."
Overall, Ms. Bennett has delivered a really good read in this book where the chemistry between this couple was strong; the romance was heart-warming and had me liking that Melanie took a chance on Tanner because they're good together; and the ending had me loving how far the hero was willing to go to protect the heroine. No way would he allow her ex to continue to wreck havoc on her life, especially after what happens to Melanie. I would recommend Be With Me by Jules Bennett, if you enjoy the surprise pregnancy trope, the friends to lovers trope or books by authors Jessica Lemmon, Lauren Layne, Jill Sanders and Erin Nicholas.

Book Info:

Publication: October 30th, 2018 | Zebra | Return to Haven #2
Since moving to Haven to help out her closest friends, Melanie Ramsey has begun to reclaim her strength after a difficult divorce. Through Mel's Motivational Blog, she's inspiring other women too. Then a wild, one-night fling with Haven's gorgeous deputy leaves her shaken, stirred—and pregnant. But Melanie's not giving up her newfound independence for another powerful man. Not even one as upstanding and intriguing as Tanner Roark . . .
What matters most to Tanner: defending the weak, seeking justice, and protecting his heart after a tragic loss. Random hookups have been working out just fine until he and Melanie collide. Despite her domineering ex's best efforts to rattle her, she's still kind and resilient. Not to mention witty, straight-talking, and sexy as hell. Chemistry is easy. Trust, not so much. But when you find the one who sends your heart soaring, what can you do except buckle up and hold on tight? . . .