Today it is my pleasure to Welcome author
N.J. Walters
to HJ!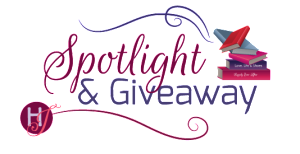 Hi N.J. Walters and welcome to HJ! We're so excited to chat with you about your new release, Bjorn Cursed!

Hi everyone! Thank you for having me at HJ!

Please summarize the book a la Twitter style for the readers here: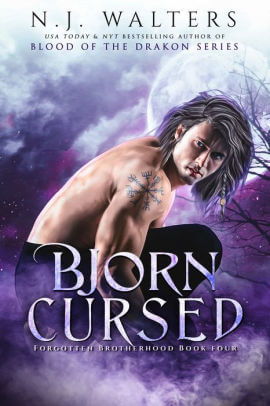 Ordered by Odin to find and kill a woman who escaped from the Norse afterlife, Bjorn's shocked to discover the woman is his long-dead wife.

Please share the opening lines of this book:
Where am I?
She blinked several times, hardly daring to breathe. It was impossible to hear anything over the pounding of her heart.
Something firm and rough dug into her back. She spun around and ran her fingers over it.
Please share a few Fun facts about this book…
When the heroine comes back from the afterlife after so many centuries everything is different. Watching her try to dress in leggings and understand Netflix and chill led to some funny moments.
Then there's a scene later in the book when they're interrupted at a most inopportune time that still makes me smile.
What first attracts your Hero to the Heroine and vice versa?
Loyalty and courage. Those are traits they both share and what ultimately allow them a second chance at love.

Using just 5 words, how would you describe Hero and Heroine's love affair?
Passionate, Forbidden, Tumultuous, Forever, Sexy.

The First Kiss…
"Bjorn?" It was too much to take in. Her knees buckled, unable to support her weight.

He surged forward and caught her before she hit the ground. Thickly muscled arms wrapped around her, arms she hadn't felt in so very long. His strength surrounded her,
protected her as he lowered them both to the ground with her perched on his bent knees.

She raised her shaky hand and touched her fingers to his face. Disbelief mingled with wonder. His skin was warm. His beard was trimmed short, the bristles tickling her fingers. "Is it really you?" Her voice trembled. It was almost too good to believe, the culmination of all her prayers. "I've dreamed this so many times." A single tear trailed down her cheek.

Too many nights she'd awakened alone, her body hot and aching, her arms empty with none to comfort her.

"If it is a dream, we're sharing the same one, Anja." He brushed her hair away from her face. "My beautiful Anja."

Suddenly, none of it mattered—what had brought her here, the dark void, the men who'd threatened her. Her husband was here, and he was alive. She slammed her fist into his shoulder. Pain radiated through her hand and down her arm. The man was built like a stone mountain.

"What the hell was that for?" Eyes wide, he shook his head and rolled his shoulders.

"Where have you been? I waited and waited." All those lost years, while she served in Freya's Hall.

He groaned and lowered his head, his lips grazing hers. It had been an eternity since their last kiss. "I'm so sorry." His voice was low, thick with emotion. He pressed his mouth against hers. Heat sizzled through her, snaking down to between her thighs. He took her mouth again and again until all she could think about was kissing him back.

It was like waking to spring after a never-ending and difficult winter. The wind had settled, the snow melted, and the sun had come out to wake the land. She was the land, and Bjorn was the sun. They fit together.
Without revealing too much, what is your favorite scene in the book?
That's a hard one. I don't have a favorite one, but there's a scene near the end when familiar characters return to help. I can't share much or I'll give away a secret.
TEASER:
Maccus shoved open the driver's door, climbed out, and glared at him over the hood of the vehicle. "I left the city."

"A huge sacrifice, I'm sure."

Morrigan climbed out and grinned. "Come on, it was a road trip. Some takeout food, some rocking tunes, and great company." She shook a large bag. "We even brought some food for you. Although we didn't know you'd have company."
If your book was optioned for a movie, what scene would be absolutely crucial to include?
The scene where Anja realizes that werewolves do exist and she has to fight one.
SCENE:
"Get ready, Anja. It's just there on your right." He kept his voice low. "As soon as we reach the corner, run hard and fast, and don't look back."

They reached their destination sooner than she'd hoped. She didn't want to leave Bjorn, but he was counting on her. Without him having to prompt her, she dropped his hand. Legs pumping, braid thumping against her back, she ran faster than she ever had. All the while, she pushed on the button he'd told her to.

Up ahead, lights blinked and a truck beeped. That had to be the right one.

The numbers and letters on the back matched what she'd been told. Her breathing was labored, as much from the sprint as from fear. She reached for the door handle.

A huge man dropped down from above, landing in a crouch on the sidewalk in front of her. "Not so fast, pretty lady."

The only weapon she had were the keys. They were short and sharp. She shoved several of them between her fingers and swung her fist, aiming for the man's face.

The action was so unexpected, the punch actually landed. One of the keys stabbed his eye, driving through the vulnerable area. He shoved her away, grabbed his face, and howled.
Readers should read this book …
This is not your ordinary love story. If you enjoy a dark paranormal romance with complex characters then give it a try.
What are you currently working on? What other releases do you have planned?
I'm currently working on another Forgotten Brotherhood book.
Thanks for blogging at HJ!
Giveaway:

$5 Amazon Gift Card. (USA and Canada only.)
To enter Giveaway: Please complete the Rafflecopter form and Post a comment to this Q:

The Forgotten Brotherhood series features all kinds of paranormal creatures–fallen angel, vampire, bear shifter, werewolf, and more. What is your favorite paranormal creature?
Excerpt from Bjorn Cursed:
He raked his fingers through his hair before setting his hand back on the wheel. "You put everyone else first with no thought to yourself."

"I'm no martyr."

"No, you're not." His easy agreement smoothed down her hackles. "You're a practical woman who does whatever needs to be done. I find you extraordinary."

"And you still have a silver tongue."

"Only for you, my love."

He pushed up a lever and there was a clicking sound before he changed lanes, pulling them to the right. "Tell me what happened."

He heaved out a breath. "I didn't want you to find out this way or so soon."

"Why not?"

"Why not?" The incredulous expression on his face suggested he found her question idiotic. "Because I didn't want you to see me as a monster."

His quiet acceptance broke her heart. Then it pissed her off. "So you assumed I'd see you as a monster and then what? Scream and run away?" They'd both been through so much. Rediscovering each other, while a blessing, was extremely stressful. It emphasized that they didn't really know each other anymore.

That saddened her deeply and made her heart ache for what might've been.

Then she put it away. Wallowing in grief or self-pity, dwelling on the past would change nothing.

He yanked the wheel hard to the right again. She was flung to the side, barely catching herself on the door as they left the flow of vehicles and ended up in front of a building. Bjorn slammed the truck to a halt, but the engine kept running.

His eyes were cold as January ice from a frozen waterfall. "I've done so many things wrong in my life. The one thing I did right was you, and I fucked that up. So, you'll have to excuse me if I wanted to put off telling you I was a beast for as long as possible."

"This is hard for me, too. I don't know what's happening. I served breakfast in Freya's Hall. Yesterday? Days ago? I have no idea how long I was trapped in that void." She leaned forward and poked him in the chest. There was no give to the man. His muscles were as firm as he was stubborn.

"And now I'm here, back from the land of the dead. I don't know how I got here or what will happen. There are gods and other creatures trying to kill me. And my husband had fangs and claws." She was talking faster and faster with each word she spoke, her breathing quickening. "You'll have to forgive me if I'm overwhelmed by all of this." She was yelling now and poking him in the chest again and again.

Her tirade ended with her lungs heaving and her heart racing. He caught her finger, which she was still trying to drill into him.

"You're right."

That fast, he took the wind out of her sails. How could she be angry when he said things like that? "I am?"

He sighed and stroked his fingers over her face. "I know this is all too much. I don't need to add to your burdens. I should be focusing on what you want and need. Not on myself."

He brought her hand to his lips and kissed it.

She closed her eyes and took a deep breath to steady herself. "Tell me all of it."
Excerpts. © Reprinted by permission. All rights reserved.


Book Info:
Bjorn Cursed
Forgotten Brotherhood, Book 4
Lucifer is up to his old tricks, causing problems for the Forgotten Brotherhood. This time, he's had a woman removed from the Norse afterlife and placed her right in the path of Bjorn Knutson. After the slaughter of his wife and family centuries ago, tortured and broken, Bjorn was cursed as the first Norse werewolf. Now he's been tasked by Odin himself with killing the woman who escaped. Failure is not an option.
Before he can track her, he stumbles across a woman being accosted by three men in the middle of the night. Even though she's human, he intervenes and is shocked to recognize the face of the one woman he could never kill — his wife Anja.
She's also the one he's hunting…and if he doesn't kill her then both their lives are at stake.
Book Links: Amazon | B&N | iTunes | Goodreads |


Meet the Author:
N.J. Walters is a New York Times and USA Today bestselling author who has always been a voracious reader, and now she spends her days writing novels of her own. Vampires, werewolves, dragons, time-travelers, seductive handymen, and next-door neighbors with smoldering good looks—all vie for her attention. It's a tough life, but someone's got to live it.
Website | Facebook | Twitter | | Instagram |