In The Rancher's Homecoming by Cathy McDavid, Annie Hennessey has always been focused on the family Inn. When a forest fire takes away the Inn that has been in the family for two generations and half of Sweetheart, the town starts to die. The tourists are gone and now people are either trying to rebuild or are just leaving the town completely.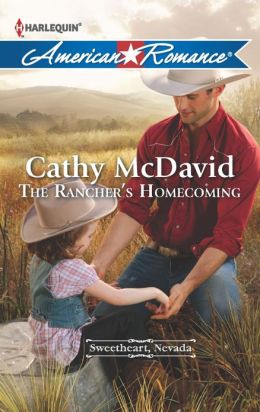 Sam Wyler has never forgotten Sweetheart, the town where he met the love of his life nine years ago. But she would not leave town or wait for him when he needed to move to California for a job. Now he is back trying to help rebuild the town and buys the Gold Nugget Ranch to restore and build a dude ranch to bring back the tourists to Sweetheart.
Things are not as easy as he wishes though, some people will be really glad for his help, but Annie has not forgiven him for leaving her for another job and then marrying the boss's daughter a year later when she turned up pregnant. Now he has an eight year-old daughter and is widowed, while she is divorced and with a three year-old daughter.
Sam knew that he made a mistake when he didn't fight for Annie nine years ago, but he needed to grow up and make something of his life before he settled down. But Annie could not understand his reasoning she wanted things done her way. Besides not long after he left she was already starting to date the now father of her daughter.
Now as Sam helps rebuild the town, Annie resents his help and that he is becoming everyone's hero and the Gold Nugget is now being considered the heart of Sweetheart, when it was always her family's Inn that was the heart of Sweetheart. Between her mother's depression, her grandmother's forgetfulness, all the things that she needs to do to keep her family going, and her ex-husband threatening with taking their daughter away from her, she has her hands full and will not accept change easily.
But with the help of Annie's grandmother and some wise advise, Sam and Annie may just be able to find the truth and compromise that they could not find before. Otherwise they may just loose their last chance to have true love in their lives.
This is a very emotional read with a very stubborn heroine and a very kind hearted hero who blames himself for what he had no control over. But with some determination and compromise even the most stubborn person can learn to accept love and change in their lives.
Book Info:
Publication Date: July 1, 2013 | Series: Harlequin American Romance (Book 1458)
A Time to Rebuild
It's gone—everything Annie Hennessy, and two generations of Hennessys before her, had worked so hard to build. The devastating forest fire didn't just claim her family's Sweetheart Inn—it also burned half a town whose livelihood is wedding tourism. Now the struggle to rebuild is just beginning, and Sam Wyler's sudden reappearance isn't going to make things any easier on Annie.
Nine years ago, Annie and Sam were deeply in love. When he left to seek his fortune, Annie couldn't forgive him. Now Sam, widowed with a young daughter, is back and eager to help the town recover. But Annie needs more than bricks and builders to heal her proud and wounded heart. Could the love they once shared hold the key?