The Rebel Wears Plaid by Eliza Knight is the first book in the intense historical Prince Charlie's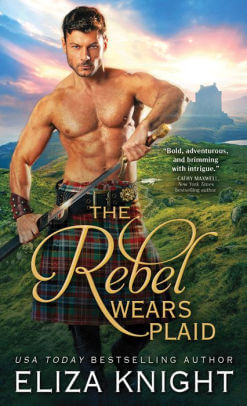 Angels series. The series is based on three brave Scottish women who are daring enough to risk their lives and aid Bonnie Prince Charlies. It takes place during the time of Scottish rebels who were fighting to help restore Prince Charles to his throne of Scotland. King George of England sent his dragoons to Scotland to control the Jacobite rises and traitors. The book was fast-paced and hard to put down due to the action and suspense. The plot was good, and the characters were developed and likable.
Lady Jenny MacKintosh lived a double life during the day she manages the MacKintosh estate. At night she is known as Mistress J and supports the Jacobites by recruiting soldiers, gathering weapons, and coins for the cause. She's devastated that her brother has turned traitor and joined forces with the English. She is smart, brave, and capable of outwitting the dragoons but dreads the day she will have to fight her brother. One night while recruiting soldiers she comes across two strangers and helps them to escape the English. She doesn't trust them but still takes them to her secret croft to receive help from a healer, her best friend Annie.
Toran Fraser wanted revenge on the rebels who were responsible for his mother's horrible death. Having been told the Jacobites were responsible, he turns his support to the English. Finding his cousin Archie alongside other Frasers about to be executed as traitors in the English garrison leaves him no choice but to rescue Archie, making him a traitor to England and the Jacobites. He knows his siblings are in danger because of his actions and he must escape Jenny so he can go save them. With nowhere else to go, he returns to the MacKintosh clan intending on finding the truth of his mothers' death. He comes to realize that he had been told a lie about her death and slowly comes to trust Jenny and support the Jacobite cause.
This was a great book and a wonderful start for the series. Jenny was feisty, smart, and dedicated to the cause. Sometimes her dedication seemed a little obsessive, but she showed bravery and strong leadership as a female rebel. Toran seemed to have lost his way in life and had no true cause but finding the truth behind his mother's death. Joining Jenny and witnessing her passion and dedication for the Jacobite cause, refocused his life and gave him a future to look forward to. I do wish the book had a spent little more of time showing the romance developing between the two main characters, but overall I'm really looking forward to the next book in the series and another adventure with a female rebel.
Book Info:

Publication: June 30th 2020 | Sourcebooks Casablanca | Prince Charlie's Angels #1
By day, Lady Jenny Mackintosh helps her widowed mother manage their Highland estate. By night, she risks her life to raise troops, weapons, and coin for the Jacobite rebellion. On one late-night mission, she is confronted by a handsome warrior who happens to be vying for the other side…
Toran Fraser is hell-bent on taking down the Jacobites responsible for his mother's death. When he's intercepted by Jenny and asked to join her cause, he agrees, knowing she can help him uncover the truth. He never expected she would be his enemy…