Worth the Trade by Kristina Matthews: Hunter didn't have the perfect life, but she had passion. Growing up with her father she loved baseball, so much so that he bought a team so they could share in that passion. After a while she began to run things behind the show, so the team became her family and her life. Then one day it all changed. When her father passed away Hunter had nothing but the team. She was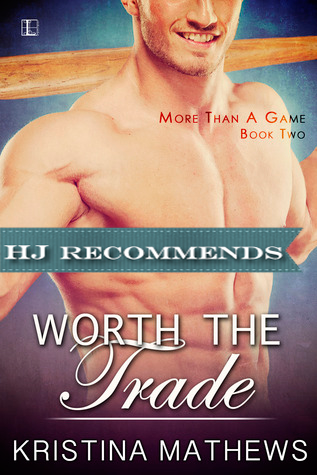 going to make this the year that they won it all, in memory of her father.
To Marco this was just another trade, the shame was he hadn't wanted it. He had just settled in and wanted to make a home fit in with the fans, and maybe even have a family. To say this was coming at a bad time would have been putting it midly.
For Hunter she was already at a disadvantage being a female in an all male world. For Marco, this woman was his boss. However like no one can predict the world series, no one can predict chemistry. The only problem with chemistry is sometimes it blows up in your face when you play with the ingredients just a tiny bit too much. Will Hunter and Marco play their cards right? Or will one little thing tip just too much?
Some people say watching baseball is like watching paint dry, others live and die by the box score. Kristina Mathews has taken a fairly polarizing sport and turned it into a fantastic love story. It's not an easy read in the sense of boy meets girl, boy and girl fall in love and live happily ever after, but it is a complex one dealing with heartache, death and background issues up the wazoo. You don't need to be a baseball fan to know this is an out of the park homerun.
Hunter is one of my favorite recently read characters. She was so well written and has so much depth to her that I think I went through every possible emotion about her. Ms. Mathews took her (and me) through the wringer, which had me rooting for her the entire way and without giving away the ending the final airport scene had me in knots.
A great read. It is the second in the second of the series, but can be read as a stand alone, though I will be upfront and say even if you are reading it as such when you are done you are going to want to go back and read the first.
Book Info:

Publication: July 7th 2014 by Lyrical Press
A ballplayer and a team owner would give anything for a championship—even their hearts…
After inheriting majority ownership of the San Francisco Goliaths baseball team, Hunter Collins wants to prove to herself—and the rest of the league—that she's got what it takes to build a champion. Her first move is to trade for a hot left-fielder. He's got it all, speed, power, and a desire to win. Not to mention undeniable charm.
Marco Santiago is tired of being the new player in town. After four teams in six years, he's facing free agency at the end of the season. He wants nothing more than a long-term contract and a World Series win. Hitting on his new owner probably isn't the best way to get it, but love may be the most powerful challenger either of them has ever faced…
Warning: Strong language, consummated love scenes, and some baseball clichés.