In The Reunion of a Lifetime by Fiona Lowe, Charlie Ainsworth and Lauren Fuller spent a summer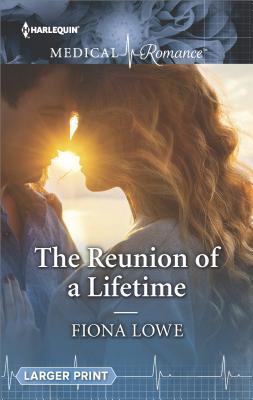 together years ago until Charlie unexpectedly left leaving her heartbroken. However, now he's returned to Horseshoe Bay and sparks still fly between them, but Lauren doesn't know whether she can handle having her heart broken all over again if Charlie leaves this time around. Will Charlie be able to convince Lauren to take a chance on him, or will the pair lose their second chance at happy ever after because their past demons have too much of a hold on them?
"I find it hard to believe you don't remember me, Lauren."
The mild thread of arrogance that underpinned his bemused words acted like a stiff breeze. The angry coals she had banked years ago flared into life. "Whereas I find it hard to believe that you do."
"Of course I remember you," he said softly.
I love reading Harlequin medical romances, and Ms. Lowe pens such a wonderful and entertaining read in this book, which is filled with plenty of medical drama; and has two main characters that I found very intriguing due to their back stories and everything they go through on their journey to happy ever after. Will Charlie be able to win Lauren's heart? Will Lauren be able to forgive Charlie for abandoning her in the past when she discovers the reason behind his leaving? However, it was from the moment the hero and heroine come face-to-face for the first time that had me completely hooked, as Lauren was hurt by what Charlie did to her in the past and I could understand why she acts the way she does towards him when they meet again after so many years.
As for the dialogue, it was intense due to the main characters back stories and the medical emergencies these two handle that had me reading quickly, determined to discover what other medical battles they'd face, especially since the first emergency was intense and had me thinking that the main characters were very lucky. Moreover, the heroine is resilient, courageous and I couldn't help but sympathize with her because she goes through so much in this story, which is proven by what happens to her. She's also a very good doctor and I loved how she dealt with her patients, especially the difficult ones like the hero's grandmother. Yet, what I liked most of all about the heroine is that she gave the hero another chance, even knowing that he may leave her again.
Shivering with a combination of desire and cold, she looked up into his laughing eyes. "Having fun? Finally relaxing?"
He grinned down at her. "I think I am."
"You play dirty."
"Well, I am covered in mud. But you've got your own bag of dirty tricks. You totally stole my concentration." He removed the twig from her hair and whispered in her ear. "You look totally amazing in a wet dress."
While the hero, he's been through so much and I could understand why he's always on-the-go when it comes to his career. Really, keeping busy means not having to think about what's going on in his life or be bogged down by the guilt he feels. Will he ever be able to forgive himself and in turn have a better relationship with his parents? Will the heroine be able to help him heal from the demons that haunt him? Furthermore, I liked the close relationship the hero shares with his grandmother because he needs someone on his side when he feels so alienated from his parents. Yet, what I liked most of all about the hero was his determination to win over the heroine and how their relationship blossoms with a little teasing and fun.
Overall, Ms. Lowe has delivered a captivating read in this book where the chemistry between this couple was powerful; the romance delightful and had me loving these two together; and the ending had me worried for this couple's happy ever after, as it was palpable that the hero was struggling to overcome his demons. Will he realize how much he needs the heroine in his life before it's too late? However, I really liked how things work out for this couple because the hero is very determined to win the heroine's heart and prove to her that he wants forever and what better way to do that than with the words he says to her. Yet, it was the epilogue that wrapped this story up perfectly, as it bought on happy tears because of how far the hero and heroine have come in their relationship and how good things are going with their families. Talk about competitive. I would recommend The Reunion of a Lifetime by Fiona Lowe, if you enjoy medical romances, second chance romances or books by authors Louisa George, Robin Gianna, Scarlet Wilson and Karin Baine.

Book Info:

Publication: April 17th, 2018 | Harlequin Medical |
They once had a summer of passion…But is it too late to walk down the aisle?
Lauren Fuller hasn't seen Charlie Ainsworth since he unexpectedly left Horseshoe Bay twelve years ago and burst their bubble of love. Now he's back, and working together at her GP practice is torment–their chemistry reminds Lauren how good they were together. And when she learns the tragic truth that drove him away, can it finally reunite them forever?