In The Rich Boy by Kylie Scott, Past experience has made Alice Lawrence a bit wary of guys who take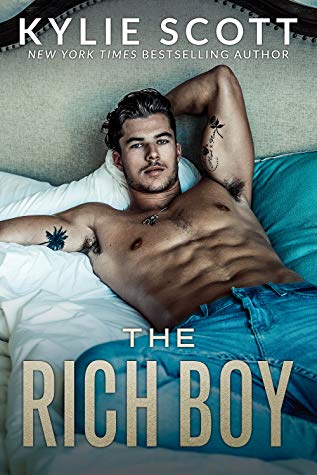 an immediate liking to her when they don't seem to have much in common with each other. Aside from Beck newly working in the same dive bar where she waitresses, he appears to be quite a ways out of her league. But he is damn charming. Especially when he quotes Austen at her and tries to talk her into a date. And Alice has to admit that she's pretty much hooked on Beck from their first sweet outing. It also has her wondering, though, if he can be too good to be true.
"How long can you stay?" he asks, his happy turning more serious.
"Beck, I only just arrived. I haven't really made any decisions…"
He runs his tongue over his teeth. "Okay. Challenge accepted… I'm going to convince you to make your move here permanent."
When a family crisis happens back in Denver, Beck has to leave Alice in Santa Monica for the foreseeable future. She shouldn't be surprised that he asks her to make the trek to Colorado to be with him, but she is–particularly when Alice finds out that Beck isn't the low income guy he seemed to be. He's rich. As in mega-money, lots of big houses and expensive cars, full-on high society member rich. And Alice isn't quite sure where she'll fit in to all of it. But with Beck proclaiming his feelings for her and moving forward building a life together, she'll deal with his crazy family problems head on so they can have their best chance at a long-term future.
'Beck's somehow become my whole damn world and the way he's watching me makes me think I just might be his too.'
Delicious bantering. A dreamy, Austen-quoting, billionaire hero. A socially awkward heroine with sass and grit. And an insta-lust relationship at full speed ahead. The Rich Boy was Kylie Scott at her fun and steamy contemporary romantic best.
"Though if you were having fun, why did you leave all of this to clean tables?" I ask.
"Because I had to find you."
I pause. "That's a pretty great line."
"And Austen didn't even write it."
Swoon! Kylie Scott writes some truly enjoyable romances with characters I'd want to hang out with in real life but even more so with Beck and Alice. They had great chemistry from the start. And things moved rather quickly between the lovebirds–which they both recognized and tried to handle in their own way to varying degrees of success. Of course once Alice realized how different her background was from Beck's, that's where it started to crumble a bit and the real work of finding ways to compromise and combine their worlds began.
As you would expect from one of Scott's books, Beck was a super sexy guy with a wonderful heart and had some of his own personal issues to overcome. Maybe it was his quoting of Jane Austen or his cultured demeanor, but at times I pictured Beck with a British accent, even though he was from Colorado. (lol) It didn't hurt that he was oh so patient with Alice learning the ropes to his complicated family life–and the society scene–plus Beck had the most sigh-worthy endearments he called Alice: dearest, beloved, wife (even though they weren't married). Loved. Him.
Alice, well, she was the bomb. I connected with her right away and loved that she didn't sugarcoat that she was a waitress at a crappy bar with anxiety issues and no money to speak of. But she wasn't down about her place in the world. Alice just knew that her sassiness and lack of social stature would mean some of Beck's family would have a tough time letting her into the fold. And boy did some of them take issue with her. But I love that Alice remained as true to herself and her upbringing as she could while still expanding her horizons–and holding Beck to task when he screwed up. They were both realistically flawed which made this a much more enjoyable read, seeing Alice and Beck have to work out their issues. Sigh…
The Rich Boy was an insanely entertaining romp with laughs, a combination of sweet and uber hot romance, and family problems galore. I think Kylie Scott fans will rejoice with this newest couple to meet and adore.

Book Info:

Publication: Published March 9th 2020 | by Kylie Scott |
I'm the type of girl who's given up on fairy tales. So when Beck – the hot new busboy at work – starts flirting with me, I know better than to get my hopes up. Happily ever afters aren't for the average. I learned that the hard way.
But how can I be expected to resist a man who can quote Austen, loves making me laugh, and seems to be everything hot and good in this world?
Only there's so much more to him than that.
Billionaire playboy? Check.
Troubled soul? Check.
The owner of my heart, the man I've moved halfway across the country to be with, who's laying the world at my feet in order to convince me to never leave? Check. Check. Check.
But nobody does complicated like the one percent.
This is not your everyday rags-to-riches, knight-in-shining armor whisking the poor girl off her feet kind of story. No, this is much messier.