In The Risk of Rogues (The Sinful Suitors #5.5) by Sabrina Jeffries, If she's being honest with herself,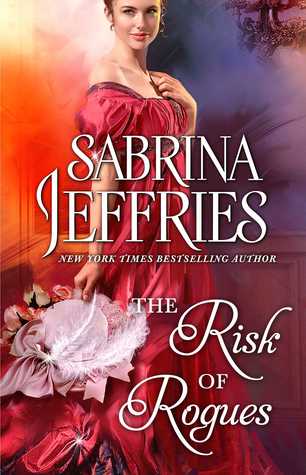 Captain Lord Hartley Corry has never strayed far from Lady Anne's mind in all the years since he left without a word, breaking their engagement. She's always wondered what ran him off and why he never came back. So of course Anne is shocked when she meets up with Hart at a country party and he once again shows interest in her. Does he think it would gain him important contacts if he were to court and marry her? Or does he wrongly think she has a sizable dowry? But when Hart tries to convince Anne that it's because he has true feelings for her, she decides to put her foot down and get the truth about their past–and their future–before she will agree to any wooing.
"I need to know what your plans are for our future… How can I put my whole trust in a man who won't tell me the truth about his profession? About what his hopes are?"
Hart wasn't expecting to find Anne at his brother's party, let alone to find out that she is unmarried. He knows he has a lot of grovelling to do but he's worried about how to explain his current career as an up-and-coming spy. He needs to know he can trust Anne before letting her in on his secrets. But as always, she is far too sharp for her own good. Explaining the issues they faced when they were younger and the new and equally tough challenges they face now will be a daunting task. Anne is worth that and more to Hart, though. So when he challenges her to being courted properly, he hopes that by the end of their week together he can once again call her his fiancee. And to look forward to many wonderful years together in their future.
"But we could change that. Reintroduce ourselves to each other. Call it a 're-courtship,' if there is such a thing. To prove that we're still well suited."
…Her gaze narrowed on him. "Your plan had better not be centered around kissing me senseless. Because I'm wise to that trick. It will not work."
He seriously doubted that.
Sabrina Jeffries laid on the charm with her Regency novella The Risk of Rogues. A second chance romance that maneuvered through a past riddled with miscommunication, our lovebirds did–eventually–get their HEA.
'They'd both made mistakes. But somehow they'd found their way back to each other, and she would be a fool indeed to let her fears stand in the way of her being with the man she loved.'
I always seem to laugh and sigh my way through all of Sabrina Jeffries' books. And this novella was every bit as entertaining and heartfelt as the rest of The Sinful Suitors series has been so far. I think this can probably be read as a standalone easily enough. But if you've been following this series, you'll undoubtedly get a kick out of meeting up with previous characters again here. This short story had the same attention to detail and lively bantering that I so enjoy from Jeffries–even though it was an abbreviated tale this time.
Jeffries' characters are so well-defined and complex in everything I've read by her. And Anne and Hart jumped off the page right from the start for me, leading with the hurt and anger they had over the way their engagement dissolved several years before. It tends to break my heart when there's such a lack of communication between two people who could've had so many wonderful years together like in their case. Thankfully Hart and Anne started courting (or re-courting, as he dubbed it, lol) all over again, allowing them to get to know each other as adults who had a serious relationship on their minds. I loved the teasing that went on between them and how Hart sincerely adored Anne for the very things that she disliked about herself: her red hair, freckles and outlandish hats. *dreamy sigh*
The Risk of Rogues may have been a quick novella, but it was filled with Jeffries' trademark wit and humor, heavy on the love and laughter of course, but with a nice thread of desire. Definitely recommended.
Book Info:

Publication: July 2nd 2018 | Pocket Star | Sinful Suitors #5.5
Featuring New York Times bestselling author Sabrina Jeffries' "hallmark humor, poignancy, and sensuality" (Romantic Times), this entry in the Sinful Suitors series inspires you to risk all for love.
Lady Anne is shocked when Captain Lord Hartley Corry—her former fiancé who left for India after her father forbade their marriage—returns to England and acts as if everything is all water under the bridge. He never fought for her hand or eloped with her as he promised and he thinks she'd still be willing to marry him? Not a chance.
Hartley is equally shocked to literally run into his past love upon arriving at his brother's house. Though he yearns to take advantage of this second chance to woo his beloved, he can hardly admit that he is secretly a spy—at least not until he can be sure he trusts her. But convincing Lady Anne to let him prove his sincerity by courting her respectably all over again might be his undoing. Because all he wants is to show her how much of a rogue he can be when the right woman is in his arms…