Three Day Fiancee by Marissa Clarke is a delightful romantic comedy and the second story in her Animal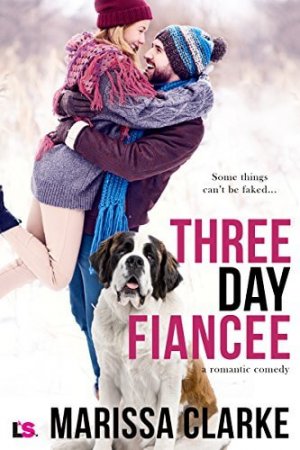 Attraction series. It's loosely linked to her Anderson Brothers series (which I highly recommend), with a fake engagement trope and an insta-love romance.
Taylor Blankenship is a helicopter pilot for the Anderson Brothers. On call day and night, he never knows quite what his schedule will be, so he has set up a dog-walker service for his large and affectionate St. Bernard. While his grandmother wants to see him married, he's got no time for a relationship.
Caitlin Ramos is busy studying for her CPA exam so making some money working with her friend at Animal Attraction as a dogwalker is perfect for her schedule. When she discovers Taylor's Dog Beauregard playing with an antique ring, in her quest to save it from being swallowed it ends up stuck on her finger – just in time for Gram to show up at Taylor's apartment. Naturally she assumes that Caitlin is Taylor's fiancée! Desperate to please Gram Taylor asks for a huge favor – pretend to be his fiancée for a 3 day family trip to the Catskills to celebrate Gram's birthday. Caitlin agrees on the condition that Taylor will help Animal attraction run a charity fundraiser in return. Next thing you know, they are playing their parts so well for Taylor's family that things start to seem almost real. But when their weekend is over, will they call it quits or give their fledgling relationship a chance?
I love a good fake relationship story and this one has lots of laughs and quirky family situations to make for a thoroughly enjoyable read. The excursion to celebrate Grams birthday includes fun family togetherness and wacky party games (like Twister and Truth or Dare). It's not long before pretending to be close leads to real kisses and some passionate and sexy times together. They can both agree that what happens on this trip is a no strings attached fling, but it's Taylor who realizes that he doesn't want things to end so fast.
For Caitlin who missed out on having the kind of close family that Taylor has, the feeling of fitting in is addictive. Because of this, she's not sure whether her feelings for Taylor are real or just because of the circumstances. Plus she's been burned before. It's up to Taylor to convince her that what they've started doesn't have to end. Beauregard gets a starring secondary character role, and Taylor's family is the kind one would wish to have. There's a happy ending for everyone, and a sweet epilogue too. I recommend Ms. Clarke's romances if you like sexy, lighthearted romantic comedies with guaranteed happy ever afters and I can't wait to read what she has in store next!

Book Info:

Publication: May 14, 2018 | Entangled – LoveStruck | Animal Attraction #2
Helicopter pilot Taylor Blankenship's time schedule is maxed out. Between his job, his one-hundred and fifty pound slobbering mess of a dog, and his matchmaking grandmother, he has no time for anyone or anything-especially a woman. If only there were a way to get Grams to back down.
The job of New York City dog walker suits Caitlin Ramos perfectly while she preps for her CPA exam—steady, scheduled, and requiring very little human interaction; a huge seller since she's still on the mend from a toxic relationship. Men suck. Especially her bossy hot client with the Saint Bernard that thinks it's a lap dog. No way will she go for his plan to pretend they're engaged to get his grandmother off his case. Down, boy.
Offered a bargain she can't refuse, Caitlin finds herself playing the part of fiancée to Taylor. Fortunately, it's only for three days. All she has to do is fake a relationship with Mr. Bossy Pants in front of his entire family, survive a fierce game of truth or dare with an unscrupulous pair of octogenarians, endure a one-on-one round of Twister with Taylor, and not lose her heart to a guy who turns out to be a lot more than she'd bargained for.