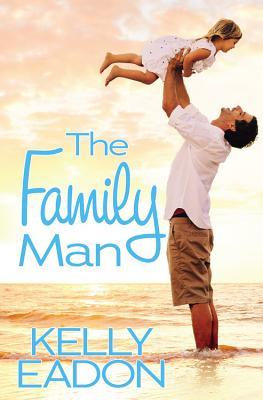 In The Family Man (Belmont Beach #2) by Kelly Eadon, Griffin Hall believes Beth Beverly is as sweet and appealing as the yummy treats she loves to bake. But being a single parent to a young daughter and running a business, he doesn't have much time for romance. However, there's something about Beth that makes him determined to win her heart.
Kate examined her face. "Right. No Jane Eyre for you…What about Beauty and the Beast? He's the growling, cursed prince and you're the one who can show him the light?"
Beth let out a low chuckle. "He's too good-looking to be the beast."
Kate winked. "Well you never know what's going on underneath that brooding expression. I think you should find out."
This sent Beth into another fit of giggles. "Oh, believe me, I want to."
Beth Beverly hasn't had the best of luck when it comes to business, but at least she has one thing going for her – everyone in town can't get enough of the delicious treats she bakes, most especially the handsome guy that owns the Coffee shop she delivers to. Yet, mixing business with pleasure is something she swore she'd never do. However, there's something about Griffin that makes her want to change that policy.
Having absolutely loved the first book of this series (The Wedding Date), and having been charmed by Beth and her friends, I couldn't wait to dive into reading this story, and I've got to say that it does not disappoint. From start to finish, this story was captivating, fast-paced and took me on an emotional journey between moments that made me laugh and almost cry. In the beginning, I couldn't help being drawn into the story by Beth's adoration of Halloween and the fact that she was wearing a very interesting costume.
The dialogue was intense due to the main characters back stories, what happens to Griffin's daughter and the lie by omission that Griffin is keeping. However, the intense dialogue was balanced out nicely by the light-hearted moments between the main characters and the hero's daughter, or between Griffin and Beth, or of course, Beth and her friends. Kate and Ryan, two of Beth's friends are an absolute hoot and the heroine is lucky to have them both in her life. While the hero's daughter is extremely delightful and I liked how close she and Beth became. It seemed she preferred Beth over her own mother, and who could blame her after everything the woman put both Griffin and their child through.
Beth burst into giggles. "I swear I followed the recipe I found online exactly."
He eyed the bottle. "Are you sure you searched 'how to make liqueur' and not 'how to make a bomb' or 'how to poison your date'?"
Her giggles grew until tears ran down her cheeks. "Maybe we could cut it with something? Milk? Water? Lighter fluid?"
Both the main characters were incredible, and I was completely drawn in by their back stories. Beth and Griffin have big decisions to make. Does the heroine want to expand her business? Will Griffin tell Beth about his ex before it's too late? The heroine is strong, brave and I liked how good she was with Griffin's daughter, despite what happens to the little girl that scares both the hero and the heroine. I also loved her enthusiasm for baking, and how she enjoys experimenting with different flavors. While Griffin, he hasn't had it easy when it comes to his daughter and a custody battle that turned a little nasty. Yet, he's really proved how good of a dad he is. He's determined to provide a great life for his little girl and he proves how much he loves her through his emotions and reactions. I could understand why he was lying to Beth about his ex, because he feels like he failed the mother of his child and didn't want the heroine to think badly of him.
Overall, Ms. Eadon has penned a great addition in this book for her Belmont Beach series where the sex scenes were extremely passionate and illustrated the intense chemistry this couple had. The way this story ended was wonderful, as Griffin makes Beth an offer she couldn't possibly refuse, not when it would further cement their future together. I would recommend The Family Man, if you enjoy a story with an incredible array of characters and a story that will keep you entertained to the very end with its dialogue.
Book Info:

 July 5th, 2016 | Forever Yours | Belmont Beach #2
TEMPTATION NEVER TASTED SO SWEET…
When life hands lemons to Beth Beverley, she makes mouthwatering lemon squares. Mostly because they're coveted by the sexy single dad who owns Belmont's most popular coffee shop. But that's where her crush on Griffin has to end. Her sweet treats are selling like crazy cakes in his shop, and she doesn't mix business with pleasure. Too bad his sinful smile has her flirting with the idea of forever.
Griffin Hall definitely needs to keep his eyes–and his hands–off Beth. Since he's traded in late-night gigs and partying for bedtime stories with his little girl in his arms, he doesn't have time for anything else. So why does Beth's big heart and easy way with his daughter make him finally feel alive again? But there's a little secret Beth doesn't know, something he can't bear to tell her . .