In The Scandalous Diary of Lily Layton (Sweetest Taboo #3) by Stacy Reid, Oliver Carlyle, the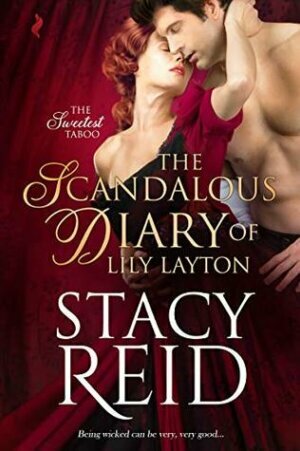 Marquess of Ambrose, is looking for a wife. However, the only woman he wants is the mysterious woman whose diary he's found and read, which contains the naughtiest of fantasies; fantasies he'd love to fulfil if he can uncover the women's identity. Will Oliver be able to convince his mystery woman to take a chance on him or will Lily Layton turn him down because she can't give him what he wants most – love, family, happiness?
"I hunger for something more. And I know I will find it with a suitable companion."
"You are indecently wealthy, powerful, and healthy. What more could you want to be content?"
Oliver smiled. "Someone to love."
"Do not tell me you still believe that blathering nonsense about not keeping a mistress after you've wed. Upon my word, man, that is one woman to tup until death does part you and your marchioness."
"I'll not dishonour my wife. Only a dishonourable bounder would break vows made before his woman and God."
What a fan-your-face hot, moderately-paced, captivating read Ms. Reid has delivered in this book that's a little sugar, a lot of spice and everything nice (and naughty). The way this story started had me liking the hero immediately and had me wondering whether the hero would find his mystery woman. However, it was from the moment the hero and heroine come face-to-face for the first time where this story really takes off, as the hero is intrigued by Lily but isn't going to act on his attraction to her because of the tight knit friendship she has with his mother. The woman is his mother's companion; someone employed by the family, and therefore, not for him.
As for the dialogue, it was intense due to the main characters back stories and fun and flirty banter between the hero and heroine that had me loving their growing relationship. Moreover, I really liked the main characters and found their chemistry strong and convincing. With the heroine, she has been through so much loss and it's understandable why she doesn't want to get married again. Yet, in saying that, I liked that she gave the hero a chance because she wants to experience every single one of her fantasies. Then again, there's something about the hero that makes her want to step out of her comfort zone, even if there doesn't seem to be any hope for a future between them because they're too different.
"There is no need to be flustered, Mrs. Layton . I promise to leave you in your clothes."
"How remarkably proper," she teased drolly, desperate to disguise her alarm. One thousand pounds was a fortune. "And here I truly believed you had a reputation for being a debaucher of innocents."
"A debaucher most assuredly, but none of the innocent. I wonder, in what category are you? The reserved sort? Or adventurous?"
The desire in his eyes set her world askew. "Are you trying to taunt me into agreeing to your request?"
"Most assuredly. Please also recall my exorbitant offer of payment."
While the hero, he's searching for a wife, but the only woman he wants is a woman he might not ever be able to have, considering she wants to be all mysterious and he might not get the chance to ever discover who she is. Furthermore, he's confident, driven, has a close relationship with his mother and I liked how determined he was to win over the heroine because he's desperate to learn her identity since he believes she's the one for him. Will Oliver be able to win Lily over? Will Lily take a chance on Oliver, especially when she's decided that she has no intention of ever getting married again?
Overall, Ms. Reid has delivered a deliciously sinful and compelling read in this book where the romance was spicy and full of exquisite heat and passion; and the ending had me crying happy tears because the hero and heroine have so much to look forward to when it comes to their future together, especially considering the heroine thought she'd never be so happy and get everything she ever wanted. I would recommend The Scandalous Diary of Ms. Lily Layton by Stacy Reid, if you enjoy historical romance with a good dose of steaminess or books by authors Naima Simone, Erin Nicholas, Tawna Fenske and Avery Flynn.
Book Info:

Publication: February 18th, 2019 | Entangled: Scorched | The Sweetest Taboo #3
Beneath Lily Layton's sweet and charming exterior beats the heart of a vixen—one with shocking and scandalous secrets and desires. But as a genteel lady, she confines her forbidden fantasies, like those about her employer's devastatingly handsome son, to her diary…until she loses it.
Oliver Carlyle, Marquess of Ambrose, has finally found the perfect wife, a woman who will not hide from his dark, carnal cravings. He just needs to figure out who she is. When he has a secret rendezvous with a mysterious stranger, suddenly he starts to believe she might be the author of the diary.
He's determined to find out who his mystery woman is…
His biggest fear—and deepest fantasy—is she may be the one woman he cannot have.