In The SEAL's Christmas Twins by Laura Altom, Mason Brown left his hometown Conifer, Alaska after his divorce from the woman he thought he loved with everything in him. He worked hard as a fisherman to provide for her, but after she lost their baby and he had to go out to work he returned to find her in bed with his best friend.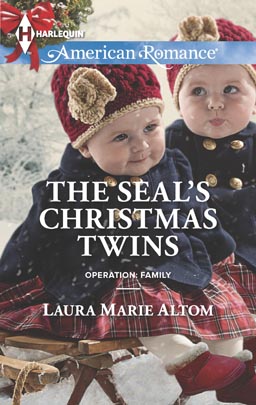 After enduring the looks from the people in town who either pitied him or blamed him for her infidelity he decided to join the Navy. He has worked hard and now he is a SEAL, and happy to be part of something so important, even if he does risk his life every time. Until he receives a call from Hattie Beaumont, his ex-wife's sister to tell him that his ex-wife has died and that he has to go home since he was mentioned in her will.
Mason doesn't know how to react to the news, he is happy to hear from his friend Hattie, whom he basically lost when he lost his wife. But hearing that his ex is dead and that he was mentioned in her will is not something he expected.
Hattie has never gotten over her crush on Mason. He used to be her best friend and would hangout with her and loved everything she loved, but he only has eyes for her beautiful sister, just like everyone else in town. She has had to be the strong one of the family to take care of all the difficult stuff after her sister's death since her mother cannot accept the death and is inconsolable, and her father is helping her and looking after her twin nieces.
What neither Mason nor Hattie expected was to be named guardians of the twins and to inherit everything she and her husband owned. Hattie expected her mother to take the girls, but for some reason her sister wanted her to raise her daughters and she can only hope to fulfill her wish and be a good mother But Mason doesn't want to raise the daughters of the woman and the best friend who betrayed him. Only until he can get a judge to release him from any responsibilities towards the girls, he will have to live with Hattie and the girls in is ex-wife's house.
Living together in such close quarters while taking care of two little girls will bring a fantasy family life to Mason and Hattie. But no matter how much Mason is attracted to Hattie he cannot act on something that may be considered wrong since she is his ex-wife's sister. While Hattie has her own problems to deal with, taking care of her bar, and trying to connect to her mother who keeps blaming her for taking everything that belonged to her beautiful daughter.
The SEAL's Christmas is a truly heartwarming story. I loved how regardless of the fact that Mason didn't want to be a father to the girls, he did everything he could to ensure their well-being. I really liked that he grew to love the girls and started seeing Hattie for the beautiful woman she has become and he would defend her when necessary. Just a note, when you read this book be prepared to hate or really want to hit Hattie's mother. I hated how she always treated her as if she wasn't worthy of being her daughter and I swear I wanted to slap her when she said really hateful and hurtful things to Hattie. But the love that grew between Hattie and Mason is something worth fighting for, and that is something that Hattie has to learn how to do.
For a really sweet and heartwarming story, don't miss The SEAL's Christmas Twins by Laura Altom.
Book Info:

December 3rd 2013 by Harlequin American Romance (Book 1480)| Operation: Family
His Toughest Mission Yet
Navy SEAL Mason Brown left Conifer, Alaska, and his broken marriage behind long ago. Until one call changed everything. His ex-wife has died in a tragic accident, and given custody of her twin baby girls to Mason and her sister Hattie.
Hattie Beaumont always dreamed of having a family—and Mason—but never like this. Now those old longings seem like betrayal, especially since playing house with Mason comes naturally. She can tell he feels it, too, so why is he determined to leave?
Mason knows Hattie and the girls are the greatest Christmas gift he'll ever get. But even though he's risked his life countless times, risking his heart again feels so much more dangerous.