In The Season of Silver Linings (Sweet Lake #3) by Christine Nolfi, Being a pastry chef at her best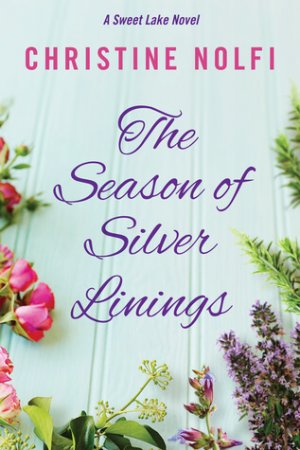 friend Linnie's inn is a dream come true for Jada Brooks. So is watching all of their–and their other best friend Cat's–hard work pay off with business now booming. But there are days when it's still a struggle to get over a tragic event that happened years ago in town. It deeply affected Jada's life and that of single dad Philip Kettering. Lately, though, as she spends more time helping Philip take care of his six-year-old daughter Fancy, Jada can feel the sparks of attraction growing between her and the handsome widower. Not wanting to disrupt their friendship, she's not sure if dating is the right step, so as not to lose the bond she has with Fancy or Philip should things go wrong between them. It's when a nosy guest, former history professor Millicent, starts questioning Jada about her past that she realizes healing is needed if she wants to start a life with Philip and his daughter.
Philip brushed the tears from her eyes. "I love you." He paused long enough for the words to sink in. "I always have."
He kissed her then, slow and sweet. His lips carried a thousand ardent messages. They flowed through Jada like a river, washing her clean.
As a local landscaper in Sweet Lake, Philip has a hectic schedule that would cause no end of headaches if it wasn't for Jada stepping in to lend a hand with his daughter Fancy. The beautiful chef has been on his mind and in his heart for what feels like forever, all the way back to their school days. But Philip's reckless youth put some obstacles in his way that he's just now getting over. Watching the sweet relationship Jada has forged with Fancy fills his heart–and it makes him want to take the leap into admitting his feelings to Jada. Their friendship means the world to Philip. So of course he doesn't want to harm that. But he can't imagine a life where he never gets to hold her in his arms and show her every day the way she deserves to be cherished.
'Among the blessing in his life was the natural, spontaneous affection Jada shared with his daughter. Fancy revolved around Jada like a planet circling the sun. Their daily interactions now formed a bond he prayed would never break.'
A warm and welcoming small town story with layer upon layer to uncover as the intriguing plot progressed, Christine Nolfi was at her best with The Season of Silver Linings.
'There were moments in your life capable of altering the most strongly held assumptions, shuffling the known facts into a new arrangement that revealed the larger truth. Was this one of those moments?'
Women's fiction with a strong element of romance and even some mystery added in for good measure, this newest novel by Christine Nolfi was a complete page-turner for me. I just couldn't get enough of Jada and Philip's chemistry, their devastating backstory, the inquisitive professor poking around in Jada's life, or catching up with happy-in-love couples Cat & Ryan and Linnie & Daniel. But don't worry about whether you can read this as a standalone or not. Each of the three books in this series can be read on their own with no problem. Although I think once you "meet" the locals in Sweet Lake, Ohio, you'll be drawn right into their drama and will want to read everything you can about them.
Jada and Philip. Happy sigh. They were a great couple who for the most part worked well as a team. Especially with Philip's adorable daughter Fancy. I so loved the bond father and daughter had and how Jada just fit into their world so easily. She was a terrific role model for Fancy, a successful pastry chef with many responsibilities at the Wayfair Inn, who was also exceedingly compassionate. Philip was every bit as wonderful. A doting dad, hard worker with his own small business, and a guy who had redeemed himself after a wild and crazy youth, I think readers won't be able to stop themselves from falling for Philip. It was a lot of fun watching as he and Jada ever so slowly gave in to their attraction. Their relationship morphed from him antagonizing her in school to becoming friends of a sort–and then becoming way more in this book. It was ridiculously cute to see them both act almost shy together as they began dating and figuring out that they had actually like each other for longer than they realized.
I won't give away too many details, but I think readers will love the thread of mystery woven in that former history professor Millicent brought to the table. She had ties to someone in town, which the Sweet Lake Sirens (a bunch of local ladies in a group steeped in tradition and lore) had an inkling about. Nolfi expertly laid out Millicent's purpose for being in Sweet Lake bit by bit, which kept me trying to fill in the blanks the whole way through. From her real relationship with a local person to what the significance was behind "rosemary", it will have readers glued to the pages.
Simply a joy to read, The Season of Silver Linings completely charmed me with its offbeat cast and the lovely HEAs Jada, Cat, and Linnie all fought for and deservedly earned.
Book Info:

Publication: July 17th 2018 | Lake Union Publishing | Sweet Lake #3
She can't change what's come before. But letting go could bring healing—and the rare love that comes once in a lifetime.
When Ohio pastry chef Jada Brooks and her two best friends restored the glorious Wayfair Inn, it was a boon to Sweet Lake—and to their own lives. Now Linnie and Cat are focused on private matters: one engaged, the other swept up in newlywed bliss. Jada has also begun looking to the future by dating widower Philip Kettering and forging a sudden, sweet bond with his six-year-old daughter.
But the past isn't finished with Jada. When a curious guest checks into the Wayfair, her delving questions stir Jada's guilt about the heartbreaking events that scarred the town seven years ago. The risks Jada must take by revealing the truth will test every assumption she's made about the meaning of family and the magic of enduring love.