You Send Me by Jeannie Moon: Jordan Velsor is a very independent woman, determined not to need a man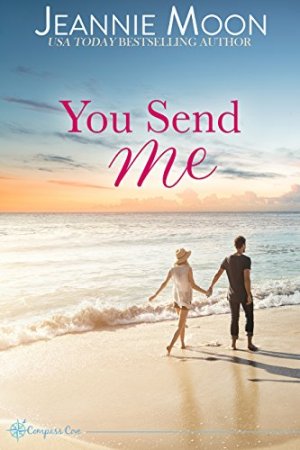 in her life after discovering that her fiancé was cheating on her. However, when doctor Nick Rinaldi helps her when she's very sick with pneumonia, she finds herself falling for him, as he nurses her back to health. Will Jordan be able to convince Nick that he can trust her or are his past demons too hard for him to overcome to give their relationship a chance?
"Hey! Thank you for rescuing my poor sick friend. I was so relieved when she told me you had been there to help."
"I'm glad I could. When she's not giving me attitude, she's a good patient."
Feigning shock at first, Jordan had to smile. The teasing grin on his face was too adorable to resist. "I do not give you attitude. I have been a model patient."
"Yes, when you were asleep, you were perfect."
Ms. Moon writes some absolutely wonderful stories and I've got to say that her Compass Cove series is one I have come to love due to the enchanting main and secondary characters and entertaining dialogue that gets me hooked from the beginning. The way this story started gripped my attention immediately, as the heroine isn't having the best of times. Luckily though, the hero is there for her at a time when she needs someone the most. However, it was from the moment the hero and heroine met that drew me into this story completely and had me reading quickly, determined to discover whether the hero would be able to win the heroine over. Something that isn't easy because Jordan is independent and resilient and has once had her heart broken.
As for the dialogue, it was riveting and had me loving the main characters back stories, as both the hero and heroine have been through so much and it's understandable why both are so guarded and find it hard to let someone in completely. How could the heroine's ex-fiancé be such a jerk? Why is there so much distance in the relationship between the hero and his father? With the main characters, I loved every moment they interacted, as the hero is a good guy that will do anything to help someone through tough times, even if he does end up getting on the heroine's bad side when she discovers what's he done. I also liked how confident and determined the hero was to win the heroine over, even though he has his work cut out for him after what her ex did. Yet, what I liked most of all about the hero was the relationship he shares with his family and that they're always up in his business when it comes to his growing relationship with the heroine.
Well," Janet said with a grin. "He told us."
Lina agreed. "Yes, he did."
"He's a good man. He was always one of my favorite students."
Lina laughed at her old friend. "Janet, they were all your favorites."
Bella shook her head. "He's not thinking clearly. To talk to us like that? Something isn't right about this."
"He's fine," Lina assured her. "Nick is a man with a mission. We'd best stay out of his way."
While the heroine, she's resilient, courageous, very independent, has great friends she can confide in and I liked that she let the hero in, even though her last relationship fell apart and she doesn't know whether she'll ever be able to trust another man. I also liked the tight bonds she shares with her friends because she needs their advice when it comes to moving on and finally being ready for another relationship. Really, she needs the push they give her. However, there were moments where I wanted to cry for Jordan because of what's happening to someone she cares about.
Overall, Ms. Moon has delivered another fantastic read for this series where the chemistry between this couple was strong; the romance wonderful because these two are so good together; and the ending had me loving the hero's determination to prove to the heroine that he does trust her, even if it isn't easy for him to talk about the past. However, it was the surprise the heroine had for the hero that I loved the most about the ending. I would recommend You Send Me by Jeannie Moon, if you enjoy small town romances, the fake relationship trope or books by authors Miranda Liasson, Samantha Chase, Erin Nicholas and Noelle Adams.

Book Info:

Publication: May 29th, 2018 | Tule Publishing | Compass Cove #2
Jordan Velsor didn't want to need anyone. After dumping her cheating fiancé, caring for her sick dad, and nearly being crushed along with her car during a violent storm, she's pretty much at her breaking point. If anyone needs some luck, it's Jordan, but the last thing she wants is gorgeous Nick Rinaldi, her landlord's grandson, hovering over her while she nurses a bad cold. The wounded Navy doctor seems too good to be true… which means he probably is.
Nick Rinaldi left the Navy broken and adrift, wondering if he would ever practice medicine again. When his grandparents' tenant is almost killed by a falling tree during a storm, he discovers Jordan is not only in shock, but suffering from pneumonia. Not one to miss an opportunity to play white knight, Nick arrives at her cottage to take care of her during the storm… But the lovely teacher has a a fierce independent streak, and as he learns more about her, he wants to do more than merely help.
Can Jordan and Nick let go or their separate pasts and seize their future together?