The Second Chance Rancher by Kate Pearce is the first book in her new series, The Millers of Morgan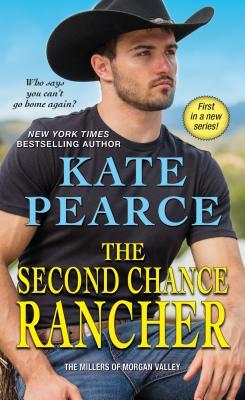 Valley.
This series is a spinoff of her Morgan Ranch series. Characters from that series pop up in this book so readers who liked this author's Morgan Ranch series get a chance to catch up with their favorite characters. The reader doesn't have to have read any books in the Morgan Ranch series to enjoy this book. It is a total standalone.
Daisy Miller has a secret. She needs to hide her second job from her loving but overprotective family. She runs the florist shop in town but that doesn't give her enough cover for the extra hours she needs to put into her "secret" job. Then she has a great idea – a fake boyfriend. Enter former Air Force officer Jackson Lymond. After the bouquet he purchased from Daisy doesn't get him a date with Nancy, the local sexy bartender he asks Daisy out on a date. Poor Jackson, shut down again. But wait…. Daisy reconsiders and offers Jackson a deal. Pretend to be her boyfriend. Jackson is very attracted to Daisy so he accepts her deal hoping he can woo her into a real relationship. Both Daisy and Jackson have plenty of other issues to resolve which leads to a bumpy road, relationship-wise. Will Jackson's grit and determination win Miss Daisy?
I really liked the way Kate Pearce developed the relationship between the two main characters, Daisy and Jackson. She set the perfect tone to get me emotionally involved with them. Readers who enjoy humor, small town antics and loving family dynamics will like this book.
Book Info:

Publication: May 28th 2019 | Zebra | The Millers of Morgan Valley #1
It might be the pride of hard work on rugged terrain, the welcoming community, or the memories–but wherever the folks of Morgantown may roam, they have a way of coming back to the ranch . . .
There's a reason Jackson Lymond left the Air Force, but he's not telling a soul. He'd rather keep things simple, while trying to start a new life helping his older brother on their northern California ranch. At least Morgantown's flirty local bartender can keep his mind off the past–that is, until he runs into Daisy Miller . . .
Daisy doesn't really expect Jackson to remember her. Back in school she did her best to blend in–and pretend she didn't have five brothers who'd hogtie any boy who even looked at her. These days though, she and Jackson might have more in common than just their ranching relatives. After all, they both left home only to return. Trouble is, under the watch of her fiercely protective family, Daisy is longing for some privacy. Letting Jackson into her life could make that even more difficult–or it might be the second chance they're both looking for . . .