In The Beyond by Chloe Neill, saving New Orleans is very important to Claire Connelly and her friends,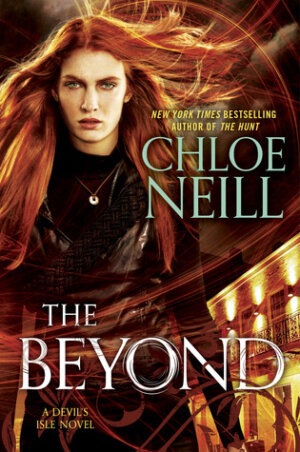 especially since the Veil was torn apart and the war between humans and supernaturals has started up again and they've been fighting to keep humans safe for the past year. However, when Claire and her boyfriend Liam discover a new powerful enemy has arisen and there may be no chance of stopping her, they only have one option – find the weapon that paranormals built to give them an advantage. Will Claire and Liam be able to get to the weapon before anyone else or will they die trying?
"If you wanted a distraction," I said, "you couldn't do better than this."
"The gate was open," Liam said. "That may be a coincidence. We have to get rid of it. But I don't know how we can make the magic just disappear."
I waved my fingers through the mist. I couldn't feel anything, but I could see the shadows, the shifting dark and light. "Maybe not," I said. "But I bet we can move it."
I have enjoyed this series from the very beginning and each book gets more and more exciting and entertaining and always has me wondering what Claire, Liam and their friends and family are going to go through to stop the paranormals wrecking havoc on Earth. Will they be able to stop every threat? As for the way this story started, it was a little slow but that didn't hold me back from continuing to read the story as I knew the plot would pick up pace once Claire and Liam faced their first challenge against someone that wants to destroy the human race. Will Claire and her friends win? Will they find the weapon they're looking for to finally win the war against paranormals?
As for the dialogue, it was engaging because of the challenges Claire faces and I loved every moment the heroine used her magic, as a reader never knows whether it's going to be good for her to use it or whether something will go wrong. Since the heroine using magic in earlier books of the series wasn't good for her. Moreover, the battles against the paranormals fed my love of paranormal novels and had me hanging on every word of this story, as there's always the possibility that Claire, her friends and the others that fight for the side of good might not be able to save where they live.
"Are you angry about the hot thing, or the funny thing?"
"I think I'm insulted by both."
"You're funny, too. But he's the class clown. Someday he'll settle down, get serious. But not today."=
"Not with that hat," Liam said, glancing at his side mirror. "Probably has 'F*** you, Seelies' painted on top."
"You've just invented a new line of anti-Paranormal gear. You're the clever one, too."
With the heroine, she's resilient, courageous, protective of her friends and I loved that she would do anything to defend her home and the place where she lives. Since no way should paranormals think they're the better race and be able to hurt humans. I also enjoyed the heroine's growing relationship with Liam and how they're stronger together than they are individually when it comes to their powers. Then again, it's understandable why Liam is scared of what he can do. Luckily, he has Claire by his side who can help him remain in control. For the most part.
Overall, Ms. Neill has delivered a wonderful paranormal in this fourth book of her Devil's Isle series where the fast-paced action kept this reader entertained; the growing romance between Liam and Claire had me looking forward to what would come next for them; and the ending had me worried for Claire and her friends but had me loving how things turned out, even if the epilogue was a little emotional. I would recommend The Beyond by Chloe Neill, if you enjoy paranormal, sci-fi or fantasy books. And if you decide to give this book a read, definitely start with the first book of the series. You won't be disappointed, especially if you're a fan of paranormal or fantasy.
Book Info:

Publication: June 4th, 2019 | Berkley Publishing Group | Devil's Isle #4
Sensitive Claire Connolly must journey to another world in the electrifying fourth installment of Chloe Neill's post-apocalyptic urban fantasy series.
It's been a year since the Veil between the human world and the world Beyond was torn apart, and war began again. Sensitive Claire Connolly and bounty hunter Liam Quinn have been helping their human and paranormal allies fight back against the ravaging invaders and save what's left of New Orleans.
But a new enemy has arisen, more powerful than any they've seen before, and even Devil's Isle cannot hold her. . .
When Claire learns of a new magical weapon–one built by paranormals themselves -she knows it could turn the tide of war. But to reach it, she and Liam will have to cross into the Beyond itself. In a world full of hostile magic and dangerous foes, she'll have to channel the powers she once kept hidden in order to survive. New Orleans hangs in the balance, and the storm is growing closer . . .