In The Secret Son (Secrets of Cherry Lake #1) by Joan Kilby, unexpectedly receiving a birthday card from his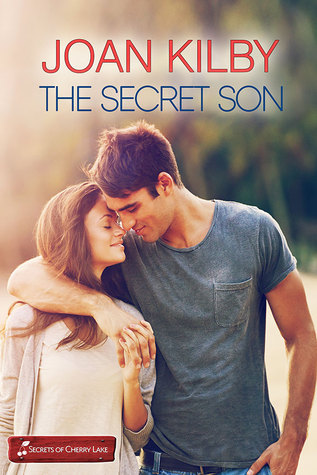 dear old dad has left Alex Chernoff rattled. He hasn't heard from the man in some time. Determined to learn the reason why his dad is making contact with him now after so many years, has Alex dropping all his plans to visit Cherry Lake. To finally ascertain some answers about his past, no matter how painful the knowledge may be.
Flirting with the new guy in town might be fun, but there's no way Emma Stanhope will allow it to go any further than that. He's rich, gorgeous, and could probably have any woman he wanted. Men like him don't stick around. Yet, she's drawn to him like a moth to a flame. Determined to discover his reasons for coming to Cherry Lake, she's shocked by the truth.
Although this book was slow to get started, I was swept into its steady-paced plot once Alex saw the card. In fact, for the first couple of pages, I really wanted to smack Alex. But once he opens the card, it was very entertaining, emotionally-charged and the bold banter between the hero and heroine never failed to bring a smile to my face. Alex grows throughout this book so much. In the beginning, he comes off as a total womanizer, but the moment he meets Emma, he seriously starts to question his view on relationships. She's so different to the women he normally goes for.
"Oh that." He grinned knowingly. "That was just foreplay."
Her eyes widened and she stopped chewing as a bright flush spread across her cheeks. Had he embarrassed her? He was considering apologizing when she swallowed and took a sip of coffee. Just as nonchalant as could be, she said, "So that's what passes for sex in the big city."
He laughed out loud. "Touche."
She wasn't finished. "If a man's car is a metaphor for his penis what does it mean that you drive a tiny sports car? Your Beemer could fit in the back of Will's Hilux."
I loved Emma's boldness, and the fact that she could say such things to a man she barely knew. I also loved the fact that Alex could match it and make her flustered. Those moments were memorable, and had me cheering for this couple because they both deserved happiness. However, there was also the emotional side of the dialogue, as Alex struggles to come to terms with the answers he discovers about his past. The most important being – Why did his dad desert him? Why did his dad deny Alex something he's always wanted, which is to feel accepted? I couldn't help but be affected by the answers, and eventually the tears flowed.
Both main characters were delightful. They're total opposites, and yet they click, as if a missing piece of a puzzle they've been searching for and once found completes it. Emma is smart, she's sassy. She certainly challenges Alex to face the reason he's come to Cherry Lake, instead of allowing it to get the best of him. While Alex, he's a bit of a lone wolf, which is understandable, considering his back story.
Sizzling sex scenes illustrated this couple's chemistry really well. A chemistry that was intense and instantaneous the moment they met, and continued to grow because of their bold banter. Alex treats Emma like the precious gift she is to him. One he never thought he'd ever receive. I'm just a tad disappointed that there weren't more sex scenes, and that they didn't occur a bit earlier in the story.
Overall, this was a wonderful read with great secondary characters that I can't wait to read more about. Ones which will hopefully be in the other books of this series, which are written by other authors. I would recommend this book to all fans of contemporary romance, but especially those that love an emotional read; where a hero's determination to discover answers about his past could change his life forever.
Book Info:

Publication: August 25th, 2015 | Tule Publishing | Secrets of Cherry Lake #1
A birthday card out of the blue from his estranged father sends successful Seattle marketing man Alex Chernoff on a detour to Cherry Lake in search of answers about his past. A day, maybe two, to tie up loose strings and he'll be out of there, heading for Mexico, margaritas and blondes in bikinis.
Emma Stanhope is all too familiar with hot, rich, entitled guys like Alex. They never hang around for long, especially not for a Plain Jane like herself. No problem. She's smart and logical, like any good scientist, and knows better than to lose her heart.
What Emma doesn't count on is chemistry—of the romantic kind. What Alex doesn't count on is meeting the girl who'll make him want to change his ways. But when he learns that he's a secret from his father's real family, he can't stay in Cherry Lake… even if he wants to.
Will love be enough to convince Alex to stay… for good?