The Shaadi Set-Up by Lillie Vale: Rita Chitniss is tired of having to contend with pushy and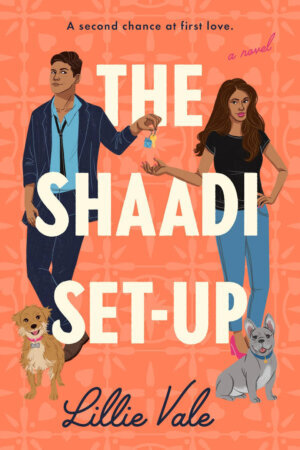 overbearing Indian mums, be it her boyfriend Neil and his weirdly clinging relationship with his mother or her own mother who is forever on a mission to set Rita up with a nice Indian boy.
Convinced that she has the perfect plan to get both mothers of their backs so that she can continue to date Neil in peace, Rita signs them up on the Indian dating site MyShaadi.com. With both of them crafting the perfectly weird profiles it's a no brainer that Neil will get paired with her, Right? It would seem that fate has other plans for Rita when she gets matched with non other than Milan Roa, her ex-boyfriend.
If the MyShaadi match wasn't bad enough it would seem like Rita's mother too is determined to throw these two old flames back together, with Rita's mother all but pushing Milan into hiring Rita to help stage a house he has been struggling to sell. With much reluctance Rita finds herself facing her most heart-breaking past. After the house staging goes of so well Milan make Rita an offer to go into partnership with him in flipping an old seaside house that holds memories for both of them. Somewhere between sanding old tables, shopping at craft markets and the salty sea breeze things begin to change between Milan and Rita, and old feelings begin to feel very renewed. The question now that Rita has to face can she move past her past with Milan or is she going to let that hold her back from having a beautiful future?
I loved every single second of reading this beautifully addictive second chance romance, The Shaadi Set-Up checked all the boxes in creating a relatable and fun-tastic slow burn read. Vale has done a stand out job on bring to life the raw emotions and feelings felt throughout this book while perfectly crafting a beautiful second chance romance. I absolutely loved that this book had so many real parallels to what Desi (Indian) kids face when it comes to marriage and keeping their families happy, the best part being that Vale managed to highlight the funnier side to this issue.
Both main characters were absolutely amazing and I loved watching them fall in love with each other all over again. This was the kind of love akin to putting on your favorite pair of worn in jeans, so natural and easy to fall back into. Rita was such an amazing female lead that was super easy to relate to, I loved that she wanted to follow her passion of refurbishing old furniture even if it meant going against traditional norms.
Rita and Milan's interactions were  written to perfection. As a huge fan of the second chance trope I really enjoyed that we got to see their relationship develop slowly and get to pull back each layer of their past. Milan was such a cute male lead, as much as he gets portrayed as this bad guy he is actually such a softie. I loved that he had still been holding a flame for Rita after all these years. I especially enjoyed their time together playing house while renovating the beach house.
As great as the two main characters were this book had some of the best secondary characters ever! I love meddlesome parents/grandparents and that was both Rita and Milan's mothers down to a tee, with the extra added zing that came with Rita's Aji. Gosh Aji was just a killer, I loved that she was so extra and didn't care one bit! I really liked that Vale showed a bit of Rita's mother life and the reality of arranged marriages. Also I have to mention all the food in this book! Talk about some major masala mac cravings!
The Shaadi Set-Up was hands down one of the best books that I have read staring Desi (Indian) characters! This book not only checked off a number of boxes but went above and beyond creating a perfect second chance romance. Rita and Milan will forever hold a special spot in my heart, along with their meddlesome families. Vale is definitely a new favorite author of mine and I would highly recommend reading this book ASAP!
Book Info:

Publication: September 7th 2021 | G.P. Putnam's Sons |
In this witty and heartfelt rom-com debut for fans of Jasmine Guillory, Emily Henry, and Tessa Bailey, an Indian-American woman signs herself and her boyfriend up for a matchmaking site to prove they're a perfect match, only to be paired with her ex instead.
High school sweethearts Rita Chitniss and Milan Rao were the golden couple, until the day he broke her heart. Now, six years later, Rita has turned her passion for furniture restoration into a career and has an almost-perfect boyfriend, Neil. The last thing she needs is for Milan to re-enter her life, but that's exactly what happens when her mother, an unfailing believer in second chances, sets them up. Milan is just as charming, cocky, and confident as he was back in school. Only this time, he actually needs her business expertise, not her heart, to flip a hard-to-sell house for his realty agency.
While Rita begrudgingly agrees to help, she's not taking any risks. To prove she's definitely over him, she signs herself and Neil up on MyShaadi.com, a Desi matchmaking site famous for its success stories and trustworthy enough to convince everyone that she and Neil are the new and improved couple. Instead, she's shocked when MyShaadi's perfect match for her isn't Neil…it's Milan. Ignoring the website and her mother is one thing, but ignoring Milan proves much more difficult, especially when she promises to help him renovate the beach house of her dreams. And as the two of them dive deeper into work—and their pasts—Rita begins to wonder if maybe her match wasn't so wrong after all….