The Sheikh's Marriage Proclamation by Annie West  was exciting, had all the feels and I couldn't put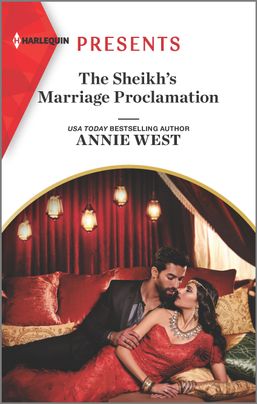 it down.
Dramatic opening chapter had me on the edge of my seat. Escaping her homeland, Tara stealthily plans to return to England. Only things go awry when she's literally rolled out to meet the neighbouring Sheikh Raif. Tara grabs onto Raif's offer of protection with everything she has while her replacement passport is organized.
When Tara inadvertently reveals to the world her location Raif's status as Sheikh is hands down portrayed magnificently. Both characters are extremely likeable and as per Annie's West incredible skill – they are always put in exciting situations they need to resolve; the dialogue is witty and the locations are described to perfection. The plot is exciting and the story flowed like beautiful golden sands though my fingers.
Danger lurks every corner… from Tara's daring escape from her country to her surprise reveal to Raif. From the threatening and dangerous relatives to the attempted kidnap in the desert. Passion, excitement and heartfelt moments can be found in abundance in The Sheikh's Marriage Proclamation. The attraction is immediate for Raif and Tara and their relationship entwines wonderfully with the exciting plot which is full of danger and heart stopping moments.
Annie West writes a Sheikh like no other and I absolutely loved this story.
Book Info:

Publication: March 2021 | Harlequin Presents |
The only way to protect her is to declare their forbidden promise to the world. From USA TODAY bestselling author Annie West comes this enchanting tale of desert desire.
Shielded by her enemy
Tempted by the forbidden…
Fleeing a forced betrothal, Tara Michaels escapes across the border, landing in Sheikh Raif's opulent palace. Their countries are enemies, and he's bossy and proud—but this charismatic desert king is offering her a luxurious safe haven…
Raif knows protecting Tara is risky, but he's entranced by her beauty—and she stands up to him when others dare not. Yet once her identity as his guest becomes known, his final option is one he never thought he'd take: proclaiming Tara as his bride-to-be!