In A Wolf After My Own Heart by Mary Janice Davidson, shifter Oz Adway has gone from being an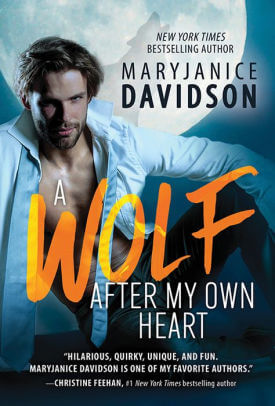 accountant to the equivalent of a shifter social worker for the Interspecies Placement Agency. While tracking down a recently orphaned bear cub named Sally, he meets human Lila Kai, who had taken Sally in.
I did something I think I've only done one other time since I started reviewing for HJ years ago, and that was mark this as a Did-Not-Finish. I tried to get through it, I honestly did. I even put it down, read two more books, came back to it, and I still couldn't force myself to get past the first seventeen percent of it.
My main issue is the writing style. Some people may be able to deal with it, but I found that it just gave me a headache. There are multiple points where there are continuous run-on sentences that last almost half a page, sometimes broken up by things in parenthesis. It was even worse when it was broken up like that, because it made it very choppy. I'll provide an example.
He had her, he had the cub's scent, he had to
(make her safe)
do his job, he had to
(keep her safe)
and that was fine, he could and he would but then
YOW!
The big noisysmellything bit him and sent him tumbling and here came the Stable so he crouched down down down
(don't see me)…
That sentence goes on longer, but I think you get it. There's an incredible overuse of parenthesis, most of which aren't necessary, such as in this sentence
Which was a switch from earlier, when she'd been carrying boxes and mistimed the swing (Ow, God damn it!).
Then a character is introduced and she's referred to multiple times as "the small old (?) woman", or "the elderly (?) woman". Is the author asking the reader if the woman is old? Does she not know herself? I don't feel like readers should have to guess if the woman is elderly or not. There's this sentence that refers to older women in general, once again with the question mark:
Then, because little old (?) ladies weren't usually cool with blasphemy, Lila added, "Sorry. You surprised me."
I've only reviewed one other book by this author, and that was back in 2016. Looking back at that review, I had an issue with the writing style in that one, too. I was at least able to make it through that book, unlike this one. Since this was an advanced copy some things, such as the massive run-on sentences, may be corrected before publication, but I obviously can't guarantee that.
The blurb says calls it a "hilarious story" but I didn't find anything funny in the seventeen percent of the book that I managed to get through. Instead, I found it to be very choppy and frustrating to read. I hate to quit on a book, but I just couldn't force myself to go any further than I did.

Book Info:
DNF
Publication: February 23, 2021 | Sourcebooks Casablanca | BeWere My Heart #2
Oz Adway is a rare breed: an accountant who wants to get dirty. And, by the way, a wolf shifter working for the Interspecies Placement Agency. Bored with his safe office job, he volunteers to find runaway bear cub Sally Smalls, recently orphaned by a plane crash. Piece of cake, right? Unfortunately, Sally's taken refuge with "ordinary" human Lila Kai, a reluctant guardian who has no idea what's going on, but will destroy anyone who tries to take the cub. Not that it matters. Oz is not about to let a gorgeous Stable jeopardize his career move.
As for Lila, she knows something's different about the sexy weirdo who keeps popping up in the wrong place at the right time. She's determined to figure out what, regardless of the escalating threats to her safety and Oz's distracting hotness. She didn't move into a cursed house and take in a werebear just to run when things get complicated. Together, Oz and Lila will prevail! But only if they can keep their hands off each other…
Put away your pocket protectors: This hilarious story includes a nerdy shifter accountant with a bad-boy side, a fiercely protective human heroine, and a baby bear cub that will make every reader sigh in cuteness.