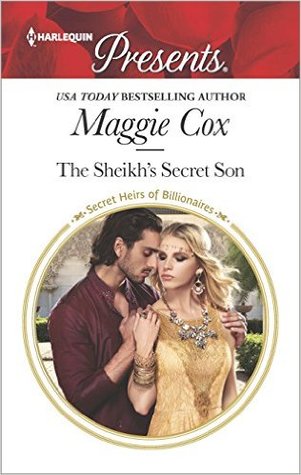 The Sheikh's Secret Son by Maggie Cox: Darcy Garrick knew that getting involved with her boss, the handsome and enigmatic Sheikh Zafir el-Kalil could cause her some trouble at work, but she never imagined that the Sheikh's brother Xavier, out of jealousy, would put her in a compromising position. Taking his brother's word over Darcy's, she is soon out of a job and out of his life – but unbeknownst to Zafir, Darcy discovers soon after that she is pregnant. She tries in vain to contact him but her messages are left unreturned. Despite this, she doesn't give up and a few years later, when she hears that Zafir is back in England, she endeavors to climb the wall surrounding his property, only to be discovered when she falls and injures her ankle. It's certainly not the way she wanted to see her ex again!
Zafir is taken aback and suspicious – as far as he knows his lover betrayed him. Who's to say that the boy she claims is his son is really his! But Sami definitely looks like his father and when a paternity test proves the truth, Zafir is determined to bring him up in the royal tradition back home, including marrying Darcy. First though he must uncover the truth of what really happened – and then hope Darcy will forgive him and give him a second chance.
I've read several romances lately where the hero hangs on to his misconceptions until the bitter end, but thankfully that's not the case here. Though Zafir chose his brother over his girlfriend when they were caught in an embrace (designed wholly by his brother), now that he knows about his son he's willing to dig into it more than he did initially, when his hurt feelings overcame logic and clear thinking. It's not long before he discovers the truth, as well as finding out that the messages Darcy said she was leaving were in fact being diverted by someone with the desire to keep them apart. To his credit, Zafir gives good grovel and makes things up to Darcy in due course.
The presence of his son Sami has a large effect on Zafir for the better. Though he proposes a marriage of convenience to give Darcy and Sami the credibility they need for his countrymen, it's not long before being in close proximity causes Darcy and Zafir to reconnect on an intimate level in some sensual love scenes. Darcy is the one who knows she's been wronged and while Zafir may have the power of his country behind him, he won't have a very happy marriage if his wife won't forgive him. Fortunately for all concerned, we do get a lovely happy ending for this family. The setting is lush and luxurious and the transformation of Darcy from poor single mother to bride of a wealthy Sheikh is well done, making for an entertaining and sexy romance.

Book Info:

 Jan 17, 2017 | Harlequin | Secret Heirs of Billionaires #6
When Sheikh Zafir el-Kalil discovers that he is a father, he will do anything to secure his child even marry the woman who betrayed him and kept their son a secret from him!
Darcy Carrick is older and wiser now, and she will not bend so easily to Zafir's will! Once her heart would have soared to hear Zafir call her his wife. Now it will take more than soft words and sweet seduction to win back her love.